---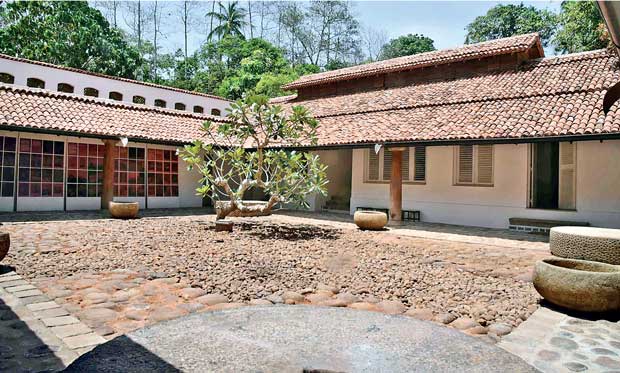 Reconstructed and relocated Ena De Silva House adjoining the premises of the historic Geoffrey Bawa Gardens in Lunuganga, Bentota.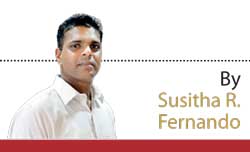 "I strongly believe that it is impossible to explain architecture in words. I have seldom enjoyed seeing buildings and seldom reading explanation about them. Architecture cannot be totally explained, but must be experienced,"- Geoffrey Bawa.

Following these wise words of Geoffrey Bawa who is the most prolific architect in the country, the fourth cycle of the Geoffrey Bawa Awards for excellence in Architecture was launched last week.
One of the much awaited events among architecture professionals, students, academia and those who love architecture, Geoffrey Bawa Awards for Architecture is now open for submission.
Commenced on July 23 for architectural designs buil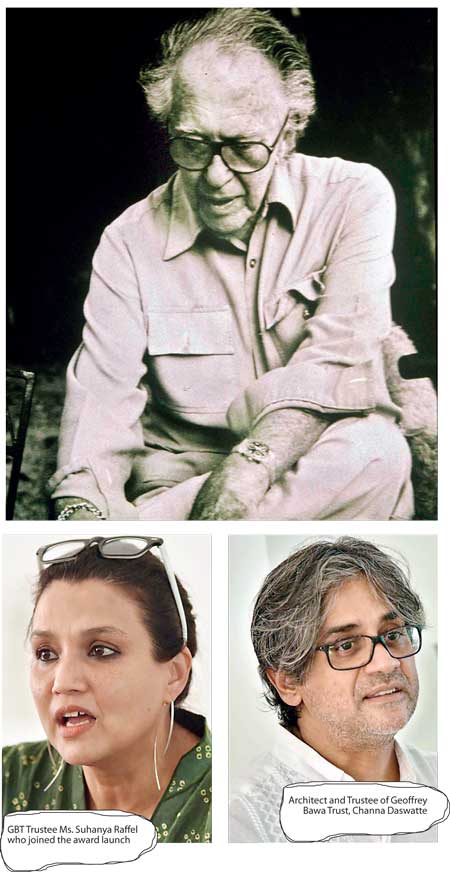 t in Sri Lanka during the ten-year time span between 23 July, 2006 and 23 July, 2016 and used and occupied for not less than nine months, as eligibility criteria designed, the submission will close on November 1. The awards ceremony was launched on July 23, the 97th birth anniversary of Bawa as at the relocated and reconstructed Ena de Silva House adjoining the premises of the historic Geoffrey Bawa Gardens in Lunuganga, Bentota.
Referring to Bawa's explanation of experiencing architecture, Channa Daswatta, a renowned architect who worked with Bawa himself said "this is what we want architects to do. Experience and appreciate the good work of the others."

"The Geoffrey Bawa Trust set up a national award to recognize and reward outstanding architectural work in Sri Lanka. We hope by honouring those who do good work, we will perhaps advance their careers, and celebrate the good architecture Sri Lanka has," Channa explained.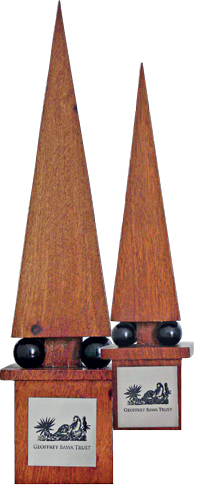 "We are not looking at a building, we are looking at the way we change the space. It could be a landscape or anything. That somebody has taken care of every aspect of architecture we would encourage people to be nominated for the award," he said.

The Geoffrey Bawa Awards scheme is modeled on the awards scheme of the prestigious Aga Khan Trust for Culture in Geneva, inaugurated by His Highness the Aga Khan in 1977, widely acknowledged as having had a significant impact on the architecture of developing countries. Deshamanya Bawa received the Aga Khan's Special Award for a Lifetime's Achievement in 2001.

"When he received that award we decided perhaps at some stage we should try and create such award for Sri Lanka," said Channa one of Bawa's disciples who in a way tries to promote, influence and continue the legacy created by the world renowned architect.

However, in establishing the award, the Geoffrey Bawa Trust does not intend to encourage imitation of the work and style of Geoffrey Bawa, but instead seeks to promote new and dynamic methods of meeting challenges in architecture, the Geoffrey Bawa trust announced.

The winner of the fourth cycle will be announced at a gala ceremony that celebrates the winners and their work, which is scheduled to be held on July 23, 2017, to coincide with Geoffrey Bawa's 97th birth anniversary. The winner will be awarded a sum of one million rupees, as in previous years.

The panel of judges for the 2016/2017 cycle of awards will be Ward Beling (Trustee, Geoffrey Bawa and Lunuganga Trusts), Architect Mok Wei Wei (Principal Architect, W. Architects, Singapore), Architect D.H Wijewardena (Senior Vice President, Sri Lanka Institute of Architects), and Ms. Sharmini Pereira (Founder and Director of Raking Leaves, and the Sri Lanka Archive of Contemporary Art, Architecture and Design).

The Geoffrey Bawa Trust -- which is behind organising the country's one and only architectural award -- was set up to promote the idea that good design is important, both to the well-being of the people of Sri Lanka, and to the image their country projects to the rest of the world. It aims to bring awareness of good design not just to architects, but to all those involved in the built environment.