---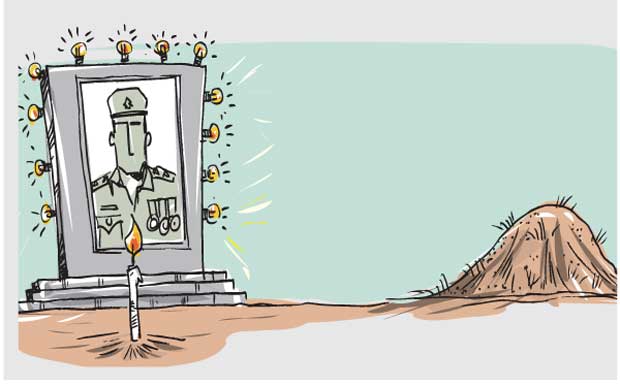 ith May 19 marking the end of the 30-year war between the security forces and the LTTE, preparations are being made to separately commemorate those who died in the war. The Government has planned to mark the day, which was earlier called "Victory Day" on a lower key when compared with the hype during the previous regime, while various Tamil groups are amid controversy planning to commemorate those who perished in the war. These groups are calling it the Mullivaikkal Day, named after the place where the final battle was fought.
They publicly claim that they are only commemorating their loved ones who died during the war, but some Tamil politicians are giving it a political colour, describing it as a commemoration of the LTTE leaders, especially that of the LTTE leader Velupillai Prabakharan and vow to achieve what the organization fought for.

At the same time many Tamil politicians while claiming that they are only commemorating their loved ones question as to what is wrong in commemorating the LTTE cadres and leaders when the Jantha Vimukthi Peramuna (JVP) publicly commemorates their colleagues killed in the uprisings 1971 and 1988/89. It seems to be a strong argument, but the JVP too was not allowed to commemorate their comrades during the time the party was banned.
And besides, the causes the JVP and the LTTE fought for were not the same legally and as politically. In the case of the JVP, socialism for which the JVP fought for and still fights for is not a proscribed theory nor is it unacceptable to many, in spite of it being an extremely remote reality, while the concept of a Tamil Eelam, a separate Tamil State within Sri Lankan territory has been banned and not acceptable even now to the main Tamil political coalition, the Tamil National Alliance (TNA). Therefore the cause the LTTE fought for cannot be promoted.

However, irrespective of the political aspirations of those rebels in the 30-year war and in the two southern rebellions, their the relatives, friends, co-fighters and sympathizers have the same right, as those of the soldiers have, to commemorate them. However, it is vital that such commemorations should not push another generation towards bloodshed, owing to the time and manner in which those commemorations are held and the rhetoric spewed out by the politicians at these events. But that is where some extremist politicians go wrong.

It is appropriate here to point out that the recommendation of the Lessons Learnt and Reconciliation Commission (LLRC) in this regard, which would be food for thought. It said:
"Given the traumatic nature of the long drawn out conflict and the massive toll in human life and property that it brought about, almost all the people who appeared before the Commission articulated a clear need for the nation to collectively empathize with all those victims of the conflict whether they are civilians or soldiers or whether they belong to the Sinhala, Tamil, Muslim or other communities.
"The Commission, therefore, strongly recommends that a separate event be set apart on National Day to express solidarity and empathy with all victims of the tragic conflict and pledge our collective commitment to ensure that there should never be such blood-letting in the country again. Based on testimonies it received the Commission feels that this commemorative gesture, on such a solemn occasion, and at a high political level, will provide the necessary impetus to the reconciliation process, which the nation as a whole is now poised to undertake."