---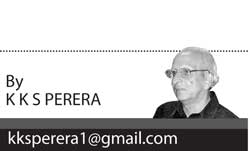 Mahanayake Theros Threatened to Boycott DS' Independence Ceremony over 'Foremost Place…'
Buddhist Perspective on Good Governance— Foremost Place and equality?

First Indian Prime Minister Jawaharlal Nehru, in his book 'The Discovery of India' imagines the Buddha preaching his first sermon at Saranath on Esala full moon when he wrote, "Some of his recorded words would come like a distant echo through two thousand five hundred years ago."
Prime Minister D.S. Senanayake (DS) didn't succumb to pressure, nor did he use a novice minister loaded with too many hefty tasks to cry out offensive remarks or threaten to take over the Temple coffers

Esala Poya Thoughts
Dhammacakkappavattana Sutta, the first discourse of the Buddha was delivered on an Esala Full Moon Poya day at the deer park of Isipathana in Benares to the five ascetics, Ven. Kondangna, Vappa, Bhaddiya, Mahanama and Assaji. It consists of the central theme of the Dhamma. At the end the eldest of the five, Kondangna Thera attained the first stage of sainthood or Sovan. According to history, many other important events had taken place on Esala Poya day. Among them, the conception of Siddartha in Mahamaya devi's womb, and Prince Siddartha at the age of 29 leaving the palace, after renouncing all comforts, in search of the truth.

Mahanayake theros
Hon. D.S. Senanayake was under pressure to incorporate a special clause for Buddhism giving it 'foremost place' in Independent Ceylon's first draft Constitution. It was a demand initiated by the Buddhist leaders and the Sangha led by the two Mahanayake theros of Asgiriya and Malwatta Chapters of Siyam Nikaya in December 1947, a few days before the inauguration of independence.
The two Mahanayake theros threatened to boycott the inaugural ceremony scheduled to be held in Kandy if the government ignored their request. Prime Minister D.S. Senanayake (DS) didn't succumb to pressure, nor did he use a novice minister loaded with too many hefty tasks to cry out offensive remarks or threaten to take over the Temple coffers. He himself took the initiative of handling the prelates using his own wisdom. The head of state travelled to the hills to have an audience with the Mahanayake theros of the two chapters and successfully persuaded both of them on understanding the consequences of introducing special provisions enshrining foremost place to a particular religion [Buddhism] in the new Constitution. He said, "If equality is a provision, then you cannot give primacy to one religion." DS who was well prepared for the summit had explained to the prelates quoting from the chronicle a few stanzas where Buddha emphasized the fact that the State or the Ruler should treat all his subjects, irrespective of race, caste and religion as equals and treat all with no special privileges or rights granted or conceded to a selected group. "You cannot treat other people differently because they are members of that political party, or they are from that race, or from that culture. Dhamma forbids such special treatment to a section of the community", DS enlightened and transformed the two Mahanayake Theros. The monks gave up their protest and participated in the ceremony to bestow blessing of the triple gem on the new constitution and the independent nation.
Accordingly, Sri Lanka's Independence Constitution draft appeared relatively diluted in its nationalism. The 1948 Constitution, under which the Colonial rulers transferred powers of self-rule to Ceylon, was designed mainly by the twosome Sir Ivor Jennings, the Constitutional expert and D.S himself. They shielded the Constitution drafting from nationalists on two sides; the anti-colonials, the Young Turks in the Ceylon National Congress, like Dudley and JR, who preferred Ceylon to be a 'free republic' and on the other hand communistic nationalists who sought special protections for the island's Sinhalese majority.
Dhammacakkappavattana Sutta, the first discourse of the Buddha was delivered on an Esala Full Moon Poya day

Today Buddhism in Sri Lanka has moved far away from the basic tenets of the Buddha's teachings. Disgusting spectacles, which happen quite often during demonstrations, are witnessed where Buddhist monks participate in road protests. There were several video clips of indecent behaviour going viral in social media, showing monks grappling with the police.

Religious Institutions attacked
Religious leaders have to work together to minimize religious tension and ethnic hatred. All religions preach non-violence, compassion and respect to others. As has been reported, though controversial, there has been 190 incidents of attacks against churches belonging to Evangelical sectors since the unity government took over two and a half years ago. The Police had failed to take action quickly and impartially. When inquired, His Eminence, Cardinal Malcolm Ranjith responded considerately stating that he wasn't aware of such violence.

The Most Ven. Asgiriya Mahanayake Thera's recent statement on BBS has annoyed many concerned Buddhists. What the lay Buddhists expect of the Mahanayake Thera is to reprimand those monks who aren't conforming to the norms or those who break vinaya rules. It is the responsibility of the prelates and the Karaka Sabhas of the chapters to restraint the rioting monks who discredit the Sasana, that they had preserved and maintained over generations.

It was former US President Ronald Reagan who said, "A nation is destroyed through racists"
According to history, many other important events had taken place on Esala Poya day. Among them, the conception of Siddartha in Mahamaya devi's womb, and Prince Siddartha at the age of 29 leaving the palace.

Buddhist concept on Good Governance
The original Buddhist manuscripts contains quite a lot of guidelines and obligations to be fulfilled to achieve corruption free democratic governance. Several Jataka stories give hints on establishing rule of law, righteousness of the ideal ruler, and how such leaders should abstain from the four Agathidhamma [wrong doings] such as malice, excitement, fear and dilution. A good ruler it says should behave with Sila high moral character and dasa kusala. The rulers should refrain from, taking life, taking what is not given, adultery, telling lies, slander, harsh speech, frivolous talk, covetousness, evil-mindedness and hearsay. The Thripitake, in addition to the above speaks of characteristics to be maintained by good rulers. They are, honesty and sincerity, dedication and commitment selfless service high morals, respect of law, consensus agreements for national interest, equanimity and impartialness, solidarity and respect to obligations.

Buddha's struggle was for establishing an equitable society where all citizens are secured their rights and privileges. Buddha categorically refused any kind of inequity. Foremost place for a particular religion or sect is tantamount to discrimination against others.

Kuutadante Sutta
Buddha's teachings on philosophical and spiritual matters are well-known, but his teachings on social, economic, and political issues are less known. His attitude on good governance is narrated in important discourses dealing with it. Today there are unprecedented incidents of crime, violence, and immorality in every society. Due to hardship of life, without seeing any solution to survive with family and to protect social identity, people commit theft, cruelty, hatred and violence. According to Kuutadante Sutta, the state making an effort to suppress such action by punishment is futile and shouldn't be encouraged. The Buddha suggested a series of alternatives to eradicate crime and violence. He proposed educating the people who commit wrongdoings. He also gave guidelines on economic development of the concerned by providing the basic requirements of the farmers; granting of financial support to traders at reduced rate of interest as alternative strategies. Increase in salaries and wages of employees, opportunities in professional fields for the educated without political interference; high quality administrative services. The Buddha said when such methods are applied by a king or ruler, the people will be happy and contented. Then fear and anxiety will disappear; as a consequence, the nation would be free of public protests against the government.

Some have expressed their own views, others have written policy papers; concept of Good Governance [GG] seems unclear for many people. But it's one of the main themes which have been discussed by different international organizations, foundations and political leaders worldwide. The concept remains ambiguous and without an exact definition. Scholars who carried out research on Buddhist ideals of GG believe, The Buddha, who did not engage in politics though he associated with the Kings of his day, gave them instructions on Ten Royal Duties [Dasa raja dharma]. This led to GG by creating social and economic prosperity and maintaining harmony, tolerance and peace.

Jatakas on good governance
A king refused to recognize his son, and the mother threw the child into the air, praying that if he wasn't the King's son he might be killed by his fall. Surprisingly, the child rested in the sky, and the king accepted him as his son. This story may be a fabrication by a clever writer to convey a message to future kings. Yet it reveals that the Sattya Paramitha or truth will always be victorious. Therefore all good governing leaders should strive for truthfulness and keep promises given to people. Kuru Dhamma Jataka reveals that the practice of righteousness leads a nation to prosperity. The Bodhi-sattwa King of Kuru Kingdom proved that Kuru righteousness can't be handed over to anyone. One must practise for the betterment of all. Sumangala Jataka relates how a King would not decide a case until his anger was totally eliminated.

Liccavis
Buddhist canon mentions the Liccavis, the Videhas, the Mallas and Sakyans amoung the republics during and soon after the life time of The Buddha. The sakyans were monarchists, but they built and used an assembly hall. People of Kusinagar, where Buddha passed away, made it a custom to assemble in the Council hall in order to discuss public affairs. In all these tribal republics there were of course no political parties and no elections. An ideal state had no political parties, but was governed harmoniously. Such was Liccavis' state as reportedly taught by the Buddha. However Buddha formed his own community, the Sangha, and he issued recommendations for Republican government in connection withthe Vajjis and extolled the confederacy. Vajjins who prospered were a united tribe and disciples of The Buddha, who taught them unity, sensibility and righteousness.