---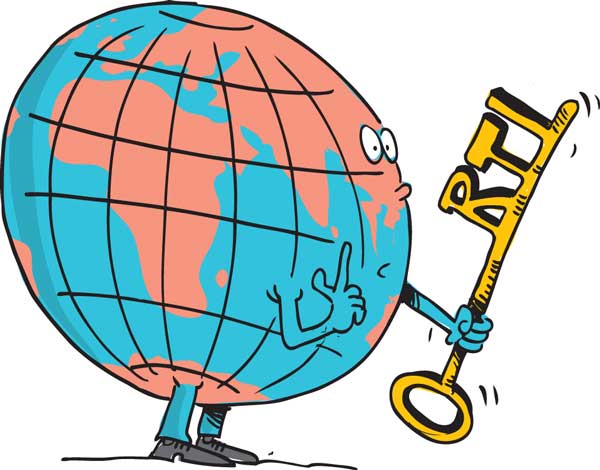 While the world's attention will be focused today on Britain's historic referendum to decide whether it should remain in or leave the European Union, a historic page will also be written in Sri Lanka with the much-awaited though long-delayed parliamentary debate on the draft bill for the Right to Information. Media Minister Gayantha Karunatilake said yesterday, he hoped the RTI draft would get a unanimous 'yes' vote in parliament tomorrow.

The current draft updated and polished up by a committee headed by eminent lawyer Jayampathy Wickramaratne, is widely seen as an important step towards the broader vision of accountability and transparency, honesty and integrity in the use of public funds and related issues. It comes in the aftermath of the earlier decade-long regime where public funds amounting to a colossal US$20 billion were allegedly plundered and taken out of the country by top level politicians and officials.

According to most analysts the RTI draft bill is generally good but needs to evolve and get better as it is implemented and practised. Though Sri Lanka received universal adult franchise some 85 years ago – long before most countries, it is unfortunate that we rank at 110 in the list of countries that have the right to information. In the South Asian region, though an RTI draft was presented some 13 years ago, we are the last South Asian country to implement it, perhaps largely because the former regime acted in a manner that led to a breakdown in the rule of law and many who insisted on the right to information or expression were killed, seriously injured or abducted.

If examples or models are needed, we see it in our neighbour India where the RTI law implemented in 2005 is working powerfully, because civic action movements led by Magsaysay award winner Arvind Kejriwal have been in the centre and forefront of the battle to implement it. In Sri Lanka also civic action movements played a prominent role in the peaceful people-power revolution on January 8. Now they need to play a proactive role to ensure that the National Unity Government is sincere in its commitment to good governance, democracy and the right to information.

On Wednesday, at a joint meeting, most of these civic action groups expressed concern over the slow pace at which the government was implementing its main pledges, but they vowed they would continue to speak out and act till the aspirations of the people were achieved in a just and fair society.

The Daily Mirror also urges these civic action groups to continue in giving leadership to the people-power revolution and the goal of becoming a just society through a sustainable, eco-friendly and all inclusive development strategy.

Some critics have expressed concern that to enforce the provisions of the RTI law, the proposed Commission does not have mandatory powers though it will be appointed by the President on the recommendation of the all party Constitutional Council. But in the Sri Lankan Constitution as it stands, only courts of law have the power to impose penalties like jail terms or fines. Civic action movements say they hope this will be rectified in the proposed new Constitution. In any event a person who is denied the right to information could go to a court of law and the state sector offender, if found guilty could be jailed or fined. Some critics also say there is a need for amendments in some of the secrecy clauses relating to bilateral or multilateral trade agreements including the controversial deal with India.

Whatever the negatives or shortcomings, Sri Lank is taking a major step towards creating a better tomorrow in a just society -- while a giant leap will be possible if the people remain vigilant and play a vibrant role in maintaining liberty and democracy.