---

hile we commend the national government's evolution into Hi-Tech digital education, and equally important area is eco-education -- essentially to teach the children how to reduce global warming, air pollution and other dimensions of the ongoing ecological crisis.

A related disclosure was made in Beliatta yesterday. Police said they made a surprise check on schools vans and found that more than 70 of them were not following the regulations of having a matron to protect the schoolgirls and boys in the face of the growing number of cases of sexual abuse of children. This crisis of sexual abuse also needs to be given priority. But our focus today is on air pollution and related issues. So more questions arise about the safety of school vans. Parents complain that most school vans are old, emit carbon heavily, dilapidated with seats broken and no proper ventilation. For a ten to twelve km journey up and down, the van owners charge about Rs. 3, 500 or more a month and demand it even during the three months of school holidays too.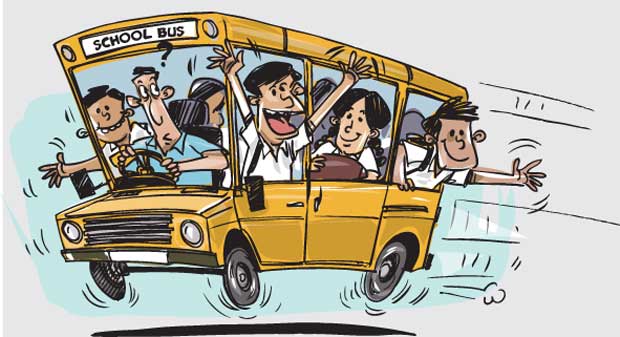 According to reports thousands of vans carry children to schools in Colombo, other cities and suburbs on week days. Besides the physical dangers to children, these vans cause heavy traffic jams and the colossal waste of fuel which in turn causes more air pollution and also a huge waste of foreign exchange for the import of fuel. In addition precious time is wasted in traffic snarls.

Analysts say that if an efficient public transport system is arranged, ten buses could do the work of thirty vans. This will reduce traffic jams, air pollution, fuel usage and also save time.

For this purpose school authorities need to coordinate with the Sri Lanka Transport Board or the Transport Ministry to arrange an efficient school bus service and give incentives such as season tickets at half rates. Parents also need to proactively cooperate with this noble venture though there may be exceptions in some areas where school buses cannot operate. Experts have proposed this for a number of years but little or nothing has been done. After the Climate Change summit in Paris last year, this is the year when effective steps need to be taken to reduce global warming and a good place to start is the school. We urge school and transport authorities to work out arrangements for an efficient school bus system hopefully to begin after the National New Year.
In Singapore and other countries, the enlightened authorities there are even setting up green schools. Some of the classrooms are built to function on sunlight and wind power. Children often waste food largely because their school teachers and parents do not teach them that it is wrong or sinful to waste food at a time when half the world's population of some 3500 million are living below the poverty line. Even of food is left over, the Singapore green schools have built recycling bins, so that the food is not wasted but used for compost fertilizer. Some of these green schools have even built systems for rainwater harvesting, so that not a drop of fresh water is wasted. This wonderful principle was preached and practised by our great king Parakramabahu. Unfortunately we are not practicing it widely while states like Singapore, just 50 years old, are teaching and practising it in their schools.
We may be late, but this year and our schools are a good time and place to start. Eco-education needs to be included as a regular subject in the school syllabus so that the children will learn and perhaps teach their parents also how to tackle the climate change crisis by reducing air pollution stopping the waste of fresh water and electricity and stopping the pollution of mother earth. This is happening to a large extent today through the excessive use of imported agro-chemicals and it is unfortunate that even farmer communities are unaware of this. If the children are taught this in school they could teach their parents.

We again urge school authorities that the long and hard journey towards saving our mother earth needs to begin in school by teaching our children about the vital issues involved in the ecology crisis. The first step could be a switch from private transport to efficient public transport and we hope this would be a New Year gift to Mother Lanka and Mother Nature.