---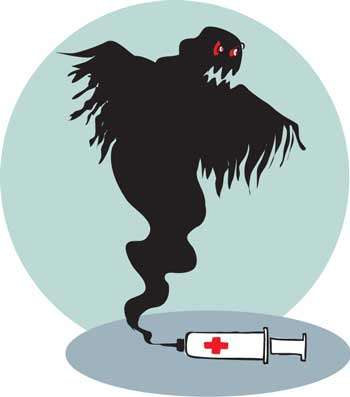 During the past few decades, transnational drug companies often operating as an international mafia are known to have indulged in a multitude of operations ranging from the manufacture of non-essential drugs to medical tests. This has led to a worldwide crisis where the private medical practice – once regarded as a vocation – later became a profession and has now become one of the biggest profit-making businesses with private investors throwing their billions into the setting up of private hospitals. Charges are known to be unduly-high with non-essential drugs or tests being often prescribed. For many middle-class families which have no option but to go to the private medical sector, one major illness such as a heart or kidney ailment could lead to bankruptcy.

One of the latest such crimes was what Cable News Network's Chief International Correspondent Christina Amanpour described as secrets and lies in a Silicon Valley startup. She interviewed the Wall Street Journal's investigative journalist John Carreyrou who had covered healthcare for about 10 years.

Asked what made him investigate this racket and write the book titled 'Bad Blood', Mr. Carreyrou said he had read a profile of Elizabeth Holmes, the founder of Theranos in "The New Yorker" magazine. She had soared to fame about one year earlier and he was curious as to how this happened. He was curious about how Ms. Holmes, a Stanford dropout could invent new medical science that would revolutionise the industry.

"I found that hard to believe. But to be fair, I probably would not have done anything with that hunch if a few weeks later I had not got a tip from a practising pathologist in the United States' Midwest. He had also been very dubious of the claims and what was happening," the journalist told CNN.

According to him, the claim was that company Theranos could run the full range of lab tests from just a drop of blood pricked from the finger. He knew from experience this process was a difficult scientific nut to crack. So, he wrote a skeptical blog item and was contacted by people who also said they were suspicious about Elizabeth Holmes and Theranos. This started the investigation.

Ms. Holmes had got a lot of investors and publicity, riding the wave of Silicon Valley startups. Christina Amanpour said "Ms. Holmes was a woman and maybe that played into it."

Journalist Carreyrou said Ms. Holmes had invented a device that could run the full range of lab tests, which, if you speak to experts, means anywhere from several hundred to several thousand blood tests, off a tiny pinprick of blood obtained from the fingertip. It would have had interesting applications and made blood testing much more user-friendly or less painful. "A lot of people don't like the big syringe being stuck in their arms, and this would've obviated the need for that," he said.
As Ms. Holmes claimed at the height of her fame, people would get their blood tests more often and therefore, diseases would get diagnosed earlier and people would have to say goodbye to loved ones less often, the investigative journalist added.

When asked how she got away with it for so long, the journalist said "I think it speaks a lot about this Silicon Valley ethos where you fake-it-until-you-make-it." She modelled herself after Steve Jobs, who was her idol as was Apple and the computer industry. Christiana Amanpour said "She obviously did not talk to you about the book you did. She had the image of someone much older than she was, the way she trained her big blue eyes on you without blinking made you feel like the centre of the world. It was almost hypnotic."

The journalist said "I don't think she dropped out of Stanford at 19 in 2003 with the notion she was going to execute this long con, defraud investors and put patients in harm's way. I believe that was not her motivation originally. Her motivation was to create a great company, to walk in the footsteps of Steve Jobs and to become a successful Silicon Valley entrepreneur."

While making use of the marvels of modern medical technology, Sri Lanka also must diagnose issues well and make sure it does not become a bloody pool.