---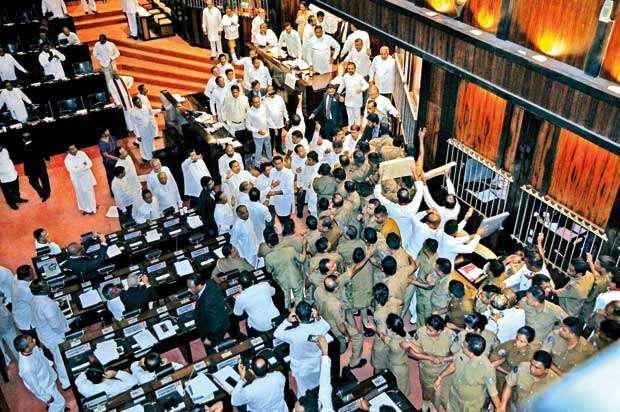 In an open market economy, there are no Bad boys or good guys
"No democratic and decent rule can be expected from a government that has lost its credibility within an illegitimate Parliament…. We are well aware, there can be no disciplined and clean Parliaments elected in these awfully corrupt open market economies. It is for that reason we stress the necessity of a "National Development Programme" as an alternative to this open market economy. Yet, the most immediate crisis today is that those who clamour for justice within this Parliament is further escalating and aggravating the crisis."

Quote from media statement issued Monday 26/11 by the Free Trade Zones and General Services Employees' Union (FTZ&GSEU).

It is a chaotic crisis now, with Parliament turned into a playground for lumpen politicians. A resolution in Parliament proposes to stop funds allocated to the "illegal" PM, that may cut funds to Temple Trees where the "sitting" PM permanently resides.
No Confidence Motion against PM Rajapaksa, whilst labelling him "illegal", challenged his majority twice leading to pandemonium in Parliament.
President Sirisena vows never again to appoint Wickremesinghe as PM. During the 2015 August elections, he vowed Rajapaksa would never be appointed PM even if he sweeps the polls.

Wickremesinghe was ousted for heavy corruption beginning with the first Bond scam says President Sirisena, promising to initiate investigations. A promise was given during the 2015 January presidential election too, to investigate corruptions during Rajapaksa rule.
In this "Democratic Socialist" Republic, the Supreme Court is inundated with FR petitions by urban Democrats, pleading the SC to stop elections Gazetted for 05 January 2019.
In the Police Department, funded by public monies to maintain law and order, top officers languish in jail for a contract killing and in remand prison as suspects for murder and abductions.
The IGP is questioned over a conspiracy to assassinate the incumbent President and former Secretary to the Defence Ministry and about a cheque drawn to the value of Rs. 500,000 where a DIG too stands implicated.

Present Chief of Defence Staff is also accused of aiding and abetting to protect a suspect in the abduction and murder of 11 Tamil youths.
The economy meanwhile came tumbling down and is about to break its crown at 200 Rupees for a US dollar even before Santa comes to town.
Everything happening, in the over three years of fiscal and economic (mis)management, under PM Wickremesinghe as Minister of Policy Planning and Economic Development, who had the Central Bank also under him. His closest political buddies handled everything from FDIs, FTAs to banking and finance in macroeconomic planning. Approval and implementation were co-ordinated by his experts appointed to an economic management committee that centralised everything under him. The lowest GDP growth rate in a decade was recorded in 2017 at 3.7 per cent under such economic planning.
This enormously corrupt open market economy necessitated a high handed and a miserably drafted, much hyped 19 Amendment that made the Constitution a "Pickle of Contradictions" for politicians to play rugby without a referee.
It led to the post 26/10 battle between the 02 major power blocs, to gain political access to an in the decent open market that provides numerous income sources with political power.

This battle, therefore, is not about opposing political ideologies and differences in "development planning". No political party elected to Government since 1977 nor a single President from Jayewardene to Sirisena has ever talked about dumping this open market economy for a more inclusive and democratic development model.
The open market economy continues unabated with continued liberalisation in trade, massive tax and duty concessions for FDIs in export manufacture, foreign aid and loans borrowed for even unsolicited infrastructure projects.
To use the textbook term, "neoliberal economies" breed lumpen businessmen, famously called the Filthy Rich.
They take care of an urban middle-class for mutual gain and virtually buy political parties as a future investment.

The present mess, therefore, is not about bad boys posted to important positions, or about good guys not given important positions. It is about any guy posted to any position having got to survive in this filthy rich open economy, I always stress as inherently corrupt. In this inherently corrupt economy, all governments plan for private sector profits. IMF, WB and ADB strategy of effecting structural changes to ease out areas owned or controlled by the State thus become government policy. They not only provide new space for private investments but also allow private business to control social and personal life. That comes with the State pulled back from maintaining welfare services like health, education and public transport. With State enterprises declared bankrupt and sold-with relocation of people to release lands as real estate for private investment.
"The unspoken irony is that 40 years of the open market economy has denied rural society a viable and a decent life irrespective of ethnic and religious differences"

"There are no Good guys and Bad boys in open market economies"

This policy is carried through with the filthy rich engaging in decision making, supported by professionals brought in as consultants, advisers, experts and also as accountants and financial managers.
Deciding and drafting policies and reforms for investor freedom are outsourced to foreign agencies. They often get implemented with little information on the public domain. They are never democratic decisions and are not accountable to people.
In 2016 November the USAID launched such a dubious project effective till October 2020 titled Supporting Accelerated Investment in Sri Lanka (SAIL). It is subcontracted to a US company Chemonics International, Inc. mandated to-
"Assist policymakers in relevant government ministries and agencies to formulate reform policies, draft legislation and regulations as needed, and build capacity for administrative implementation once reforms are approved."
The lingo says it all. It is "once reforms are approved" and not "if approved".

When the USAID submitted draft labour laws in 2017, it was not to the Labour Ministry, but to the Ministry of Development Strategies and International Trade then under Malik Samarawickrama.
These draft laws will have to be adopted and the SAIL project is therefore mandated to create a lobby in legitimising their reforms.
It says:
"Catalyze advocacy for reforms among civil society by working with industry associations, trade unions (sic) and other civil society organizations…"
Interestingly, the civil society will be their funded Colombo NGOs and trade unions would be those few, the Colombo office of the American Centre for International Labour Solidarity (ACILS) works with. In similar fashion, drafting reforms to restructure EPF was decided elsewhere and outsourced to the ADB to be within the 300 million US dollar ADB loan. The ADB then hired a US-based company for the job and their consultancy fee is borne by the SL Government as part of the ADB loan.
The Group has proposed private fund managers to decide EPF investments among many other reforms. These foreign projects provide for well looked after training here and abroad, foreign trips, local consultancies for State officials and middle-class professionals to fall in line with their thinking and defend the open market economic policy. All economic indices used in open market economies have no relation to people's lives. The poverty line in Sri Lanka as in India, Bangladesh and in most other countries is only about meeting basic needs in poor lives without proper access to resources and opportunities. In October (2018) the national poverty line was accordingly decided at Rs.4,648 per person, per month. Would one ever believe a family of four could survive a month with both parents together eking out an income of Rs. 9,296 only?

On that unbelievably and unrealistically low poverty line, it is said poverty had dropped to 4.9 per cent in Sri Lanka. Common sense tells one, if the poverty line is drawn at a liveable income of Rs.10,000 (USD 55) per person a month, poverty in Sri Lanka would immediately jump to over 60 per cent. So is it with annual GDP per capita income that has increased from USD 2,341 in 2008 to USD 3,842.3 in 2017.
In terms of the rupee to dollar exchange value as at 2017 December, it was Rs. 580,187.3 per annum at an average of Rs.48,349 per month. What percentage of the population can claim that monthly income in Sri Lanka?

While the minimum monthly national wage is Rs.13,500, the average take-home pay announced for vacancies in the apparel sector is around Rs. 25,000 per month with incentives, target and holiday pay allowances and compulsory overtime, all totalled together.
What's apparent therefore is, accumulation of wealth and income is in the city. It provides for the new rich and the urban middle class. The larger rural sector remains as cheap labour. Youth trek to main cities in search of employment in the expanding informal sector, where income and employment are never permanent. Most others, mostly young rural women end up as housemaids in the Middle East, remitting foreign income for an ailing economy.

The unspoken irony is that 40 years of an open market economy has denied rural society a viable and a decent life irrespective of ethnic and religious differences.
Apart from mega corruption, the urban middle class, also irrespective of ethnic and religious differences, reflects the open market economy's growing inequality and injustice with the filthy rich dominating politics. With no ethnic and religious differences, politics is being vulgarised and is inevitable and unavoidable. Open market economies are effectively and functionally autocratic. The 19th Amendment proves the UNP leadership usurped power with a Pickled Constitution, while Rajapaksa abused power on Sinhala Buddhist dominance. There are no Good guys and Bad boys in open market economies. Demanding sanity without questioning the open market economy is an articulation of the urban middle class of their need for a privileged life with the status quo.
A permanent stable answer, therefore, is about dumping the open market economy and working out an alternate inclusive national development model with functional direct democracy for execution.
A hard job, but worth doing.