---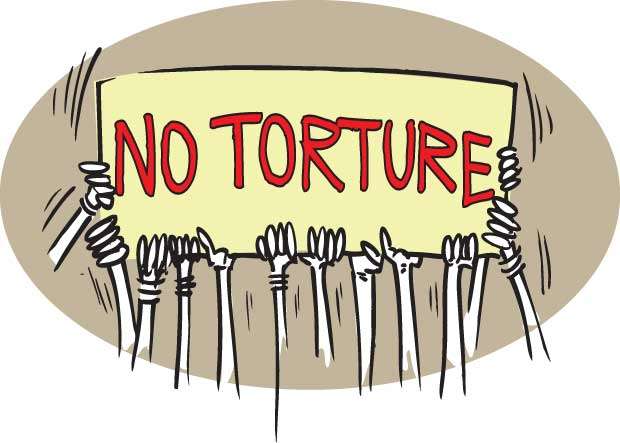 Yesterday was the United Nations Day in support of victims of torture with the world body saying that torture seeks to annihilate the victim's personality and denies the inherent dignity of the human being. According to the UN, despite the strict prohibition of torture under international law, torture persists in all regions of the world.
Concerns about protecting national security and borders are increasingly used to allow torture and other forms of cruel, degrading and inhuman treatment.
Though the UN makes no mention of it for obvious reasons we see this happening today in the United States, which was considered the citadel of the free world and democratic governance. US President Donald Trump and Attorney General Jeff Sessions have declared a zero tolerance policy towards immigrants who cross the Southern border without proper documents. Implementing this policy in a manner which most analysts described as cruel or brutal, the Trump administration earlier this month separated the children from the families that crossed the border. Some 2,500 children including some babies of the tender age of three to six months, were kept in what some analysts described as cages while their parents were taken elsewhere, sometimes to faraway places and detained.
The dangerously unpredictable President Trump who has often acted in a cruel or crude manner came under intense national and international pressure to stop this inhumane separation of children from their parents. International TV channels showed heart-breaking images of the children in detention with one visual having the voice cut of their children pleading for their parents. The crisis was given a cruel twist when a detention centre guard was heard to say they only need an orchestra to back the cry of the children.
The undocumented emigrants had come from Nicaragua, El Salvador, Guatemala, Honduras and other Latin American countries where savage gangs such as MS13 are threatening to torture or kill the families if the teenage children were not handed over for underworld gang operations. Later last week Mr. Trump revoked his decision but even yesterday both administration officials and volunteer organisations said they were unable to identify who was whose child because no documents had been obtained when they were separated.
According to the UN, torture and its pervasive consequences often go beyond the isolated act on an individual. It can be transmitted through generations and lead to cycles of violence. The UN has condemned torture from the outset as one of the vilest acts perpetrated by human beings on their fellow human beings.
"Torture is a crime under international law. According to all relevant instruments, it is absolutely prohibited and cannot be justified under any circumstances. This prohibition forms part of customary international law. This means it is binding on every member of the international community, regardless of whether a State has ratified international treaties in which torture is expressly prohibited. The systematic or widespread practice of torture constitutes a crime against humanity," the UN says.
UN Secretary General António Guterres in a message says, torture remains unacceptable and unjustified at all times, including during states of emergency, political instability, or even in a war. On this day, let us also pay tribute to all those who stand in solidarity with victims and their families and reaffirm our commitment to ending this abominable and useless practice, he adds.
In Sri Lanka after the new government took over and revived media freedom, transparency and accountability, instances of torture have come down. But in the aftermath of the 30-year war and two youth uprisings in the South, torture appears to be still persisting in the system of some sections of the security forces. We hope that security forces, the government and all the people will come to the realisation that torture is inhuman and cannot be justified under any circumstances.