---
By New Zealand Prime Minister John Key
It takes an incredible amount of grace, ambition and willingness to ask tough questions for a country to move on from conflict.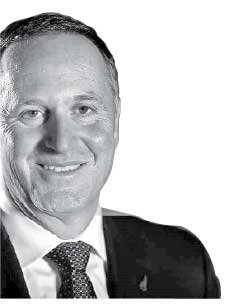 And it takes strong leadership, both from the Government and civil society, to rebuild a country and provide its people with the opportunities and quality of life they deserve.

In 2013, when I first travelled to Colombo the questions centred on Sri Lanka's recent past. This year, I bring a trade delegation representing some of New Zealand's largest business interests, against a backdrop of renewed optimism for Sri Lanka and recognition of the opportunities our two countries present each other.

New Zealand applauds the considerable efforts made by the Sri Lankan Government and the people to foster a harmonious, multi-ethnic Nation. We have welcomed the Sri Lankan Government's peace and reconciliation agenda, including the creation of a Truth and Reconciliation Commission.

Last year, we stood alongside Sri Lanka to co-sponsor a United Nations resolution promoting reconciliation, accountability and human rights in Sri Lanka and we are ready to play our part to help your country do that.

There are many reasons for the warm relationship between New Zealand and Sri Lanka.
We have a shared heritage as Commonwealth Nations and a similar outlook as multi-ethnic, multi-lingual island nations.

New Zealand has a vibrant Sri Lankan community of some 12,000 and growing education and tourism ties between our two countries.

We have a shared passion for cricket, though our Black Caps batsmen have less fond memories of the likes of Lasith Malinga and Muttiah Muralitharan, as well as rugby, culture and the arts while agriculture is critical to the health and success of both our economies, though we are increasingly succeeding across a range of different sectors.

There are opportunities for our people, businesses and governments to work together – to exchange ideas and innovations, to invest in each other's economies and to build social connections through education. In 2015, two-way trade between our two nations was worth 31 billion Sri Lankan rupees. Trade in dairy products was a dominant component of this trade, and there are good reasons for this. New Zealand is a global leader in dairy production and has developed advanced technologies and systems that mean we can produce dairy products efficiently and effectively.

New Zealand has been pleased to share this expertise and experience with Sri Lanka to help grow the dairy sector here, supporting farmers and local economies. Through the New Zealand Aid Programme, we have invested more than 1 billion Sri Lankan rupees to help drive the productivity of the Sri Lankan dairy industry.

One such dairy development project is the Wanni Dairy Regeneration Programme in the Northern Province.

This project works alongside more than 1,800 Sri Lankan farmers and has successfully strengthened business management and animal husbandry practices as well as cold chain infrastructure.
Importantly that means higher incomes and better outcomes for the farmers involved.

I look forward to announcing further dairy-cooperation initiatives between our two governments during my visit. I've also been pleased to see the significant investments made by Fonterra, New Zealand's largest dairy cooperative in Sri Lanka.

It currently employs 750 people here and processes the milk of 4,000 Sri Lankan farmers.
During my visit, I will attend the opening of a new Fonterra Demonstration Farm and Training Centre in Pannala. The farm demonstrates how our businesses can work together to share expertise and work towards common economic goals.

Beyond dairy, there are a number of other areas where our economic relationship is growing.
New Zealanders are great consumers of high-quality Sri Lankan products. Sri Lankan tea, clothing and other textiles are a mainstay in New Zealand and Sri Lankan businesses are seeking to increase their presence in my country. I look forward to speaking to business audiences in Colombo next week to explore those opportunities.

In November last year, former New Zealand Deputy Prime Minister Sir Don McKinnon was part of a large New Zealand business mission to Sri Lanka, made up of representatives from New Zealand's food and beverage sector, aviation training, education, specialised manufacturing, and creative industries.

Some of these companies will return with me to Sri Lanka next week to sign commercial arrangements and solidify their investment here. Their presence is incredibly important because connecting our people is the best way to build a common understanding and outlook.

Tourism and education also play a key role in this. Last year, some 8,000 New Zealanders visited Sri Lanka and almost 2,500 Sri Lankans visited our shores.

The recently concluded Air Services Agreement between New Zealand and Sri Lanka will see these numbers grow further.

Last year, nearly 1,000 Sri Lankan students studied in New Zealand. Applications for Commonwealth Scholarships for tertiary study in New Zealand are now open and I warmly encourage interested Sri Lankan students to apply.

In closing, I would like to again express my pleasure at coming back to Sri Lanka.

You have a beautiful country and a bright future and New Zealand stands ready to help you fulfil that.
New Zealand is a friend to Sri Lanka and I am sure we can continue to work together to strengthen our ties and deliver results that will benefit both our nations for generations to come.

New Zealand Prime Minister John Key will undertake an official visit to Sri Lanka from February 23 to 27.