---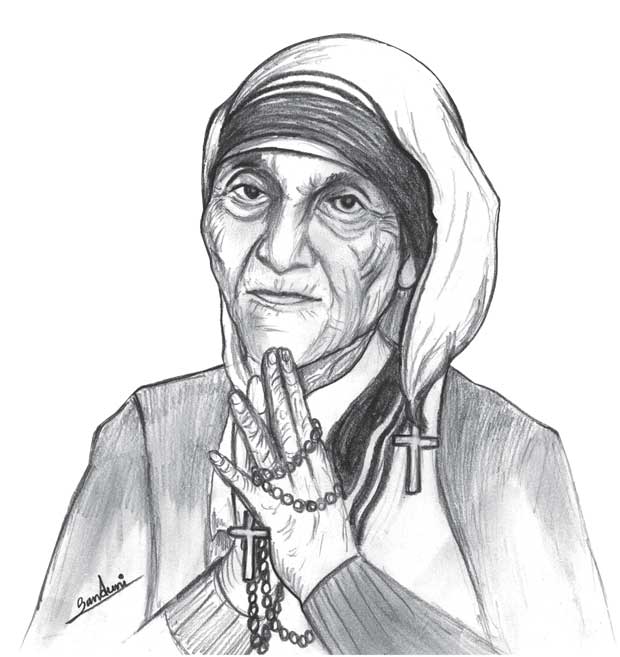 other Teresa of Calcutta also known as the "Saint of the Gutters", was canonized Mother Teresa of Kolkata by Pope Francis yesterday (Sunday 04.08.2016). Revered by Catholics, she was a model of compassion, who brought relief to the sick and dying, opening branches of her Missionaries of Charity (MoC) Order around the world.
Mother Teresa was also a controversial figure. She held extremely conservative views on abortion, opposed it in totality and was absolutely unafraid to make her beliefs known. Her order established a hospice; centres for the blind, aged, and disabled; and a leper colony in India and branches worldwide.
A Nobel Peace Prize winner, Mother Teresa was acclaimed for her work amongst the world's poorest of the poor in the slums of what was known as the Black Hole of Calcutta –today known as Kolkata.
She fought against poverty, going out into filthy streets to serve the destitute, but also embraced it in her own life, giving up all material goods and physical comforts. It is said she limited herself to one spare saree. The Nobel Prize winner, had her admirers and her detractors who blamed her saying she did little to alleviate the pain of the terminally ill and did nothing to stamp out the root causes of poverty.

Among her admirers is Indian Prime Minister Narendra Modi, who described her saying: "All her life she worked to serve poorer sections of Indian society. When such a person is conferred with sainthood, it is natural for Indians to feel proud…"
Father Brian Kolodiejchuk, the MoC Priest who campaigned for her sainthood said, her detractors missed the point of her mission, arguing that she had created a place to comfort people in their final days rather than establish hospitals. "We don't have to prove that saints were perfect, because no one is perfect," he said.
The Catholic Church posthumously confers sainthood on people considered so holy during their lives that they are now believed to be with God and can intercede with him to perform miracles. Such is the status of Mother Teresa -acclaimed for her work in the slums of the Indian city of Kolkata.
Born on August 26, 1910, in Skopje, the capital of Macedonia, she was baptized Gonxha Bojaxhiu. In 1928, 18-year-old Agnes decided to become a nun and set off for Ireland to join the Sisters of Loreto in Dublin. It was there that she took the name Sister Mary Teresa.

In May 1931, she made her First Profession of Vows and was sent to Calcutta, to teach at a school run by the Loreto Sisters -teaching girls from the city's poorest Bengali families. Sister Teresa learned to speak both Bengali and Hindi fluently as she taught geography and history and dedicated herself to alleviating the girls' poverty through education. On May 24, 1937, she took her Final Profession of Vows to a life of poverty, chastity and obedience and took on the title of "Mother." Thus, becoming known as Mother Teresa.
In 1946, she experienced a second calling... saying, Christ spoke to her and told her to work in the slums of Calcutta aiding the city's poorest and sick people. Having taken a vow of obedience, she would not leave her convent without official permission. In January 1948 she finally received approval. That August, after six months of basic medical training, she entered the slums of Calcutta's with a goal of aiding "the unwanted, the unloved, the uncared for," the rest is history.

The lessons from Mother Teresa's life are well summed up in The Washington Post': 'It was in her speech at the National Prayer Breakfast in 1994 that she taught the American people, including Hillary Clinton (who was there as First Lady) about spiritual, or moral, poverty. Her speech was a shock to a complacent and prosperous country, ready to admire a woman who cared for the hungry and needy in slums, while congratulating itself that here, we manage things much better. We are, after all, a country that shows our love of neighbour by funding government programmes and social services that keep our fellow citizens decently housed and fed. Fighting material poverty is something we generally know how to do.
"But Mother Teresa gently pointed out that in our "rich" country, we suffer not from material poverty but rather from spiritual, or moral poverty. A poverty marked by the lonely elderly in nursing homes, the young people given over to drugs, and the hundreds of thousands of lives blighted by abortion (both children and their parents)'.