---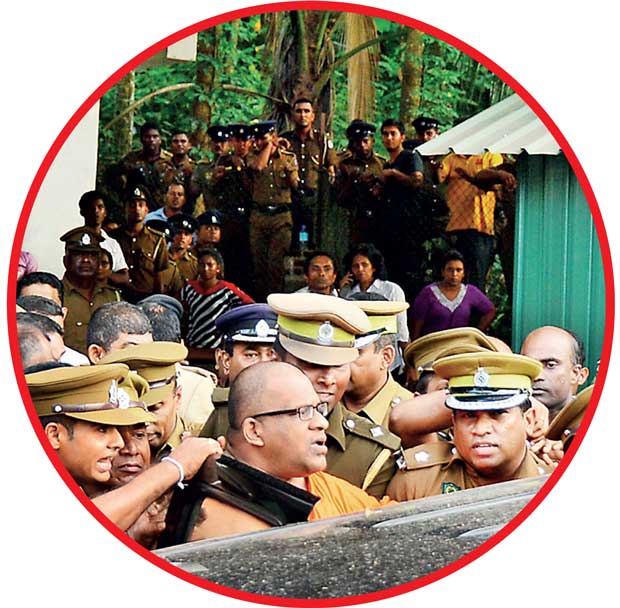 "If you must break the law, do it to seize power: in all other cases observe it."
- Julius Caesar
He is in the new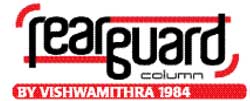 s again. Parading in yellow robes, portraying himself as a martyr of the present day and saviour of Sinhala Buddhists; Galagoda Atte Gnanasara Thero, a Buddhist monk whose credentials are more of a homage to a defeated regime of corruption and deceit than a parade of a victorious army, played another one of his infamous ploys, and this time too, came out a loser.
The country's judiciary is no more enslaved by a ruling clan; its pride is no more compromised or damaged by near-midnight telephone calls from the powers that be; it is independent and showing it.
Leave alone the Supreme Court and Appeal Court; the High Court and all other judicial Courts below that and their standard bearers -- learned Judges of our Court system -- are dispensing justice as they should. A classic case is, when this Buddhist Monk was, firstly accused of insulting the country's Court system and then arresting him -- yes, arresting him! This charlatan of a Monk -- Galagoda Atte Gnanasara Thera for his unruly behaviour. As one writer penned:"in fact, this is not the first time when he has been taking both Buddhists in particular and Sri Lankans in general on a jolly good ride into make them believe as if he is some sort of born again reformist working to protect the interests of this country. Neither will this be the last…"

Long before this happened, during the former regime, when he received unparalleled patronage from the ruling family, I penned more than one column in arousing the awareness of the foul-mouthed and uncivilized conduct of this individual who was calling himself the saviour of Sinhalese-Buddhist values. However, our mainstream media, as in the case of their American counterpart in the far West, lending credence and unlimited exposure to a shameful pretender like Donald Trump, is blowing out of proportion the whole melodrama enacted by Galagoda Atte Gnanasara Thero.

Media loves to hang onto sensationalism. Some tabloids which pretend to be newspapers, make sensationalism their daily bread and butter and in the process give validity to manufactured news stories; some lend legitimacy to rumours without any provision for fact-checking and some print, telecast and broadcast outright lies. One can understand some exaggerations and embellishments. Yet, when such exaggerations surpass the journalistic boundaries of the times, readers and viewers would seriously question; not only the authenticity of the subjects they write about, the credibility of the writers too becomes highly questionable and they seem to be deeply embedded in vested interests.

"This is only the beginning, we have never betrayed our struggle, so give me two days" the BBS General Secretary said the other day addressing the protesters outside the premises of the Homagama Magistrate's Court, prior to being taken away from the Court. His tantrums seem to have reached a point of no-return. Only losers and megalomaniacs such as he use such lingo and misconceived clichés.

President Sirisena and Premier Wickremesinghe have opted to be silent on this whole incident, and quite rightly so.

The unrestrained arrogance that some of the clergy display when they are cocooned in the exalted catacombs of power, their callous disregard for the needy and poor, their hypocrisy towering above the very temple walls that they inhabit within, are all part of the decay that has set in in the modern world.
Yet, the unreserved power and wealth that is being showered upon them by cowardly politicians, constitutional predominance granted for selected religions and thereby banishing the concept of a 'secular' country have methodically driven the nation's conscience to an unconscionable degree. The very decay of morals and ethics has begun at the point of beginning -- temples, churches, mosques and kovils.

Palatial houses, instead of humble and modest dwelling places for Monks, priests or imams, are crowding the country's landscape. Caste becomes the main criterion when Monks are ordained in the various 'Nikayas' and sects. History is abundant with colossal buildings and remarkable architecture of our ancient rulers; Buddha statues and massive irrigation systems bear testimony to a unique culture of art, science and above all a collective mind of a nation at peace with itself. As Joseph Conrad, the Polish-British writer regarded as one of the greatest novelists to write in the English language said: 'A caricature is putting the face of a joke on the body of a truth'. But we must not lose faith; nor should we abandon our craving for better times.

Nevertheless, faith alone is not going to deliver us. History is crowded with falls and rises of many a civilized nation. The enormity of wealth and technological advancement that the modern world has bestowed upon man is taking its toll. But the brave and wise would know where to draw the line between moral and immoral. Those who dare would always find a place to rest and ponder; they would never cease to grope and explore for man's mind is the most extraordinary miracle in the universe. And it is not at the end of a 'creation', but in fact, at the very beginning of intellectual curiosity in the long story of evolution.

Ven. Galagoda Atte Gnanasara Thera is not the last corrupt Buddhist Monk and he certainly is not going to be the last. A savvy union between these corrupt members of the clergy and the ruling class is the first and last autograph of a society in conflict with itself. What was in display during the last five years of the Rajapaksa era is not prevalent any more. Thankfully, the current leadership of the State is wilfully keeping away from patronizing such dregs of society.

Dante Alighieri, author of Divine Comedy wrote: "The darkest places in hell are reserved for those who maintain their neutrality in times of moral crisis". Devine Comedy is widely considered the greatest literary work composed in the Italian language and a masterpiece of world literature. All who consider themselves worthy cannot just snub and discount the joke of patriotism that is being propagandised these charlatans of the clergy and look the other way. If one chooses to do so would invariably do it at his or her peril.

Ven. Galagoda Atte Gnanasara Thera is not the disease. He is not the virus. He is a carrier of the virus who needs to be stopped, of course, within the lofty boundaries of the law and sublime expanse of wisdom.

The writer can be contacted at vishwamithra1984@gmail.com