---
In a society where "politics" is nothing but personal or a family enterprise in gaining entry to parliament and be part of "power politics", parliamentarian Mangala Samaraweera surprised all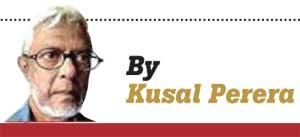 by announcing his departure from parliamentary politics. But said, he would still remain in active politics with the "People". Accepted as one with strong principles, he is in a personal dilemma no doubt in fitting himself within Sri Lankan politics. He has openly been anti-racist, firm on democratic and human rights and standing for good governance.
In the past nevertheless, when he was a key player in making and breaking governments, Mangala did leave his now strongly articulated principles aside to have governments of his choice. The 2002 Cease Fire Agreement (CFA) the Ranil Wickremesinghe government entered into with the LTTE, brokered by the Norwegian government should have been what Mangala stood for, on principle. Instead he schemed with President Kumaratunge to oust the RW government with Sinhala racists like the JHU and JVP supporting. He was also the manager of Mahinda Rajapaksa's 2005 November presidential election campaign that brought together all the ugly shades of Sinhala-Buddhist racism against RW's candidacy.
"He was a key player in making and breaking governments, Mangala did leave his now strongly articulated principles aside to have governments of his choice"

Though Mangala managed to remain personally "clean" during his three decades plus political career, he has been a powerful cabinet minister in all governments that reeked with massive corruption. IF parliamentary democracy is about collective responsibility, Mangala as a powerful cabinet minister in CBK's and RW's governments is responsible for all corruption "big and small" and also for the "Bond scam" that counts as the biggest fraud ever in Sri Lanka.
Decades long power struggle within the UNP to replace Ranil with Sajith Premadasa as its leader, saw Mangala standing with RW after he joined the UNP in 2010. An open challenge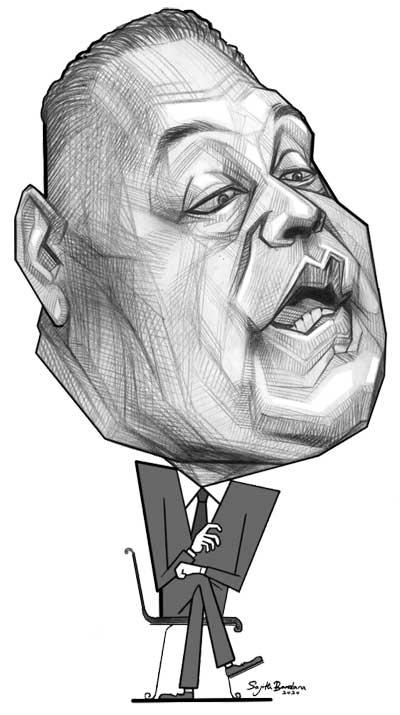 against RW's leadership by a fairly large young group who organised the anti-Ranil protest march from Matara was forcibly dispersed by Mangala supporters now called the "kurundu polu" (Cinnamon sticks) attack. That was not about principled politics, but about retaining RW as the "leader". This same Mangala was also the politician with CBK, who created the social mindset that RW can never win an election, posting him on city walls as "Mr. Bean". With 2019 November presidential election inching closer, Mangala was instrumental in bringing Sajith as the presidential candidate endorsed by the UNP and that led to a total break-up of the grand old party.

Mangala's political character in terms of Sri Lankan politics is controversial. His was all about "political power". His manoeuvres and scheming within political leaderships that had nothing democratic in them, has always been for political power. Unfortunately for him, his "powerplay" in a free market economy left him with growing corruption and brewing racism all around him. He was therefore getting dragged into a conflict with himself, unable to achieve what he stood for and having got to defend inefficient and corrupt governments. His efforts to push for a plural society with a strong commitment on UNHRC Resolution 30/1 during his tenure as Foreign Minister had to be compromised too due to Sinhala-Buddhist demands from within his own government.

Thus, when the UNP had to get set for presidential election, Mangala's strategy was to challenge Sinhala-Buddhist politics of the Rajapaksa platform. He thus became more articulate and loud on racial and religious issues. After the presidential election, with parliamentary election set for April 25 (COVID-19 outbreak changed dates) SJB led by Sajith with old mediocre politicians, sealed Mangala's political fate, when they decided they would work with President Gotabaya Rajapaksa. Some like Harsha de Silva and Harin Fernando went about saying the next government should be headed by President Gotabaya with Sajith as PM and claimed that would be the ideal combination for an efficient government. No lessons learnt from the utter mess they led this country to, in alliance with President Sirisena. No common sense too, for voters would not buy their "promise" to vote against the SLPP, when Gotabaya represents the SLPP. Such timid and subservient politics of Sajith and clan is not Mangala's brand of politics. He has thus stepped in to the COVID-19 global crisis that demands a paradigm shift in socio-economic development. COVID-19 pandemic that left over 200 countries shut down for long weeks has completely dismantled the over 45 year old neo liberal global market. Mangala's "liberalism" in a neo liberal global market, is now being shunned by leading economists in the world.

The EU Bank for Reconstruction and Development (EBRD) that organised a webinar discussion on May 20, 2020 with a few leading economists led by its Chief Economist Beata Javorcik agreed capitalism in a post COVID-19 world needs fundamental structural changes. Javorcik accepted the pandemic raised issues of insecurity even in developed countries with concerns on eroding "majoritarian democracy". It's due to pressure the corporate giants bring on the political process she noted, adding, "I think in response, States would once again take control. States would respond with regulatory measures." She also said the Corporate failed the world during the past decades by avoiding responsibility for Climate Change and she therefore expects governments to have stricter controls.

Five of the most outspoken, internationally recognised women economists who challenge the very fundamentals of calculating economic growth, in a forbes.com commentary on May 21, 2020 agreed, concepts and indices in present day economics are far outdated and need to be redefined for a "regenerative and distributive" model for social sustainability and not just for economic growth. Kate Raworth, a Senior Research Associate at Oxford University's "Environmental Change Institute" and author of the much discussed and debated book "Doughnut Economics" says GDP is a 1930s concept still used in the 21st Century in a world economy that is ten times what it was then. A professor at University College of London and founder/director of its "Institute for Innovations and Public Purpose" Mariana Mazzucato says, in a post COVID-19 context, governments "should be putting conditions on the massive bail outs they are currently handing out". She says the Austrian government's aid to airlines are on condition they meet agreed emission targets, while the British government merely bails them out. "A huge missed opportunity to move towards larger, broader goals of building a better and a greener economy out of the crisis" Mazzucato emphasises.
All women economists on the forbes.com coverage agree the next phase of human development needs an active "State" with a government that has vision and direction. Carlota Perez, a Specialist on "Technology and Socio-economic Growth" is convinced in any system where "inclusivity of the rules of the game" are restricted, majority remain "reliant" and viscerally so. She thus says, "you need an active State to tilt the playing field towards social good."

Again, Mazzucato warns we "should not go back to 'normal' after COVID-19". "Normal" is what got us into this crisis she says. Instead she wants governments to "embed more 'directional' towards more equitable public good into their recovery strategies and investments." Her approach is to define "ambitious" missions that can bring together "broad coalitions of stakeholders to create solutions to support them."
Bottom line in all their thinking is to have an active "State" with a government that promotes broad stakeholder coalitions in facing up to the three major challenges they say will have to be seriously addressed; socio-economic stability within national economies, stricter and greener measures to mitigate climate change and strengthening majoritarian democracy as a functional social necessity.
"When the UNP had to get set for presidential election, Mangala's strategy was to challenge Sinhala-Buddhist politics of the Rajapaksa platform"
Mangala will have to stand up to all these challenges with his promise to lead "politics with the People". Emerging socio economic and political thinking is more focused on bringing back the "State for regulatory work" that was pushed aside in allowing filthy rich investors to decide and define the market they need to increase profits. A total change in focus and approach demands serious programming for inclusive growth. It would have to include planning far reaching reforms for educational, public health and public transport, a policy plan for environmental safety and improving rural socio-economic life.
How will Mangala face up to that challenge, all by himself? In an interview with a weekend Sinhala broadsheet on May 14, Mangala admits the crisis is so deep, this parliamentary system even with a two thirds majority government would mean nothing for the People. He says, this crisis cannot be faced and answered even with military rule. This country he says, needs a collective effort to effectively implement a "development programme".

But who would design that "development programme"? All through 72 years of parliamentary politics in independent Ceylon/Sri Lanka, we have a very negative political culture that defines "opposition" to government in terms of "protests and demands". Governments were not opposed on alternate programmes that could provide answers to meet the demands made. That "protest culture" is what the JVP too lives on with loud criticism. They don't themselves have any programme with answers, for issues they raise. Will Mangala end up the same way as a "loud critic" of Rajapaksas?
Thus, beyond his principled positions on "racism, democracy and good governance", what remains to be seen is not how different Mangala would be to both the UNP and the SJB, but also how different he would be to the JVP as well, in reaching People. How he would go about with a social discourse in creating an alternate "development programme" that would not be for the "normal" that was. He certainly needs a little more time no doubt, to buckle his shoes to get going.