---
In an interview with

Daily Mirror

, Public Administration Minister Ranjith Madduma Bandara spoke about the future of the government and the United National Party (UNP) in the wake of a humiliating defeat at the local government elections held last Saturday. Excerpts: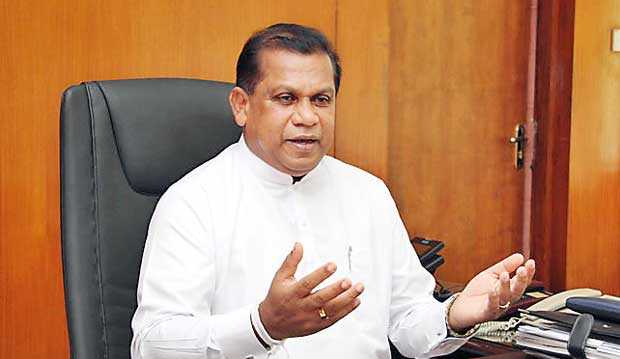 The UNP which you represent suffered a massive defeat at the local government polls. How do you read the election results?
People have overwhelmingly rejected the programme of work we carried out during the last three years. This is a warning for us. We have to change our polices and the programmes of work. A new programme has to be implemented.

You mentioned that your programme of work has been rejected. How do you specify this work and the policies rejected by people?
The UNP lost votes mainly in Sinhala majority areas. We have to understand why both Sinhala Buddhists and Sinhala Christians abandoned us in great numbers. We have to evaluate as to why it happened. The outlook of the UNP should change now. Political complexion of the party must be transformed. We must undergo transformation in our policies.
I see four other reasons for our failure. One is the delay in taking action against those involved in corruption and fraud. Secondly, we have been levelled with allegations against Bond trading by the Central Bank. Thirdly, we antagonised the media. Finally, the fertilizer crisis and Samurdi issue contributed to our failure at LG polls.

What do you think of the Sri Lanka Podujana Peramuna (SLPP) that demanded a mandate against what they termed as 'alienation of national assets' and 'incarceration of war heroes'?
In global economic affairs, I do not find any fault with what they refer to as 'alienation of national assets.' As far as I know, people were not bothered about it when casting their votes this time. It is a slogan only. If anyone has done anything wrong, be it related or not to a war hero, there should be punishment. We have not taken specific action targeting war heroes.



How do you push for reforms?
The party should undergo a major transformation in its policies. The party hierarchy should change. It should be replaced with those having public confidence.

How do you struggle for it?
The party should be controlled by those elected by people only.

Does it then mean those who weren't elected by people had a say?
Yes

Were they holding ministerial posts?
Actually, they were calling the shots in party affairs.

President Maithripala Sirisena insists Prime Minister Ranil Wickremesinghe should step down. What is your stance?
It is a separate matter. We should not mix it up with the internal affairs of the party. As a party, the UNP has taken a decision that the incumbent Prime Minister should continue to serve for the remaining period of time. It should not be changed. The present leadership received a mandate in 2015. No other party has received a mandate for it.
"PM should serve his full term

Party needs far-reaching reforms

People rejected government's programme of work for last three years

Unless reforms take place, party politicians will take alternative steps

Party should be entrusted in the hands of those elected by people

SLFPers who criticized govt. should not be given further responsibilities "

There have been struggles for reforms in the UNP since the days of the then General Secretary late Gamini Athukorale. Yet, it has not been successful. What do you feel this time?
That is why the UNP has been unable to establish a firm government for the last 20 years. It is because the UNP only worked out ad hoc, patchwork solutions to problems that arose from time to time. Even when we are in power today, we suffered a humiliating defeat at the local authorities' elections. The top notch slots of the party should be occupied by those elected and loved by ordinary party people.



How hopeful are you of implementing successful political reforms?
If it fails this time, the party's politicians will have to take alternative steps except joining other parties.

Did you ever anticipate such a big defeat this time?
There were public upsurges against the government's work every now and then. People got the chance to vent their rage at the elections. We have to reconsider them. The UNP should not be blamed for this as it could not take decisions single-handedly on certain occasions.
There were instances where the government's decisions were turned down by the executive. We could not take collective decisions. The ministers representing the Sri Lanka Freedom Party (SLFP) criticised certain actions of the government while being in it. This is the problem we faced. Those SLFP ministers should not be accommodated in the government hereafter.

How do you view the concept of the unity government between the UNP and the SLFP?
It is an arduous task for us. We did it against all odds. It is also a reason for our defeat this time. Our people and politicians are not used to it. Certain government activities were criticised by the SLFP. They tried to gain political mileage. Today, the SLFP has been relegated to a lower level than us.

Do you consider it a mistake to have supported President Sirisena as the common candidate in 2015?
At that time, we should have taken that decision. The individual, chosen as the common candidate, should have been more considerate about the UNP. He should bear in mind that it is the UNP that brought him to presidency.

How realistic is the President's talk about a new government?
It is not realistic for the SLFP to form a government. The UNP runs short of only seven seats to get a simple majority. But, the SLFP or the UPFA needs 17 more seats. They cannot get the support of the Tamil National Alliance. Also, the JVP will not join them. I am certain that anyone from the UNP will also not join. Therefore, it is not realistic.