---
Although women represent more than half of the Sri Lankan population, their representation in the field of engineering is considerably less. In order to combat this problem and to encourage more women to be part of the industry, the Institution of Engineering and Technology (IET) Young Professionals (YP) have introduced the The Young Woman Engineer Award (YWEA). At the launching ceremony of the event, many respected individuals in the field of Engineering and Technology spoke about the gender imbalance and why it was important to combat it.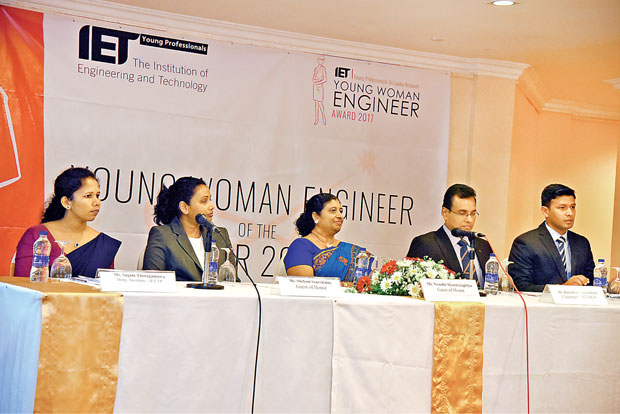 Kamal Dayananda, Chairman of the IET YP, Sri Lanka

"The IET is one of the premier professional engineering organizations in Sri Lanka, with their headquarters in the UK. The IET global network has a membership of over 167,000 qualified engineers representing 150 countries. The IET plays a role in the career development of engineering professionals throughout the world," explained Mr. Dayananda.

He further explained why the award was introduced."The YWEA is organized in parallel with the IET vision in promoting engineering for women and to acknowledge their contribution to society and the profession. It is evident that the percentage of women representing the engineering field is much

lower when compared to fields such as Arts and Commerce. Hence, we believe that giving proper recognition will encourage females to select the engineering field as a profession. This enables them to be highly valued and appreciated, especially due to the fewer numbers compared to their male equivalent."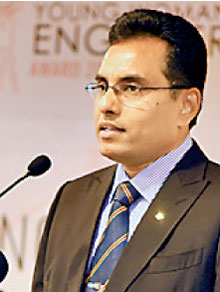 "According to the 'Skills and Demand from Industry Survey 2015', it was revealed that female engineers represented only 9% of the total engineering workforce. This indicates that there is a large gender gap when it comes to the engineering field. This can be further emphasized with the figures extracted from the University of Moratuwa Engineering Faculty in the last 5 years. In the last five batches, it can be seen that the female percentage is in the range of 20% of the total number of students. Though the figures are below 25% it is a comparatively high number when compared with other countries."

Speaking of the eligibility criteria Mr Dayananda said, " It is a national level competition. It will be open to all the academically qualified women engineers, thus an engineering degree is required and candidates should be practising engineers in the private or state sector organization or as an entrepreneur, must be currently working in Sri Lanka. You do not have to be a member of the IET and it is aimed at early career professionals (age below 35 years.)"

The road map of the process is as follows,
The application format will be released on April 17,
The deadline for the submission will be on May 22
Preliminary Interviews will be held from June 17-30
Second Round will be from July 17 to August 4
Final Round and Award Ceremony will be held in mid September
Dhammika Nanayakkara, Chairman of IET Sri Lanka

"We don't see many women excelling in the engineering profession. The gender inequity is the highest in engineering when compared to other professions such as medicine and accountancy. For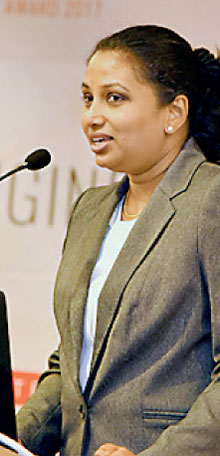 any organization to prosper starting from a small unit to a large business conglomerate, the presence of women and their contribution is very important. The whole idea of this award is to promote women in engineering."

"With more and more technology and automation coming into the field, the execution of engineering works compared to a few decades ago have become more user-friendly and convenient. Compared to other professions such as accountancy which remain the same, engineering is vibrant and ever-changing, which is what makes it an attractive profession."

"The IET vision is to engineer a better world and we do this by informing, inspiring and influencing stakeholders in the membership- and women play a major role in this. The IET Sri Lanka network in line with the IET HQ in UK has a total of over 1000 members and some of its functions include conducting seminars, workshops, technical and international conferences, forums, field visits and events for the young professional network."

Namalie Siymbalapitiya, Director of Planning at RDA and Regional Coordinator in Logistics and Transport

Speaking of the challenges women face when engaging in a profession, Ms. Siyambalapitiya said, "In Sri Lanka, we see that there exists a higher percentage of women than men in society. Which shows that we are not contributing as much towards the economy. In a society like Sri Lanka which has a traditional background, we see that women are at a disadvantage in comparison to men. Unlike men, women lack opportunities, proper guidance, family support and facilities when it comes to seeking higher education. Which is why we see that less women follow the maths stream during their A/Levels. Boys are given more freedom, allowing them to travel long distances alone to get the best quality education they can get. Whereas women face social and cultural limitations, forcing them to settle for what they have within their reach."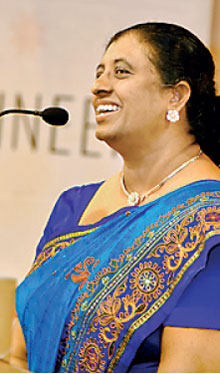 "Through natural growth, we see that the percentage of women studying engineering has grown from 12% to around 25% from the 90s till now. We can't leave this to natural growth. We have to interfere and encourage women to study engineering and continue to work in the industry. We live in a country where women need to learn to multitask due to our cultural background."

Shehanie Seneviratne, Chief Operative Officer of 99X Technology Ltd.

Speaking of the IT industry in Sri Lanka Ms. Seneviratne said, "If you take the entire export industry of Sri Lanka, the IT industry is the fourth largest export revenue generator for Sri Lanka next to apparel, tea/rubber and tourism.It's a very important sector and Sri Lanka is recognized as one of the top 25 global outsourcing destinations in the world. The IT outsourcing in Sri Lanka is really booming and there are many opportunities in this industry.The vision for the industry in Sri Lanka set by SLASSCOM, which is the industry association for IT and BPO companies, is to be a five billion dollar revenue earning industry by the year 2022. This will create 200,000 jobs and launch 1000 start ups, which means that we need to have a large workforce for this industry."

Ms. Seneviratne further explained the difference in the employment of males and females in the industry,"The male to female ratio of people following IT degrees is roughly 50:50 but when we come to the industry level, the ratio is about 60:40. In the senior management level it drops to 90:10. Here we see a lot of people dropping out in between. Some women decide not to work at all, some leave when they have children and other commitments, some join academia and other fields. Finally, the IT industry's male and female composition is 71:29."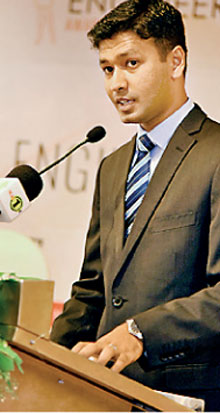 Reasoning as to why women should remain in the industry, Ms. Seneviratne said, "We need to see to it that all graduates, especially women who come into the industry, need to stay within it in order to achieve its targets. Women are needed to promote diversity because when there is a good gender balance, a healthy working environment is created. It promotes ethics and values. The organization will be able to balance risk-taking and they would face less losses. Inherently, women are known to be good at multitasking, which is a valuable skill in this industry."

"According to some findings, we see that organizations with a higher gender diverse management team outperform the industry average in financial performance. It is important for women to pursue their career and not drop out halfway. They need to set a career goal, stick by it and go all out to achieve it. They should not think that they're incapable. Instead of settling for a certain level, they should work harder to achieve something higher," advised Ms. Seneviratne.