---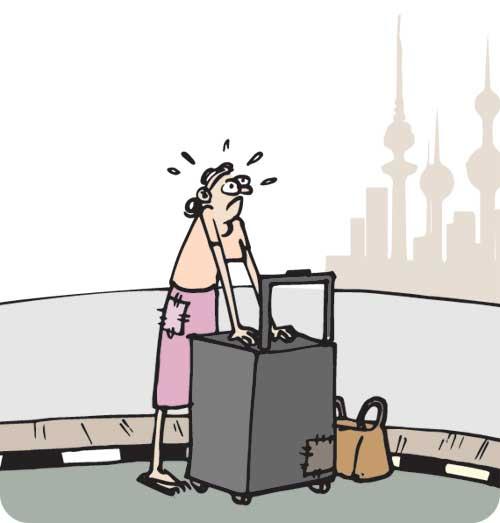 The migrant workers' affected by the COVID-19 pandemic and stranded mostly in the Middle East is a matter of concern.
Accusations are aimed at the Government of Sri Lanka (GoSL) for the lukewarm interest it shows in bringing down these workers. The regime however was quick to bringdown some workers from Seychelles during the height of the pandemic.

The talking point right now relates to the Sri Lankan workers stranded in Kuwait. Official figures reveal that as many as 19,000 Sri Lanka workers are stranded in Kuwait. These Sri Lankans have been the victims of a cold war between the state officials of Kuwait and Sri Lanka. Sri Lankan officials have aired that Kuwait is selecting workers who are infected with the virus and sending them back to Sri Lanka.

The island's airports remain closed for the public. Hence expatriate Sri Lankan workers have to receive government patronage or intervention to return to Sri Lanka. President Gotabaya Rajapaksa has said that he hopes to implement a new mechanism to bring down these foreign workers. But he has not specified as to how he would set about this task.
These expatriate workers are as important as any other worker who sweats in Sri Lanka for a living. The GoSL must take note that these expatriate workers are helping the country earn foreign revenue and also raise the country's profile. Most of these expatriate workers are qualified or part qualified and are employable overseas. For the record these expatriate workers help the island earn something close to US $ 7 billion. The Sri Lankan expatriate work force is said to be around 2 million.

The GoSL showed the world that it shows a lion heart when extending its hand to help people during a crisis. The island's government came in for praise for acting quick and bringing down stranded Sri Lankans; who were affected by the pandemic. The state's COVID-19 combat programmes have also come in for praise because now new patients are only being found within identified clusters.
Given this scenario the government mustn't get into conflicts with other nations; largely because it is debt-ridden and needs to keep ends warm with these Middle Eastern nations for the prospect of future employment.
It is heartening to know that the Sri Lanka Foreign Employment Bureau (SLFEB) has taken measures to issue circulars to foreign employment bodies and embassies to educate sponsors through them. These circulars specify that sponsors must take care of Sri Lankan expatriate workers and refrain from neglecting worker rights, terminating contracts and paying them less.

The SLFEB is operating a hot line (1989) which operates 24 hours.
For the record Samagi Jana Balawegaya (SJB) Leader Sajith Premadasa has also thrown his weight behind these stranded Sri Lankan expatriate workers in Kuwait. He has spoken to Kuwait Embassador in Sri Lanka Khalif bu dhhair and sources say that the outcome was positive.
However when the Health Minister of Sri Lanka states that many Sri Lankan returnees are infected by COVID-19 it amounts to 'taking about the problem, but not the solution'. According to Sri Lankan newspapers as many as 522 Sri Lankan migrant workers who were infected by the virus have been repatriated. Many more are expected to return to the island.

At present the prospect of them returning home looks bleak. This is because the state took a decision stop planned air flights to bring back Sri Lankan migrant workers from Middle Eastern countries who are infected with this virus.
The GoSL has to take all precautionary measures to protect those citizens not affected by the pandemic. But the regime also has to do all it can to look into the welfare of migrant workers who are at risk due to inadequate and crowded living conditions, limited access to health care and poor work conditions.
The government has to walk the tight rope with an election on the cards, but it must not jeopardize the wellbeing of its citizens here who have done well to survive the pandemic till now.