---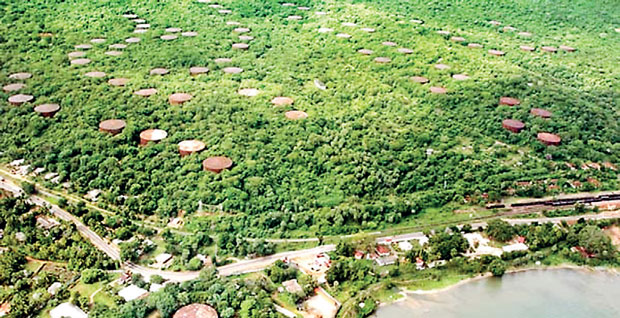 By Observer Research Foundation
The turning out of the Trincomalee oil tanks deal for India and the Hambantota port deal for China are only indicative of the massive trust deficit or leverage the two competing powers have in Sri Lanka.
Relative to its size, Sri Lanka probably punches highest above its weight in geostrategic importance, in South Asia. Though size has mostly been an incorrect and incomplete indicator in determining strategic thrust, few nations would be as closely watched or presented with choices as this island nation.

A common comparison you hear from the Colombo intelligentsia is between the vastly differing economic fortunes of Sri Lanka and Singapore. Drawing similarities as erstwhile British colonies, significant trading settlements — given their locations on major shipping routes, a massive neighbour to each of their north and complete independence just seven years apart (Singapore, from Malaysia in 1965 and Sri Lanka from the Dominion status in the Commonwealth in 1972), the ambitious comparison is indicative of one national trait — Sri Lanka is a country in a hurry.

Since the end of the three-decade civil war in 2008, Sri Lanka started to focus on long-term strategic and structural development challenges as it strived to transition to an upper-middle income country. Post-war, the country almost moved into an economic mission mode, with fervent zeal towards making up for the lost civil war decades. This was under the leadership of their war hero and President, Mahinda Rajapaksa, who promised economic deliverance as sure as the recent military one.

Post-war behaviour on the winning side makes for an interesting study. If history is a bellwether, there have been cases of rapprochement with or humiliation of the losing side in equal measure. However, one thing has mostly stood true of the winners — the new-found confidence leads to assertion with the rest of the ecosystem and in this case, it has been more about economic and geopolitical self-assertion by Sri Lanka.

Rightly or not, a common association for most of the civil war years in the Sinhala mind was that of Liberation Tigers of Tamil Eelam (LTTE) and India. Historically, given India's extremely complex and troubled relationship with the LTTE and the subsequent bloodletting in the Indian political establishment, the price of this troubled association is being paid for even today — in the form of Sinhala suspicion of Indian goodwill. It is easy in the Sinhala nationalistic narrative to create a spin or conspiracy theory out of India's intentions, as innocuous as they might be.

In India's modern history, no relationship has been as exacting as the one with the LTTE (a few thousand soldiers, an ex-prime minister and a perpetual sense of suspicion with a geostrategic neighbour).

Nationalistic baggage, especially directed at a perceived wrongdoer, takes years of sustained effort and goodwill by the accused to wear off. This baggage, though less vicious or relevant now, still rears its ugly head when the country walks the tightrope between India and China – if it, really is, a tightrope for Sri Lanka.

Chinese party with Sri Lanka – India uninvited
In all that is said of Indian and Chinese roles in Sri Lanka, it is important to realise one reality — there isn't really an Indian side and a Chinese side in the Sri Lankan political establishment at this time (even if there is, the Indian side has little underpinning or sanction). It can sound negative, but the popular and political narrative in Sri Lanka finally tilts largely in China's favour, regardless of the power structure in place. In layman terms, it is a Chinese party with Sri Lanka and India isn't invited.
When India helps infrastructure projects in the north and east of Sri Lanka, the suspicion is on India only investing in the Tamil majority provinces of the country. When India wished to set up the 500 MW Sampur power plant in Trincomalee, efforts for the same were stymied by the Rajapaksa regime for more than a decade, leading to the project being cancelled. (In the new bilateral memorandum of understanding (MoU), the plan is to set up a 50 MW solar plant in Sampur now). The Indian aided ambulance service, where 88 ambulances were given out as an outright grant stand as small examples against the sheer size of perceived investments and grants by China.

When India (through the Indian Oil Corporation subsidiary Lanka IOC) proposed to joint venture with Sri Lanka in handling 84 oil storage tanks in Trincomalee (Lanka IOC already runs 15 of the 99 storage tanks), there was a severe backlash from the workers at Ceylon Petroleum Corporation (CPC), who charged that India would have critical control and influence over fuel prices in Sri Lanka. The deal was rescinded and the popular narrative was so strong that Prime Minister Ranil Wickremesinghe had to give in writing to the striking workers that no agreement on Trincomalee oil tanks would be signed with India during his Delhi trip in April this year.

Wickremesinghe assured the striking union workers that the MoU, including Trinco's oil tanks to be signed in Delhi would be limited only to a political agreement. The legal agreement would be done only after consultations with the workers of the CPC. This was just a small reflection of the strong nationalist sentiment in the island nation over Indian control of the strategic ports and installations.
Wickremesinghe was walking the tightrope by trying to mitigate Indian concerns over China's huge investments in strategic projects like the Colombo port city and Hambantota port — by also giving India a share of the port infrastructure pie. It now remains a distant reality for India to handle the 84 storage tanks as the CPC union intends to rescind India's handling of even the existing 15 tanks.
Not that the Chinese projects have been protest or controversy free. When the local protests for the loss of their lands and sovereignty at the Chinese developed Hambantota deep sea port project turned violent, the deal wasn't rescinded, but 'reworked' by the Government of Sri Lanka.

Massive trust deficit China and India have in Sri Lanka
Now, under the new reworked deal, Sri Lanka would divide the management of Hambantota into two firms — a business side and a security side. This revision envisages that the business side would be in majority control of China Merchants Port Holding (CM Port), a Chinese state-run company. The security side would have a controlling stake of the Sri Lanka Port Authority (SLPA). Ostensibly, this means that the agreement gives Sri Lanka full control over security matters, as also the right to inspect ships entering the port.

The devil might lie in the details here, as the holding structures of both the firms indicate complex and final Chinese majority control over both the firms. If this is the case, it is a cause of deepening concern for India, which has been assured by Sri Lanka that its ports would only be for economic and not military cooperation with China. Furthermore, against a debt relief of US $ 1.1 billion, it removes only a small portion of the debt dependence of Sri Lanka to China. (Sri Lanka owes US $ 8 billion in debt to China and over one-third of its government revenue goes into servicing that debt.

India's development portfolio in Sri Lanka is about US $ 2.6 billion, out of which US $ 436 million is pure grants). The existing regime of President Sirisena recently sacked the justice minister over his criticism of the Hambantota port deal, further underscoring the importance and brooking of a little criticism for the China-Sri Lanka arrangement.

Though India's policy in Sri Lanka has mostly been termed reactive to Chinese strategic thrusts, it makes for thinking whether Indian proactive measures also have sizeable or desired impact in recent times. Modi's Neighbourhood First policy and constructive engagement with Sri Lankan leaders do generate goodwill within the island, but is it really enough at this time.

The recently signed MoU between the countries and increased scope of a bilateral pact covering 10 new project areas in Sri Lanka, which are part of India's effort of a joint economic development in the neighbourhood, might hopefully make for some good news in the future.

However, the turning out of the Trincomalee oil tanks deal for India and the Hambantota port deal for China are only indicative of the massive trust deficit or leverage the two competing powers have in Sri Lanka.

While some analysts believe that the popular and the political narrative diverge in Sri Lanka, the past few years have seen substantial convergence of the same. Sri Lanka was India's only neighbour, apart from Pakistan, to have someone of the seniority of its prime minister attend and endorse the One Belt One Road (OBOR) summit in May this year.

For a country with an enticing position along lucrative and strategic Indian Ocean maritime routes, Sri Lanka's choices are clear — at least for now.

(Observer Research Foundation (ORF) was established on September 5, 1990 as a private, not-for-profit think tank to influence public policy formulation. The foundation brought together, for the first time, leading Indian economists and policymakers to present An Agenda for Economic Reforms in India. The idea was to help develop a consensus in favour of economic reforms)