---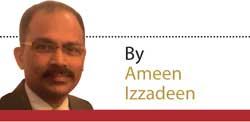 Despite the coronavirus pandemic, nations indulge in hostile activities against each other, as seen in the recent events in Iran.

On July 2, Iran reported a major fire in a factory where it manufactures advanced centrifuges for the fast enrichment of uranium needed to fuel its ambitious nuclear programme.

Middle East intelligence officials point their finger at Israel and describe the fire at the Natanz facility as an act of sabotage, of which little is revealed either by Iran or Israel. The fire, believed to have been caused by cyber-attacks, damaged costly equipment and machinery and has pushed back Iran's nuclear programme by months. In 2008, the same Natanz facility came under the Stuxnet computer worm attack that had US-Israeli signature.

After United States President Donald Trump withdrew his country from the 2015 international agreement on Iran's nuclear programme and imposed more damaging sanctions, Iran hit back by ramping up its uranium enrichment activity.

Iran insists that its nuclear programme is for peaceful purposes, but Israel, the US and most Arab and Western nations entertain doubts about the claim.

Apart from last Thursday's fire, Iran also reported a series of mystery fires and blasts in several military and industrial complexes in recent months. They highlight the nature of hybrid warfare that states hostile to Iran have resorted to. They also call into question Iran's ability to protect its strategic assets and the effectiveness of its security ring to protect its nuclear facilities.

These acts of sabotage are, on the one hand, a sign of a major escalation of hostilities between Iran and Israel. On the other, they further destabilize an already volatile Middle Eastern region amidst the global coronavirus pandemic that has severely hit both these countries.

Often these attacks are carried out with the help of exiled Iranian opposition groups such as the Mujahidin-e-Khalq. These fifth columns carry out regular terrorist activities such as bomb blasts and assassinations of top Iranian scientists and officials.

During a media conference on Tuesday, Iran's government spokesman Ali Rabiei accused Israel of using dangerous methods. He added: "The international community must respond and set limits to these dangerous actions by the Zionist regime."

Israel's Foreign Minister Gabi Ashkenazi told the Israeli media, "Iran cannot be allowed to have nuclear capabilities." To that end, he said, "we take actions that are better left unsaid."

The latest Israel attack came amidst Iranian preparations to confront bigger challenges, even an all-out war. Iran has said if it is prevented from selling oil due to sanctions, then it will make sure that none in the region sells oil. The statement indicates that Iran, if cornered, may impose a blockade on the Strait of Hormuz – the strategic chokepoint through which flow more than 21 million barrels of fuel every day or about 21% of global petroleum consumption. Iran has been building a 1000 km pipeline -- along its western shores -- from the northern Kharg Island terminal which accounts for 90 percent of its production to the southern port of Jask bypassing the Strait of Hormuz. In another major military feat, Iran in April launched its first military satellite, despite the economic setbacks due to the pandemic and crippling international sanctions. Western intelligence analysts say the launch confirms that Iran possesses the advanced technology to make ballistic missiles. Incidentally, Israel this week launched a military satellite to spy on Iran's nuclear moves.

In the recent past, Iran has resorted to calculated retaliatory action in response to attacks. A case in point was the missile attack on a US military base in Iraq in retaliation for the killing of its Revolutionary Guard General Qassem Soleimani in a targeted drone assassination carried out by the US in January.

Then there are regular drone and missile attacks on Saudi facilities, including the attack on the Aramco oil facilities in September last year. Although the Houthis in Yemen claim responsibility for such attacks, Saudi Arabia blames Iran, while analysts say the attacks demonstrate Iran's strike-back capabilities.

Through the latest attack, Israel is probably sending a message to Arab states which have shocked Israel by speaking out against Israel's hurried moves to annex more than 30 percent of Palestinian land on the occupied West Bank. The message to these Arab nations is that it is only Israel that has the power to neutralize Iran and therefore the Arab nations must join Israel's war on Iran, instead of worrying about the suffering of Palestinian people.
---
Lanka says it does speak out for Palestine
In response to last week's column headlined 'Neutrality is not silence: Lanka must speak out for Palestine', the Foreign Relations Ministry has drawn attention to the statement Sri Lanka's envoy made at the United Nations Human Rights Council last month when the 'Human rights situation in Palestine and other occupied Arab territories' was taken up.
Here are key points in the statement made by Acting Permanent Representative Dayani Mendis:
The people of Palestine have a legitimate and inalienable right to statehood and to the natural resources in their territory.

Sri Lanka expresses deep concern on, among other matters, the issue pertaining to settlement expansion, particularly the recent decision by the Government of Israel to proceed with the annexation of significant parts of the occupied West Bank.

Sri Lanka joins international calls to urge Israel to halt any annexation activities, which would have far reaching and devastating repercussions.

As stated in the NAM Coordinating Bureau Communique of 15 May 2020, Sri Lanka notes that annexation would constitute a grave breach of international law, including the UN Charter, relevant conventions as well as Security Council and General Assembly resolutions.

Sri Lanka reiterates the importance of the early implementation of the UN General Assembly resolutions regarding the inalienable rights of the Palestinian people to statehood and the attainment of a two State solution on the basis of the 1967 borders.
For the full statement, visit http://www.lankamission.org/human-rights-humanitarian-affairs/2863-statement-by-sri-lanka-at-the-resumed-43rd-session-of-the-human-rights-council-under-agenda-item-7-human-rights-situation-in-palestine-and-other-occupied-arab-territories-15-june-2021.html