---
The Government of Sri Lanka continues to take seriously the improvement of the climate for business in the country and is taking concrete steps towards this. The latest edition of the World Bank's Doing Business Index (DBI) rankings shows a one-spot drop in the country's rankings and we are very mindful of the need to accelerate our efforts, especially in light of the rapid improvements being made by other countries in this region.

Under the auspices of the Development Strategies and International Trade Ministry, the reform of the business climate is being tackled through multiple approaches, as this statement outlines. The reporting period for the DBI just released ended in April 2017 and was prior to many of these reform initiatives being initiated. It is expected that the ongoing work outlined below will reflect favourably in next year's DBI report.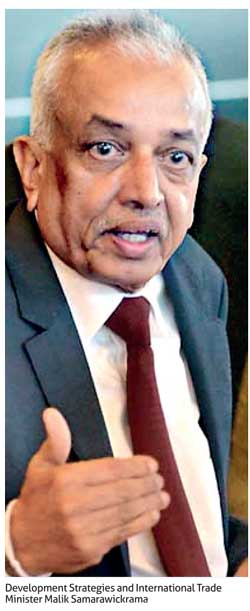 Progress on DBI reforms
The positive news is that government officials are already hard at work to improve the specific bottlenecks in the business climate. Since the prime minister launched the 'Roadmap for Investment Climate Reforms' in July this year (supported by the World Bank), eight teams of government officials, representing public service delivery agencies, have been working on eight high-priority 'doing business' sub-indicators – 'Starting a business', 'Dealing with construction permits', 'Registering a property', 'Getting credit', 'Trading across borders', 'Enforcing contracts', 'Resolving insolvency' and 'Protecting minority investors'.

There are several actions being undertaken leading to major reforms. The removal of the stamp duty on newly issued shares in 2017 is one such move. A third commercial court in the Western Province will be established by end-2017. The Registrar of Companies (RoC) has started simplifying business registration by introducing an electronic system linking public agencies and up to now around 50 percent of the new system has been developed.

Recognising the need to revamp Sri Lanka's land registration system, steps are underway for the registrar general to register a property faster by introducing an electronic system at the Land Registry in Colombo. The digitization of records at the Land Registry is currently ongoing and by next year all 45 land registers will be completed. In dealing with construction permits, the internal review process for issuing building permits is currently being streamlined after having systematically mapped out the multiple clearances previously required from
multiple agencies.

Although these tasks are being implemented in a phased manner, all agencies have been urged to implement the agreed reform actions expeditiously. The task managers of each of the components and the heads of the respective agencies have been given the responsibility to fast-track the implementation process. Under the eight priority sub-indicators, 15 specific measures to be taken and the timeframe, responsible agency and outcomes have been
identified accordingly.

The outcomes for mid-2018 include providing a one-day service for company registration to reduce the time taken to register a company from the current nine days to one day (under the 'Starting a business' pillar); introducing a streamlined online system to reduce the number of days for construction permit issuance from 115 days to 60 days and introducing a searchable e-land registry to enable property registration in five days with two steps rather than the current 51 days with nine steps.

The blueprint of the long-awaited National Single Window will be completed by June 2018 paving the way to establish a system that integrates more than 20 agencies dealing with various clearances/approvals in trading across borders. The Development Strategies and International Trade Ministry is continuously monitoring this reform process and is reporting on the progress to the prime minister and Cabinet Sub-Committee on
Economic Management.

Investment climate reforms beyond DB index
The government is conscious that the concerns of the existing companies and new investors go beyond what is measured by the DBI and wider investment climate issues need to be addressed. For this it was important to have a systematic and continual approach to 'doing business' reforms, beyond changes to specific legislation and procedure alone (as reflected in DBI rankings).
Moreover, the DBI only measures the ease of doing business in a country's largest commercial city – in Sri Lanka's case, Colombo. The government is committed to improving the business climate for entrepreneurs across the country and promoting foreign investment in
all provinces.

Outreach to current and prospective investors
Over the past year alone, the government has been in constant contact with businesses and is already helping solve the issues preventing them from growing and creating more jobs. Officials in agencies under the ministry, with technical support from Harvard University's Centre for International Development, have engaged with over 450 local and foreign companies in the past year to identify their issues and begin to
address them.

Officials of the Board of Investment (BOI) and Export Development Board have engaged with 100+ local companies, with a special focus on new and non-traditional export sectors). Officials of the BOI and commercial attaches in our overseas diplomatic missions have engaged with 350+ global companies in targeted new sectors, including those who are strongly considering investing in Sri Lanka.

This has resulted in several outcomes: 1) Identification of top issues preventing transformative, export-catalysing investment, 2) Generation of leads for new investment and reinvestment, 3) Reorienting government services to be more proactive in reaching out to investors and solving their issues, rather than waiting for investors to come to us.

Resolving land issues
A team comprising of the BOI officials has begun to address the difficulty of businesses in finding locations to set up their establishments. They identified that there is underutilized land held by the government that can be allocated for businesses activity without compromising environmental sustainability, while other available land is often prohibitively expensive or lacking in the infrastructure businesses need.

The team evaluated over 100 sites from multiple government agencies, combining GIS and satellite image analysis with on-site inspections for most. They have now identified 29 suitable sites across seven provinces, matching the infrastructure and labour available to the requirements of new strategic sectors. Out of these sites, several sites are now in predevelopment as industrial and commercial zones, through the BOI and in partnership with top international zones development companies (as PPPs). Once on stream, the government will soon be able to offer high-quality locations to domestic and foreign investors, in multiple locations across Sri Lanka.

National export strategy
Under the forthcoming national export strategy (NES), sector-specific plans of action (PoA) have identified business climate bottlenecks that are to be addressed in six priority export sectors of processed food and beverage, spices and concentrates, electronics, boat building, IT-BPM and wellness tourism. Specific activities relating to reform of regulatory and procedural issues have been identified together with the responsible agency (and supporting agencies), targeted outcome and timelines. These will get underway once the Cabinet of Ministers adopts the NES by December
this year.

Accelerating investment approvals and facilitating FDI
In the past, entrepreneurs hoping to start a BOI company often faced uncertainties and delays. The BOI is currently working to improve investment approvals and facilitation. A new tax incentives regime consolidated under the new Inland Revenue Act removes blanket tax holidays and replaced them with investment relief and accelerated depreciation. The new incentives regime is investment-based rather than profit-based and focuses on bringing companies willing to make real investments and create more jobs in Sri Lanka. Meanwhile, the commitments made under the existing agreements are being maintained, to ensure investor confidence.

Secondly, the approvals mechanism at the BOI has been improved to avoid the time lag for initial appraisal – a problem frequently cited by many investors. The BOI now uses a template developed in consultation with McKinsey to screen all applications, assesses quality of investors through a more robust and holistic approach and provide responses to new applicants as soon as possible. Subsequently, as a project proposal comes in, it is submitted to the Single Window Investment Approval Committee (SWIAC) appointed by the Cabinet Committee on Economic Management to evaluate and take a decision on approval.

Furthermore, the projects approved by the SWIAC are referred to an investment facilitation committee (IFC) chaired by an advisor to the prime minister to fast-track the external approvals/clearances involved and to address the ongoing bottlenecks hampering the projects. The heads of all relevant institutions are called in to this weekly forum and are expected to offer solutions right away. The BOI is now working with the World Bank to develop a virtual 'one-stop shop' so that all key agency approvals can be obtained virtually. The approval processes of those individual agencies have been mapped and there will be a consensus reached between those agencies and the BOI on the simplest or shortest possible mechanism to grant approvals.

These are examples of just some of the many ongoing measures the government is taking to improve the business climate in Sri Lanka – for domestic enterprises as well as foreign investors – through legal, regulatory and procedural improvements. While this is an ongoing process and benefits will take time to materialize, positive results are already
being seen.

Internal reports suggest FDI in the first half of 2017 is up by around 80 percent versus last year. The Development Strategies and International Trade Ministry remains committed to this work, together with other stakeholders in the government and is confident that these reform efforts will demonstrate results steadily and noticeably over time.

(This article was sent to Mirror Business by the Development Strategies and International Trade Ministry)