---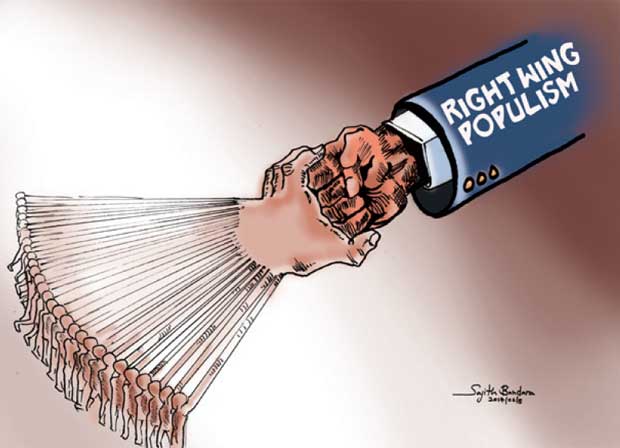 The spectacular victory of France's new President Emanuel Macron's Centrist Party in last Sunday's first round of the general election and the humiliating set-back suffered by Britain's Prime Minister Theresa May and the Conservative Party in the June 8 general elections there, have important lessons for Sri Lanka and the world.
Extremist Right Wing populism, racist or religious, had raised its ugly head with the emergence of billionaire Donald Trump and his shocking victory in the the United States Presidential election on November 8 last year which was seen by Right Wing populist extremists as a turning point for their brand of politics which most analysts see as being dangerous as ISIS terrorism. Apparently encouraged by the unpredictable Mr. Trump's triumph, Ms. May who was once a Moderate, swung to Right Wing populism mainly on the Brexit issue and talks with the European Union.
The Conservative Party had a comfortable majority in Parliament and there were about three more years for its term to end. But reportedly on the guidance of her closest advisers, Ms. May on April 18 took a gamble by calling a snap general election on June 8. She appeared to be confident that the Conservative Party would win more than the 330 seats it had in the 650-member House of Commons.
But as the London Sun said in a gem of a headline, Ms. May was dismayed, but she is now gambling again as if the Conservative Party is something like a casino. Apparently desperate in her humiliation, she is refusing to step down as former Prime Minister David Cameron did when he also gambled and lost last year's referendum on whether Britain should remain in or pull out of the EU. Ms. May is now trying to negotiate a deal with one of Northern Ireland's extreme Right Wing ultra-conservative parties, the Democratic Unionist Party (DUP). Ireland's Prime Minister has warned Ms. May that the DNA deal might endanger the Good Friday peace accord which had ended three decades of bloody violence in Northern Ireland.
In the US also the populist extremist Donald Trump is in deep trouble, the country is bitterly divided, and he may even face impeachment. After months of controversy, contradictions and chaos which has affected not only the US but the world also, Mr. Trump suffered his worst body blow last week.
A month ago Mr. Trump had sacked James Comey, Director of the Federal Bureau of Investigations. Testifying before the US Senate Intelligence Committee, the fired FDI Chief said he believed President Trump was a pathological liar and fired him because he had refused to stop the investigation into alleged Russian Collusion with the Trump campaign in last year's Presidential Election. Some analysts believe that if an impeachment motion is brought against Mr. Trump, the charges could relate to perjury or the obstruction of justice.
In the Netherlands also the people have rejected Right Wing extremist populism and it is likely that German Chancellor Angela Merkel - now emerging as the western democratic world's possible new leader - will win a fourth term in the German elections this year.
Thankfully the trend appears to be going back towards the hallowed middle path preached by all religions including Buddhism. In Britain, many analysts are suggesting that former Chancellor George Osborne should take over the leadership of the Conservative Party. Mr. Osborne, an author and now the Editor of the London Evening Standard, is known to be a liberal conservative on political and social issues.
In Sri Lanka also we have a middle path government, a National Unity Alliance between President Maithripala Sirisena's Sri Lanka Freedom Party (SLFP) and Prime Minister Ranil Wickremesinghe's United National Party (UNP). One of the new government's main promises was a major crackdown on widespread corruption. So far we have not seen anything like a major crackdown, but the Sunday Times reported last week that the Commission to Investigate Allegations of Bribery or Corruption (CIABOC) had decided to recruit about 200 experts in Finance, Banking and the Stock Market. They will assist the Police in what we hope will be a full-scale effort for Sri Lanka and the people to recover billions of dollars plundered from them by VIP political racketeers.