---
Dr. Harischandra Wijayathunga, Pannamaththu Kavirayar and Padma Edirisinghe were this year's Godage Literary Award winners.
Godage Literary Awards – 2016 organized by Deshabandu Sirisumana Godage, appreciating the service for literature in Sri Lanka through Sinhala, Tamil and English media, was held successfully recently at the Sri Lanka Foundation Instiute for the 18th consecutive year.
Being the sole awards ceremony organized by a publication company, The Godage Publishing Company presents awards and prizes to those deserving Sri Lankan Literature through Sinhala, Tamil and English. Every year three writers are awarded the Lifetime Award (Divaman Pranama Sammana) for their significant contributions to the field of literature selected from Sinhala, Tamil and English categories.
Recipients of 2016 Godage Literary Awards

In his speech, Prof. J.B. Dissanayaka highlighting the importance of literature in a society, said: "I am reading to feel the beauty of the language, and to savour the philosophy of life as well. People read to explore, to get to know how the writer has expressed his ideas with fascinating word combinations."
The organizing committee exclaimed that the number of applications has increased considerably, and they are happy about the growth of literature. This year 121 novels from the Sinhala category, 8 from Tamil and 8 from English were delivered. There were 53 Sinhalese Short story collections, 8 Tamil entries and 2 in English. There were 82 poetry collections in Sinhala, 26 in Tamil and 11 in English. Under other categories, such as youth novels, translations, classics and newspaper column collections, there were only Sinhala entries.
Awarded by Deshabandhu Sirisumana Godage

Selection criteria
Novels, Short Story collections, Poetry Collections, Youth Novels, Translations, Academic fictions and Newspaper columns, the books registered in Sri Lanka archives in 2015 were selected and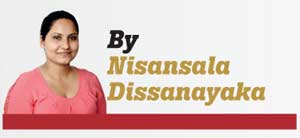 submitted to referees and all of them were provided copies for reference. In selecting translations, the publications were judged by competent literary figures. The Award winners were selected by 3 panels of judges specially selected for different categories.
The award ceremony was announced by Mayuri Abeysinghe ,the Assistant Director General (programme) of Sri Lanka Rupavahini Corporation and prominent writer Hemachandra Pathirana.

Book Fair – 2016
Colombo International Book Fair was inaugurated on September 16 and it is open from 9.00 a.m to 9.00 p.m. It will be held until September 25 at BMICH and Sirimavo Bandaranaike Memorial Exhibition Centre premises. The Book Fair inaugurated with participation of Media and Parliamentary reforms Minister Gayantha Karunathilake as the Chief Guest and children's book author and artist Sibil Wettasinghe as the Guest of Honour.
Reader - author meetings, entertainment and cultural events, 150 book launches and many other events are to take place at the book fair. Organized by the Sri Lanka Book Publishers' Association for the 18th consecutive year, Colombo International Book Fair is the biggest experience of that kind for Sri Lankans. This year there are about 410 stalls as 350 local and 60 foreign publishers taking part. According to the organizers, "Environment" is considered the 2016 theme, as huge crowds attend the event; book fair premises tend to be easily unclean. Therefore special arrangements have been made to inform participants in keeping the environment clean.
Award Winners
Sinhala category
Best Novel – "Hithuwakkari" – H.B Gunarathna
Best Collection of Short Stories - " Kubiyanam Dolakka Waadakayaa" – Kamal Perera
Best Collection of poetry – "Nena Silumina nam Umandanandaya" – Darshana Rathnayaka
Best Youth Novel (Co-Award) – "Akalata aa Iskole" – Gunasekara Gunasoma
"Magic Thuwange Indrajala Kathandara" – Tenyson Perera
Best Translation – "Kasala Shodakayage Puthraya" -Nissanka Perera
Best Classical Novel (non-fiction {Co-award}) – "Polonnaru Yugaye Wisu Kaviyeku kala Muwadewdawatha " – Siri Thilakasiri
"Sinhala Natyaye Prasangika Kalathmaka Wardhanaya" – Jayalath Manorathna
Best Newspaper Column Collection - "Ekomath Eka Dawasaka" - Daya De Alwis
Most Imginative Writer of the year (Novel) - "Paapa Dandana" - Nuwan Thushara Mahagamage
Most Imginative Writer of the year (Short story Collection) – "Swethlana" - Lional De Soysa
Most Imginative Writer of the year (Poetry Collection) - "Itha keti Kalabala Sihina" - Yashodha Sammani Premarathna
Most Imginative Writer of the year (Youth Novel) – "Warigakkaraya" – Sunethra Aluthdunna
Tamil Category
Best Novel (Co - Awards) – "Waliyin Sumaigal" -Wavuniyur R. Udayanan
"Pizhaikka Vandha Seemai" – M. Sivalingam
Best Collection of Short Stories - – "Neeril Kiliththa Kodugal" - K.R. David
Best Collection of poetry – "Avalin Punnagai" -Eelakkavi (A.H.M. Nawaz)
Best Translation (Sinhala to Tamil) – "Batti" (Short stories of K. Jayathilaka) – Mawanella M. M. Mansur
Most Imaginative Writer of the year - Short story Collection – "Kaanal Wasandhangal" – Painthamizh Kumaran (J. David)
Most Imaginative Writer of the year (Poetry Collection) - "Oru Pulliyil Odum Mutkal" –Sellakkutti Ganeshan
English Category
Best Novel – "Rails Run Parallel" – Ayathurai Santhan
Best Collection of Short Stories – "Potted Plant" – Kamala Wijeratne
Best Collection of Poetry – "To whom does the world belong" – Lalitha Somathilaka
Most Imaginative Writer of the year (Collection of Poetry) - "Phoenix" – Anupama Godakanda