---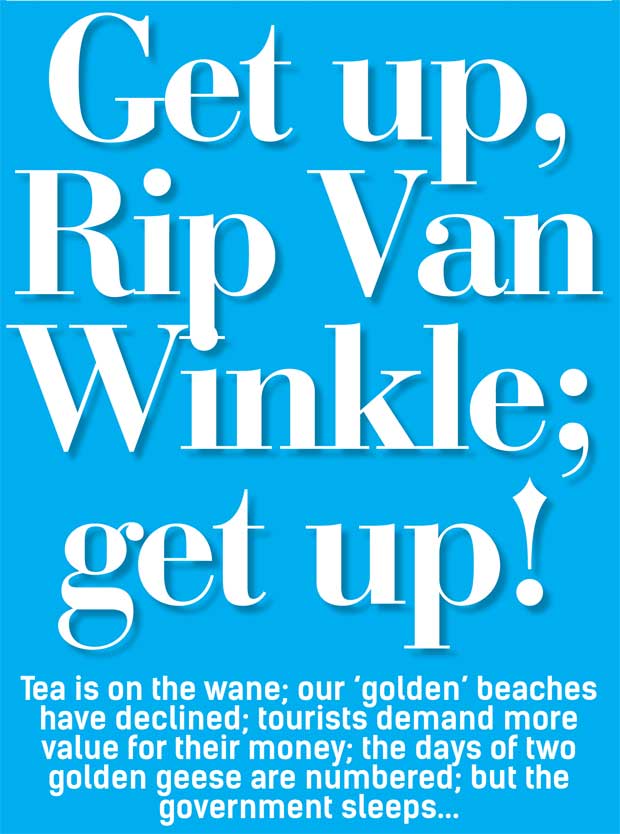 Tea took over from coffee after it fell to a type of leaf blight. But it took some time for James Taylor to pioneer 'Ceylon Tea' as a commercial product.
Thanks to foreign interest in growing tea in virgin soil and selling black tea produced abroad, a tea trade began to grow and tea planters and their principals who took up the gamble of planting tea became the major beneficiaries in an agro-business that became a major foreign exchange earner. Today, it still is. The country also benefited in other ways through the establishment of banks, shipping companies, businesses, road and rail networks and the slow but welcome development of laid-back villages and towns particularly in the highlands. It was the beginning of a long-term success story until the politics of some witless politicos bungled matters in an industry that employed thousands.

Change for the worse
The circumstances under which privately owned estates in tea and other crops and also land that extended over a stipulated limits were transferred to state ownership were well known. (It was considered a hit against 'local capitalistic feudal lords' who simultaneously faced a ceiling in house ownership). At that time many players in the plantation sector observed that it was an imprudent decision; and they were right; state management of plantations thus taken over was responsible in speeding up the debacles that followed in the industry. 'State care' is notorious for mismanagement and corruption.
Later, although the policy error was recognised and state- owned plantations handed over for private sector management, the damage had run too deep for too long to bring about an effective revival. The goose that was once laying golden eggs was laying less now. Fortunately however, Ceylon Tea had attained the identity of a superior brand internationally. Moreover, with the expansion of the market, trends in consumption, competition from other tea growing countries etc., Ceylon Tea was introduced to international markets in value added forms, albeit in small volumes. Value added teas have also become popular among locals.

Risk takers
It is a known fact that in whatever form tea is sold, middlemen operating at many levels between producers and consumers also influence prices in retail markets; they are not known to be losers. Third parties in broking, sales and distribution not only in tea and agricultural products but other products do well at little risk to themselves.
The real risk takers in the tea industry are growers (including tea-small holders) who have no control over prices owing to the makeup of the marketing systems. Often, they raise voices in protest, but are not heard. It is undeniable they are the biggest losers in commercial agricultural in need of the greatest protection in this country. But the state offers them little relief or protection whereas other countries protect their farmers extensively–perhaps even unnecessarily.
The selling of tea has been in the clutches of middlemen for a very long time; tea brokers, buyers and blenders, in value added tea and even dealers in refuse tea make handsome profits with much less effort than producers–the tea growers who habitually run the gauntlet of viability. But what have the powers that be done in support of the producers and keeping the industry alive and kicking?
Whether it is Yala or Maha, time and again paddy cultivators have been driven to despair because they had not been able to sell their paddy at even break-even prices. Government promises to buy paddy at guaranteed prices just did not happen. It is no secret that suicide has increased among paddy farmers who are unable to earn enough for a decent living and to pay off their debts.
Young men from paddy farming families are also placed in an unenviable situation. When their own fathers cannot make ends meet by cultivating paddy, no-one in his right mind would plan to follow his father's footsteps as a paddy farmer.
A young man who had given up cultivating paddy completely had this to say; 'What's the point? Even our fertiliser is gone. The government doesn't buy our paddy, so we are compelled to sell our produce to middle men who gang together to fleece us. Paddy mill owners also do well for themselves; they make all the profits; we who toiled for months get nothing'.
Vegetable cultivators are marginally better off than paddy farmers, but they too face the brunt of extremes in weather and seasonal penury. When inclement weather drives crop yields down, middlemen intervene to exploit the resultant imbalances between supply and demand; farmers get little because price fixing is in the hands of the middlemen. The phenomena are well known to the government; then again what answers has it provided?

Where the young have gone
Estate workers are also struggling in the face of comparatively low wages in a climate of high living costs, less work opportunities and indeed the paucity of other work elsewhere to augment their incomes. Consequently it is not surprising to see estate-born youth in search of employment in urban areas. Some of them educated up to GCE 'O' level and 'A' level are employed in businesses, construction, motor garages, factories, hotels and homes of those who can afford paid domestic help. Over the years there has been a regular outflow of the young from estates leaving behind older folk getting older by the day. The emigration of estate youth has gained momentum; and those who leave are not likely to return to work in an estate. Educated youth shun 'blue collar' occupations; and estate work is physically demanding.

Ignoring the health of golden geese
Tea as a major exchange earner is going nowhere; it has nowhere to go either; the government has not made plans for it. Capital for investment is dear; options in diversification have their own restraints; policy is clearly lacking in all aspects of the industry; there is a chronic shortage of labour in many plantation districts because young people are deserting estates; increases in labour wages and hikes in recurring costs are resulting in intolerably high costs of production making plantation management a nightmare. Tea prices fluctuate due to many factors but competition and the control and manipulation of the market by conglomerates in the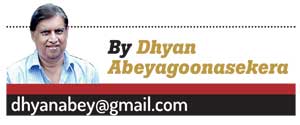 tea trade is also worrying.
There is no doubt that many people have realised the implications of these realities that have been running free, unchecked and un-remedied. But what can they do on their own? Some strategies had been implemented in the past but how successful were they? Pertinently, what government plans are been currently contemplated to protect and motivate agricultural entrepreneurs and workers? If there are any in place, do they suffice? It is a case of closing the stable door of course, but, there is a chance of capturing the horse that raced away. But no-one can spot a posse saddling up to give chase–yet.
There is another matter to ponder. Ceylon Tea is inseparable from tourism; one is often identified with the other. But, while the tea scene is fading, tourism in Sri Lanka is also losing its capacity to lure visitors. Setting aside the 'cultural' part in the promotion of tourism, consider the portrayal of our beaches through beautifully illustrated travel brochures. Sadly, they only amount to gross eye washing because in real life our much hyped beaches have become disgusting eyesores. To see is to believe; over a weekend just visit Unawatuna or Hikkaduwa beaches or what is left of them after years of sea erosion. If that is too far try Wellawatte or Mount beaches that show how 'attractive' our beaches are even for locals to wet their feet. Beaches in the east coast may be as bad. No wonder some negative reports amounting to 'not worth the money spent' have been made by tourists. Money is tight all over the world and it is no surprise that even tourists demand their money's worth. In fact visitors appear to be bypassing Sri Lanka preferring other holiday destinations in South East Asia.

Get up, Rip Van Winkle; get up!
So our tea industry is in jeopardy, so is the sun, sand and sea scene. Soon sunbathers will stop stepping over lumps of muck on our beaches.
Speeches made by politicians and dozens of 'solutions' offered by experts are a plenty, but practical answers are yet to appear to effect desirable changes. People have been asking the government not only about issues in the tea and tourism sectors but also after a host of other issues. But the government is operating frustratingly at snail's pace from meeting promises made to jailing sataka stalwarts who robbed, misused powers and even killed as some allege. Still others who have concluded that the government has actually fallen asleep are pounding on its door; 'Get up Rip Van Winkle; get up' get your act together; we can't wait much longer'. Unfortunately, the government seems to think that sleep is healthier.
People and the media point fingers in directions that need attention; and there is a lot at stake. But the actual 'doing' is in the hands of the government– blue, green or yellow; even psychedelic amalgamations would do. To the people it does not matter who does the 'doing'; they want delivery and they have a bigger stake in this country than their representatives–the politicians.