---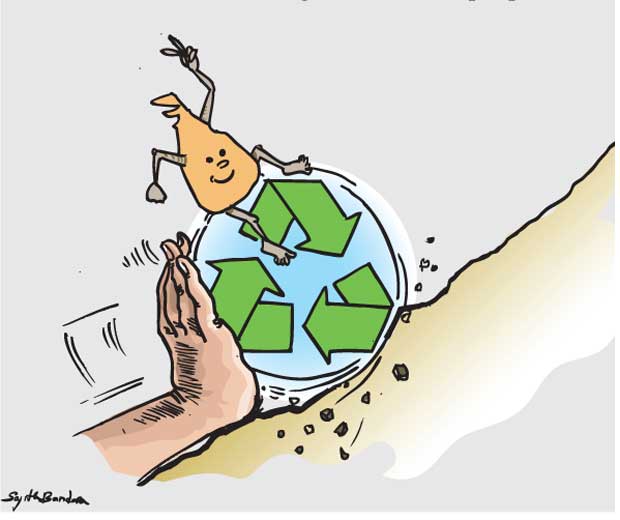 he garbage disaster, which exploded at Meethotamulla on the National New Year's Day, is still contaminated with much controversy and criticism but the government says it has a long-term plan to recycle polythene or organic waste.
On Wednesday, the crisis took a new turn with the Supreme Court issuing an order restraining the Colombo Municipality from dumping garbage at Muthurajawela. The order, valid till July 20, was based on a fundamental rights petition filed by 35 residents who said they feared a disaster similar to Meethotamulla. The residents said Muthurajawela was a sanctuary consisting of 192 distinct species of flora, 209 species of fauna,102 species of birds, with large paddy fields across 635 acres, canals, marshlands and mangroves across 7,000 acres of lush forests.
Colombo's Archbishop Malcolm Cardinal Ranjith and other leaders have also appealed to the government to stop the dumping of garbage at Muthurajawela. The Archbishop said he had received reports alleging that even human body parts had been dumped there. But the Health Minister told Parliament there was no basis for this allegation and that hospitals had a different way of disposing of body parts. Prime Minister Ranil Wickermesinghe also spoke out, telling Wednesday's parliamentary session that he was concerned about the court issuing stay orders without giving a hearing to both sides. The Prime Minister said he believed that garbage lying at various places was aggravating the dengue epidemic.
On Wednesday, the Janatha Vimukthi Peramuna (JVP) at a news conference, claimed the Health Ministry had been given orders to stop issuing figures relating to dengue victims. Last week the ministry said there were about 70,000 victims with some 200 deaths but since then no statistics had been issued. The JVP claimed it had information that the number of dengue victims had risen to more than 87,000 this week and may soon reach the 100,000 mark.
At the meeting this week, the Cabinet decided that the entire garbage issue should be handled and coordinated by Megapolis and Western Development Minister Patali Champika Ranawaka. The minister, an engineering graduate now specializing in modern technology, said he was working out plans for the recycling of plastics or polythene to make various products and for the recycling of organic waste into compost fertilizer.
All over the world, creative, imaginative and enterprising men and women have come forward to find eco-friendly and productive solutions to the climate-change crisis. It is known that our oceans are so filled with plastic or polythene waste that in the coming decades there will be more plastic bottles than marine species in the seas. With this in mind, one creative woman designer has launched a worldwide enterprise to manufacture shoes and sandals, handbags, purses and other items from recycled plastic bottles. She says the products are as good and hardy as leather which we obtain by killing animals.
In a crisis, be it garbage or the disaster at Uma Oya, we need to look for solutions instead of indulging in the blame game and finding fault. While the government and other institutions work out midterm or long term mega solutions to turn trash into cash, every eco-friendly family needs to cooperate in finding a sustainable solution. Families need to act wisely in collecting organic, plastic or polythene and other wastes separately and disposing of it in a responsible manner. Families also need to be given compost bins at a low cost so that they themselves could turn their organic waste into good fertiliser for their home gardens. In these and many other ways a curse or a scourge could be turned into a blessing when we act in a selfless and sincere manner for the common good of all our people and the country.