---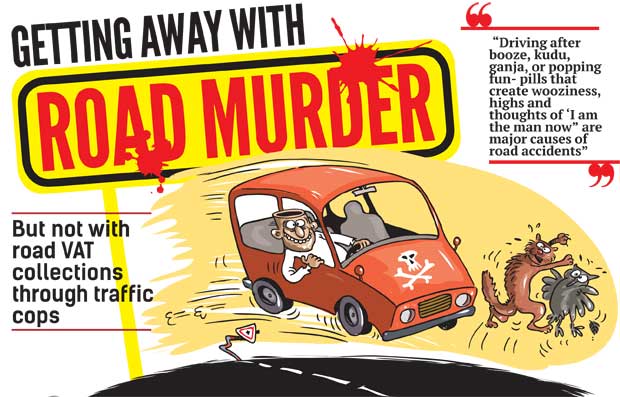 eeeeoooowwww" screeched Tommo, a pussycat as he spun the wheel of a new hybrid limousine belonging to his mistress Joy Perera. He did well to avoid a three wheeler scraping away some brand new skin off Joy's four-wheel pride. "Thuhooooot," hooted pussy's companion, Ooty, an owl cringing in the front seat. "The damn fool; who gave that maddo a licence to drive that thing? His wife or his keep?" The bird with its heart going pit- a- pat to a fast jive was livid with rage.

Cows and a traffic jam
Pussy was running yet another errand for his mistress who had absolute confidence in his driving skills went breathless for some moments.
"Meeowwow (wow!) That was a lucky one," he gasped. "Our governors on wheels have taken over roads the way kangaroos did down under when they bred their kind as never before. Our governors have become lunatics ... hell!" he cursed and stamped on the brakes: a herd of cows had decided to cross the road; and they took their time about it. And while pussy waited for the dumb loafers to saunter away, two bikes whizzed past him on his left and an overloaded juggernaut with passengers hanging on at both entrance and exit blared its way through on his right. There was no case of 'keeping to your lane'; if there was a gap big enough to nose into- nosing took place with no concern

for anything or anyone else. Of course there was a cop on duty but he was trying to shoo away the cows; it was all he could do because there were no laws to book jaywalking cows. Anyway, the cop had it right; cows first, traffic next.
Whoom, whooom," went the owl. "Nothing that matters has improved in our governors' world; not even a wee something to smile about. But I must say their rate of departures in accidents to their next lives without saying good bye to those near and dear has jumped. The media reports them with pictures, statistics and graphics, but our governors so used to reports of violent deaths respond with standard words of sympathy–if they amount to that;
'Poor sods, that's karma for you'."

Killers all
"Purrshsh, everyday governors are mowed down on streets, roads and highways like nine pins by cars driven by maniacs, buses with stuntmen at their wheels, three-wheeler drivers following codes of misconduct and bikers with no brains at all. And these yakkos get off with just a rap on their knuckles. There are other dumbos who kill half a dozen in one go trying to beat a speeding Yal Devi or one of its sisters at a railway a crossing. Strangely these Mad Maxes escape the Grim Reaper and get off with a mild caning despite the carnage they caused. Boy, road killings have become a part of life in this country and the killers have the last laugh."
"Hooot, but haven't the cops stepped up copping drivers breaking the law?"

Road VAT collectors
"Meeowwohsure!: (Of sure!). I have been copped for parking in places I was 'not supposed to park'–so the coppers said; for crossing an unbroken white line by just a bloody whisker; fined twice for stopping across a pedestrian crossing– I had no choice; the traffic was bumper to bumper. Bossa, (referring to their employer Shelton Perera the owner of the Wallside Restaurant and Bar where the pussy and the bird worked as vermin controllers) has had his share of paying fines too. I say, aren't traffic fines increasing day by day? Haven't you spotted hawk-like traffic cops hiding behind name boards, bushes, hedges, lamp posts and in boutiques ready to pounce and ticket some governor for breaking an insignificant traffic rule? It's bloody annoying but traffic cops have turned road VAT collectors."
"Ha-hah-heeee-heee" giggled the bird. "Sure, using cops to scrape road VAT from bad boys and girls breaking the Highway Code is a Yaha gundu to fill state coffers."
"Hah, but it has nothing to do with governors getting killed in road accidents where the killers found guilty of man slaughter instead of murder get jailed for some months, lose their licences for periods depending on political pull or fined a measly sum as laid down in our governors' law. So while an 'accident victim' leaves loved ones in anguish to end six feet under or in a kanatta fireplace, the killers live on to cripple or take more lives."
"Yah, yah, and there are repeat offenders all right, the penalties don't even scratch their thick hides," hooted the bird.
""Expecting laws to lasso those responsible for fatal road accidents is a dream, like all other dreams our governors keep dreaming about"

"So, what do you suggest?" pussy wanted to know.
"Make the punishment harsher. Do you know if anyone gets killed in a traffic accident in Saudi, the driver responsible gets his head chopped off?"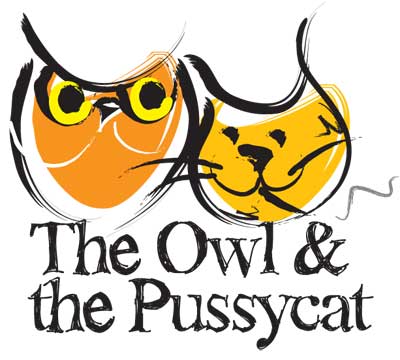 "Meeoowww, but this is not Saudi where you get jailed for coughing in public." (Perhaps Pussy's imagination had taken a place in Saudi law.)
"Thuhoot, so what's the remedy, clever Dick?"
"They have found that driving after booze, kudu, ganja, or popping fun- pills that make governors get woozy, high or thoughts of 'I am the man now" are the major causes of road accidents. Even if governors may have the freedom to kill themselves through booze and illegal stuff, if 'under the influence' of whatever stuff, they have no right to drive, bike or pilot and place others at risk. But the fact is that they do causing road mishaps–and deaths. Worse, when found guilty the punishment takes the cake; and the penalties don't contribute to the mending of their ways. That means the laws are ineffective, but some tuning can do the trick," purred pussy.

What's the answer?
"Have you become a legal draftsman or something?' hooted the bird.
"Be serious, will you? Depending on the circumstances of the accident, fatal or not, I think the guilty should be fined a minimum of two million rupees and ordered to pay compensation to the parties hurt. Jail sentences should be from ten years to life; licences to drive should be withdrawn permanently. I also say that Court should consider the condition and roadworthiness of vehicles in accident cases. My fur sticks out at right angles when I see the state of our governors' lorries, buses and even private heaps that cramp the roads. They look and sound like salvaged make-dos from junkyards."
"So it's up to the big shots in power to do the needful, eh?" ventured the bird.

Yaha in limbo
"Sure, sure, that's what many governors say. But can they, and will they?" asked pussy. "Presently, bottom rung politiccas are struggling to stay afloat on any drift wood and party leaders are doing sumersaults in bribing gods with fruit and vegetable trays crowned with cash donations; And they think the gods are looking their way; but they are not; the gods have seen enough of political hocus-pocus."
"Wow, what now?" The bird asked.
Pussy obliged. "The situ is just this; the Sataka wrong-doers are scraping the barrel to pulverize the Yaha combine out and return to power to save themselves from jail, rope or something else. If they return to pilot the country, the Yaha camp knows it will be curtains for them. Worryingly, the danger doesn't seem to be going away. That means that the wedding rings placed on the fingers of some rascals of the former regime who are now ministers and in the Yahapalana Cabinet have to remain. The Yaha marriage is weak and getting weaker, but separation and divorce are not options. Any rocking of that leaky boat can be political meat for the opposition and disaster placing the Yaha government in limbo. So expecting strong laws to lasso those responsible for fatal accidents will not even make a drawing board. It's a dream, like all other dreams our governors keep dreaming about."