---
The legendary leader Nelson Mandela has said there can be no keener revelation of a society's soul than the way in which it treats its children. Statesman Frederick Douglass has emphasised it is easier to build strong children than to repair broken people, while evangelist Charles R. Swindoll has said each day of our lives, we make deposits in the memory banks of our children. They are so loving and lovable because of their innocence and devastating honesty. Religious leaders have warned, that anyone who causes harm to children should be thrown into the deepest ocean with a millstone tied around the neck. While these are facts what is the world reality today?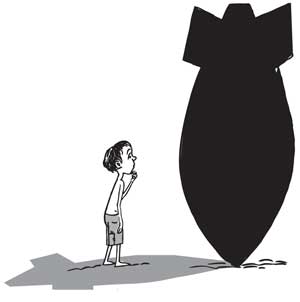 One of the best known international child protection groups the Save the Children in a recent report made the shocking revelation that more than 350 million children are struggling to save their lives in conflict zones, while the United Nations figures show more than 73,000 children have been killed or maimed in 25 conflicts since 2005. What a shame, what a disgrace, what a horror of horrors. How dare we talk about religion or spirituality when we are either ignorant of this, ignoring it or not doing or not doing enough to help these children. Syria, Afghanistan and Somalia are the worst countries for young people.

Last week alone more than 400 civilians including about 150 children were killed when Syrian President Hafez al-Assad's militia and Russian forces knowingly bombed a particular area and destroyed even hospitals. The excuse they gave was they were trying to clear the area of rebel fighters.

According to the Cable News Network, CNN, local tradition says that the bombed area Ghouta, once a sprawling oasis on the outskirts of Damascus, was the Garden of Eden. Now it is hell.

In a report, the global child protection agency says at least 357 million children – or more than one in six worldwide – are caught up in conflict zones, an increase of 75 percent since the early 1990s. Increased urbanisation, longer-running conflicts and a rise in the number of schools and hospitals being targeted, worsened the danger facing children. Other threats include abduction and sexual violence. "We are seeing a shocking increase in the number of children growing up in areas affected by conflict and being exposed to the most serious forms of violence imaginable. Children are suffering in a way that no child ever should; from sexual violence to be used as suicide bombers. Their homes, schools and playgrounds have become battlefields," said Save the Children's Chief Executive Helle Thorning-Schmid, a former Prime Minister of Denmark.

UN figures show more than 73,000 children have been killed or maimed in 25 conflicts since 2005, the year it started compiling such statistics. Since 2010, the number of UN-verified cases of children being killed and maimed has gone up by almost 300 percent. Hitler must be laughing in his grave. Aid agencies say the real figure is likely to be far higher given the difficulties of verifying accounts in conflict zones.

The children's agency says the worsening situation for children in conflict zones is due to increased fighting in towns and cities, and the growing use of bombs in densely populated areas.

Children are being targeted with more brutal tactics, such as the deployment of youth as suicide bombers and the widespread use of weapons such as barrel bombs, according to the agency.

Those in the Middle East are most likely to be living in a conflict zone – two-fifths of children in the region – followed by Africa, with 20 percent living in war-torn areas. Children in conflict zones around the world are coming under attack on a shocking scale, with parties to conflicts blatantly disregarding international laws, says Manuel Fontaine, head of the agency's emergency programmes.

In Sri Lanka, the situation may not be as horrible as in the Middle-East. But it is known that minors are employed if not abused in houses, shops, factories and other places. Sometimes their families are forced to send their children to work largely because of poverty and that is why poverty alleviation needs to be given the highest priority. Our children are our future, their name is Tomorrow and we need to do everything possible to protect and guide them.