---
Despite the continuing crises such as the debt-ridden economy, the lack of direct foreign investments and the soaring cost of living, the national government to a large extent is restoring democratic rights.
Civic conscious citizens need to be aware of the moral law that rights are linked to responsibilities. To the extent we fulfil our responsibilities, only to that extent could we claim or fight for our rights. Similarly to the extent we fail in our responsibilities, to that extent we forfeit our rights.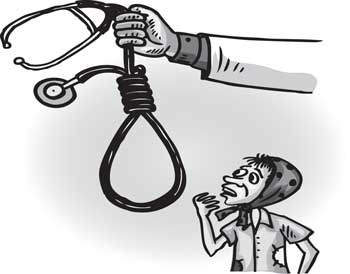 Reflections on these lines are essential in view of the growing number of strikes, demonstrations or work-to-rule campaigns that often affect innocent people. For instance the Government Medical Officers' Association (GMOA), which proudly claims to be one of the most powerful trade unions in Asia, yesterday launched another unannounced strike at all public hospitals in the Western Province. The strike is part of the GMOA's growing campaign against the awarding of medical degrees to graduates of the South Asian Institute of Technology and Medicine (SAITM) at Malabe. The wildcat strike left thousands of patients, mostly poor people, stranded. At Kalubowila's Colombo South Teaching Hospital one patient said he had come on Thursday night all the way from Embilipitiya because yesterday was his clinic day.

President Maithripala Sirisena, who has personally intervened to resolve the SAITM crisis, says he is meeting all parties including the authorities, SAITM students and their families to find a solution that is just and fair to all concerned. But the GMOA, which is widely accused of sometimes playing party politics, appears to be unwilling to wait for this just and fair solution to be worked out. Yesterday the GMOA caused additional pain and suffering to thousands of mainly poor patients and it has been doing it on a regular basis since the SAITM crisis erupted last year though this private university was set up 2008.

Medicine or healing, in its highest sense, is a vocation where the well-being of patients is given top priority. Valid questions are being asked whether the doctors who suddenly struck work yesterday were aware or sincerely committed to the hallowed Hippocratic Oath which they took. Lest they forget a part of the oath is like this: "I swear to fulfill, to the best of my ability and judgment, this covenant; I will respect the hard-won scientific gains of those physicians in whose steps I walk and gladly share such knowledge as is mine with those who are to follow; I will apply, for the benefit of the sick, all measures which are required, avoiding those twin traps of over-treatment and therapeutic nihilism; I will remember that there is art to medicine as well as science and that warmth, sympathy and understanding may outweigh the surgeon's knife or the chemist's drug…"

With the GMOA regularly breaking this oath and setting a bad example, we also see university students staging demonstrations on busy highways at peak times, causing delays and other problems to thousands of people including schoolchildren. This has led to calls even by civic rights activists that no group has a right to cause serious problems to thousands of innocent people -- and therefore there should be some restrictions on demonstrations at peak times on city highways.

Traditionally, most democratic countries have accepted the right to strike but it should be the last resort only when dialogue, consensus and other non-threatning means have failed. But now it appears that some organizations are resorting to the unacceptable position of striking first and talking later thereby causing all sorts of problems to thousands of people. When medical doctors resort to this it could amount to a death blow to democracy and also to poor patients.

If the physicians heal themselves we could see healing in many social justice issues that confront us today.