---
The Parliamentary Elections are just five days away and those whose franchise is labelled as floating votes would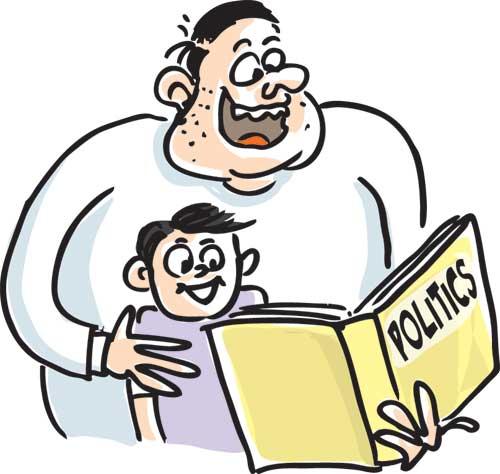 be thinking hard about whom to vote.
But would those votes make a difference this time around? Political analysts would answer this question in the negative. However, regardless of who wins and polls the highest, focus must never be taken away from the quality of the candidates or representatives we send to parliament.

We read in newspaper how the names of one of two candidates mentioned at a rally in Monaragala was rejected by the crowd present. This is what people, the voters, must stand for. They must say 'no' to those lawmakers who have not done much for the people and just grown old in this profession of law making.
Still we see efforts being made by the 'Greens', 'Blues' and the favourite party that wishes to continue blooming to hand over the political baton from father to son. Family traditions in politics have continued for generations. There hasn't been much room for a new phase in this powerful profession to take root.

Just the other day a former minister, who was involved in development in the western province and sweated to implement the megapolis concept, picked on a rival candidate and said that people like him have to create a base from scratch and aren't fortunate to enjoy sound family roots in politics.
But there are those who think otherwise. There are present politicians who have to live with the dark pasts their fathers were associated with. So there are both the advantages and disadvantages of an individual being thrown to politics to carry on the family lineage.

At present there is a call made by the incumbent president to send to parliament people who are capable of working hard. This would create a new trend in politics; to have apolitical people serving in ministries as heads.
There was once a time when actor turned politician Vijaya Kumaratunga was making huge strides in politics. It was amazing at the manner in which he was establishing himself. Voters back then were made to think that an individual as big as Vijaya and coming with a background in the silver screen would change the family dominated culture in the profession of lawmaking.

Vijaya was killed and Chandrika, his wife, filled that slot left by her deceased husband. Eventually what stood in favour of Chandrika was not Vijaya's popularity, but being the daughter of SWRD Bandaranaike and Sirimavo; both of them reaching the pinnacle in politics.
That concept of family politics is set to take a beating at present.

We now see the offspring of leaders like Ranasinghe Premadasa, Gamini Dissanayake and Mahinda Rajapaksa vying for slots in parliament. It's a difficult time for these 'budding' lawmakers because there is a call for professionals and efficient people to enter the profession of lawmaking.
Only time will tell whether Sri Lanka is fortunate to see that change take place. It's a change we've been waiting for; a change that ensures that the best man gets the nod for his or her credentials and not because you're well connected. Let's keep out fingers crossed!