---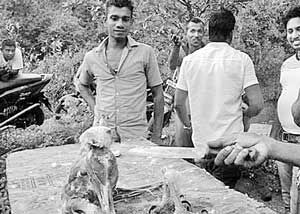 The mutilated eagle's picture which went viral on social media websites is one of the most harrowing examples of cruelty to animals. The eagle, with all its feathers plucked, is standing on what looks like a stone slab. Its claws, hacked off from the feet, are visible in front of it. A hand wielding a knife is in the foreground and the blade is pointed at the hapless creature.

There are five men in the picture. Three have their faces towards the camera. They are smiling smugly. The picture was posted on Facebook several days ago. Once it went viral and the Wildlife Department was alerted, the posts were deleted. But it has been established that these men are from Wanchawala in Galle. A net has been used to catch the eagle and available information suggests that this group of psychopaths or sadists have been engaged in this 'hobby' on a regular basis.

Sashikalana Ratwatte, speaking on behalf of 'Let Them Live,' a group of wildlife enthusiasts and volunteers, said she hoped the Wildlife Department would take steps to arrest and prosecute these men. She said, however, legislation remained weak and though offenders risked jail terms of up to five years, it was likely that these culprits might get away with a fine of Rs.30,000.

There have been several reported cases of cruelty to animals but the number which go unreported are greater. Examples worldwide range from cruelty to domestic and farm animals such as dogs, cats, cattle and horses to the killing of elephants and other endangered species. Less visible but equally serious is the killing of sharks for their fins. But the wanton cruelty by the five sadists mutilating an eagle for 'sport' puts this case in a class of its own.

Wildlife enthusiasts say the present legislation against cruelty to animals is based on the Wildlife Act of 2009. The lack of awareness among politicians and the people could be a major reason for the increasing destruction of or cruelty to the wildlife in the wild or in human habitations.

When farmers kill elephants, sometimes in horrific ways, there is a raison d'etre, which is more often than not a matter of survival. When a dog-hater kicks a sleeping dog or when a motorist deliberately runs over one of them, that is a form of cruelty which has no justification though one might argue that the offender is a 'dog hater' or fears dogs for some reason.

On what grounds could we justify the cruelty by these five men -- the three identifiable ones are young -- catching an eagle and mutilating it? But we strongly believe that by letting these five men go with a fine of Rs.30,000 is an insult to the judicial system and to a country which proudly claims to respect all forms of life on a spiritual basis.

We know about the horrible tortures inflicted by shadowy 'death squads' on their human victims during the dark period from 1987 to 1989 and again by armed men on both sides during the civil war. The rationale behind that was not acceptable to everyone, of course and such measures were necessary given the aggravated circumstances.

But no such rationale is possible in this case. There are no aggravated circumstances here. The eagle was flying, looking for prey according to the laws of survival. These demented men were out to catch and mutilate it for fun. Not even the most convoluted logic can furnish a rationale for that.

These men, from their looks, must have had the benefit of free education for at least ten years. What have they learned? It's no arguing that the majority are not such maniacs and the system is not to blame for the vagaries of a 'few.' But the system, which includes the environment, must be protected by law against the 'few.' These are the acts which should enrage our leaders into saying that offenders should be thrashed with a 'madu walige.' We are not in favour of medieval punishments.
What is needed are stiffer fines plus a longer jail term, plus conditions of long-term police surveillance and psychiatric evaluation of offenders. This needs an act of parliament. If that happens, this poor eagle wouldn't have perished in vain. Our politicians should realize that animals too, are as important as themselves even if they can't vote.