---
A team of representatives from the Hong Kong Trade Development Council (HKTDC) met the officials of the Export Development Board (EDB) last week to strengthen trade between the two countries.
The EDB signed a memorandum of understanding (MoU) with the HKTDC in 2015 and the purpose of the recent visit was mainly to monitor the progress of trade development activities between the two countries and to extend the MoU for a further period.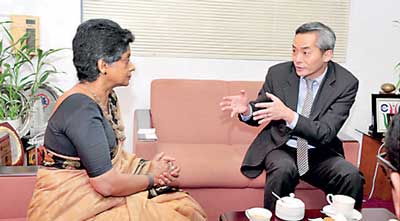 The MoU was designed to establish a framework of cooperation to promote economic growth between the two countries, encourage business development and enhance trade promotion activities and to strengthen economic partnership between Sri Lanka and Hong Kong.
The HKTDC was in the forefront of trade development in Hong Kong. It was established in 1966 with the main objective of promoting Hong Kong products and services by organising exhibitions and conferences, maintaining an online marketplace (www.hktdc.com), publishing product magazines and promoting business matching, etc.
The HKTDC online marketplace features more than 130,000 quality suppliers and serves 1.7 million registered international buyers who can make personalised sourcing enquiries via the website. The EDB has already uploaded profiles of 39 Sri Lankan companies, which will be seen by the 1.7 million registered international buyers.
The HKTDC has taken necessary action under the MoU to promote Sri Lankan export companies in the www.hktdc.com website for a one-year period.
Sri Lanka has been invited to participate in the Hong Kong House-Ware Show and Giftware Show. The EDB will consider organising the exporters to participate in the Giftware Show in 2018. The small and medium enterprise (SME) sector in particular will benefit in participating in these fairs. The HKTDC agreed to conduct a seminar in Colombo, for the selected trade fair participants to develop their exhibition skills and techniques at trade fairs. The teams discussed increasing trade promotional activities already mentioned in the MoU. The present MoU expired in August 2016 and the two parties discussed the extension of the MoU for another two years. The HKTDC will assist the participants of trade fairs in the visa processing. Assistance will also be provided in product development research and awareness programmes.
Director Exhibition Market Development Johnny Wan, Project Manager Zahir Merchant and Business Manager Rakesh Mukherjee represented the HKTDC. EDB Chairperson Indira Malwatte and the officers of the Market Development Division participated.