---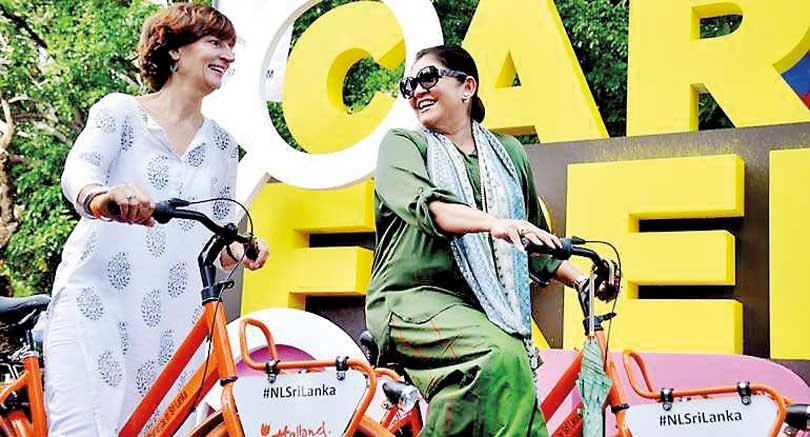 Dutch Ambassador Joanne Doornewaard and Colombo Mayoress Rosy Senanayake are seen riding pushbikes as part of launching the 'Car-free Sunday' in the city. However the plan unleashed a torrent of anger from female residents over sexual harassment in public places and public transport facilities

Some people tend to be more expressive online, depending on the situation. They tend to let out their emotions in ways they probably would not offline. Last week a former colleague of mine faced this situation. Marianne David was very expressive in why she did not support efforts to make traffic-clogged, sometimes suffocating Colombo free of cars.
She was quite clear why – it had to deal a lot with my kind, the male of the species, specifically the Sri Lankan male, the type we encounter on the road, in buses, in trains, almost everywhere. Anyone who has been in public knows the levels of misogyny in Sri Lanka. To say that it does not exist is really a lame effort to feign ignorance. Ask any female of whatever age you like who has been in public, and trust me, she would relate in detail how bad the situation is.
Her simple but bare-bones honest opinion elicited reactions from those who shared it and by several who did not. Notably in the latter category were retired Navy Chief of Staff Mohan Wijewickrama and Viyathmaga or some individual who operates its Twitter handle. They used a common tactic in trying to debunk assertions that Colombo was not safe enough for females by bringing in David's patriotic credentials.
This is not an effort to plug David's argument that going car-free is not a viable option for females in Colombo or to do the same with those who tried to discredit them. This however is an effort to look at how Sri Lanka digital sphere has evolved in the past few years.
A couple of years back, David's social media post would have passed unnoticed, there is a high chance that neither Wijewickrama nor Viyathmaga would have reacted. But not so now. In the last year social media has evolved into a sphere where potent dialogue takes place. But it is not just political opinion that is traded here, it is opinion mixed with emotion, that gives these discussions an edge.
Going car-free is not a viable option for females in Colombo Many female commuters have experienced sexual harassment while using public transport
The two reactions elevated that niche post into something quite different. There were dozens of people who voiced support for David's right to air her sentiments on why she does not support or would not take part in the car-free day, some even going as far as to term the two reactions, at least one by a high-profile public figure as bullying.
To me this was the latest example of 'digilantism' in its nascent form in Sri Lanka. Social media users were not content to let remarks they felt as unwarranted just pass. They called them out in unison and to give credit to Wijewickrama his reactions to at least one more online dialogue with another female journalist was far more measured.
During that dialogue he in fact indicated that he may have now realized the extent of misogyny in Sri Lanka and was willing to act on it. All such on-line conversations do not end in such decorum. In fact, most turn into to screaming bouts and in the worst-case scenario lead to trolling.
Journalists are just getting used to online trolling threats and dealing with negative reactions bordering on bullying and abuse. Gone are the times when the reaction to your work or opinion took a week to get to you. Now its instantaneous and could be public and vile.
There are serious trauma threats these kinds of scenario pose for journalists who can find themselves in situations where the feeling is like being sieged by a cyber wolf pack just baying for your blood. Fortunately, in this case it did not get to those levels. But several Sri Lankan colleagues have had to face worse situations and at least one did wipe off a social media account after the negative reactions became intolerable.
This is not to say that journalists should not be criticized. This is the age where the audience has had the most freedom and widest options to react and react publicly. Trolling, the vilest form of such reactions is not going to go away, rather it will become viler and more potent.
This is just a cautionary tale for my colleagues reminding them to be wary.
The writer is currently pursuing a Masters by Research at CQ University, Melbourne on online journalism and trauma.
Twitter - @amanthap