---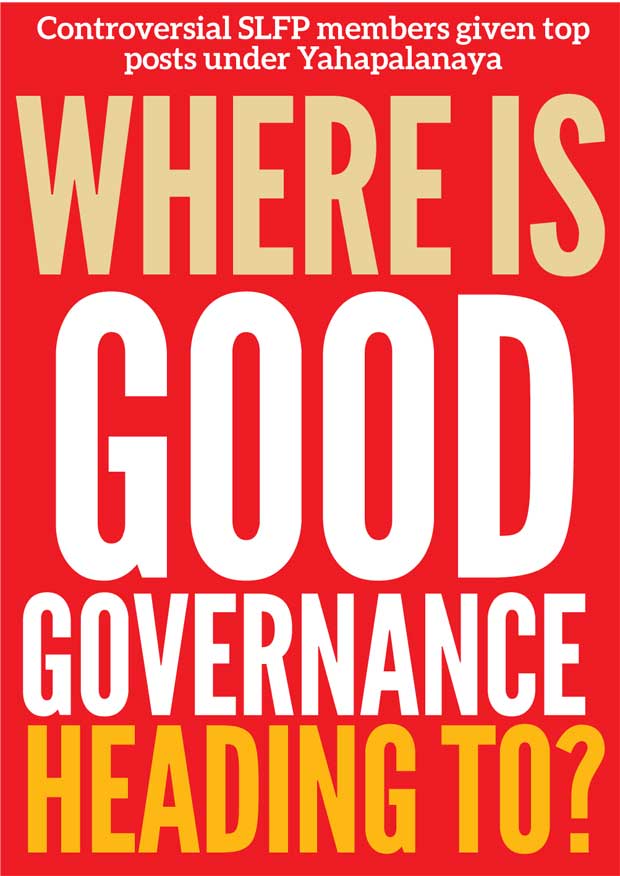 he slow and steady pace of the good governance regime was celebrated for just a few months before certain decisions became contradictory to their manifesto. During the January 2015 elections many promises were made and some were fulfilled. But today, the people involved in taking the country forward are those who were also involved during the MR regime. Whether they will take the country forward or to the gutters is quite a question since they are alleged to have been involved in various cases which justify their notoriety. The most recent example for this is the appointment of certain organisers in different areas.
The infamous Saruwa Liyanage Sunil, former Chairman of the Akuressa Pradeshiya Sabha who has been indicted for raping an underaged girl in his own guest house back in 2012 is now being appointed as an organiser. The Attorney General indicted Saruwa Liyanage Sunil for sexually abusing a 14-year-old girl on or around May 23, 2012 to July 2, 2012. The Women and Child Protection Bureau of the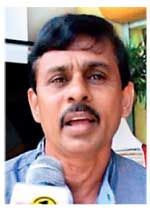 Matara Police conducted the preliminary investigations and took the accused into custody after he surrendered. Following the incident, the UPFA suspended his position as the head of the local council while his party membership of Sri Lanka Freedom Party (SLFP) was also suspended. According to investigations, the accused had raped the minor keeping her at his own rest house for two days. The accused was later released on Rs. 50,000 cash bail and four personal bails. This individual was appointed as an organiser while this case is still going on. In addition to that many women's rights activists and many others had criticised him for his bad record relating to women.
The Daily Mirror spoke to a group including academics, professionals and civil rights activists to get their opinions on the appointment of controversial politicians to top posts in the SLFP which is part of the good governance regime.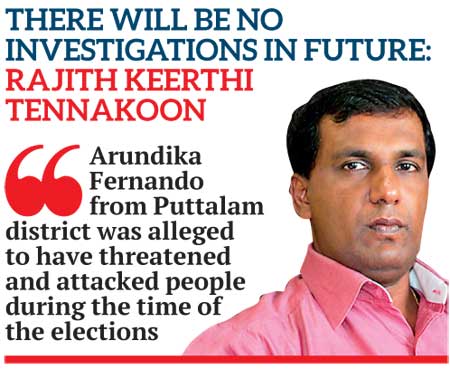 Speaking to the Daily Mirror, Rajith Keerthi Tennakoon, Executive Director of Campaign for Free and Fair Elections (CAFFE) said that many notorious SLFP members of the past regime have been given top posts in the good governance regime as well. "For instance, Arundika Fernando from Puttalam district was alleged to have threatened and attacked people during the time of the elections. Nishantha Muthuhettigama, needs no introduction because he too was alleged to have been involved in a number of illegal dealings. Eastern Provincial Council Minister M.L.A.M. Hisbullah was appointed from the national list. The biggest issue however is the appointment of Sajin Vass Gunawardena, because he has numerous allegations starting from the Mihin Lanka. But he was one of the main organisers at the recently concluded May Day rally in Galle. The issue with reappointing them is that they will use their political powers to sweep their allegations under the carpet. This is the nature of power politics. In time to come this government will stop investigating about these people. We do not need any support on this regard but we are trying to emphasize on the fact that the good governance team is encouraging the same notorious characters of the past regime to play on their own in this regime as well."
Dr. Nirmal Ranjith Dewasiri, former President of the Federation of University Teachers Association (FUTA) claims that the Maithri faction is trying to get more people to their side. "At this juncture, MS will not bother to consider their track record. According to their promises made on January 2015, this is a contradiction. So we are trying to raise our concerns on this regard. There has to be some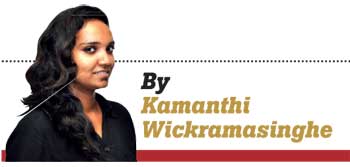 discussion about what is going to happen. A well-known politician from Gampaha district who is alleged to have connections relating to heroin smuggling has been appointed as a district organiser. Muthuhettigama, Sajin Vass and the other members were the symbols of deterioration during the past regime. They symbolized the ugly signs of the MR regime and now they are again being welcomed to the good governance faction as well. Therefore we see that there is an ethical and a moral issue involved. These things do happen in real politics but we became a part of this campaign to encourage and promote principle politics. Therefore if we are encouraging that kind of a political culture these kinds of appointments shouldn't be involved."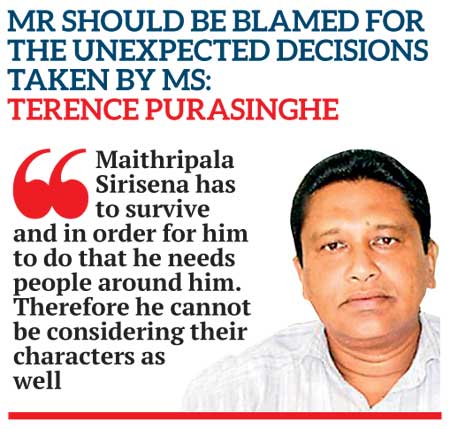 In his comments, Terance Purasinghe, Senior Lecturer in Political Science at the University of Sri Jayawardenapura said that politics is all about power. "Maithripala Sirisena has to survive and in order for him to do that he needs people around him. Therefore he cannot be considering their characters as well. A provincial politician who was alleged to have a heroin business has been appointed as an organiser in his area. This is the nature of politics. A good governance concept cannot be exercised in a country like ours, since it is not a developed country. It is suitable for countries like England. In January 2015 MS promised not to involve any of them in his political mission but now there is a contradiction. But in my opinion Mahinda Rajapaksa should be blamed for this. He was the president for 10 years and why can't he be at home at least now. In which country has a former president come back in to politics? What I have seen is that after their term, presidents retire. But he is even interested in becoming the Prime Minister. How shameful is that? If the main May Day rally was in Galle, then why were people everywhere? Salinda Dissanayake and Geetha Kumarasinghe were removed from their posts and similarly many more will have to leave in the coming few weeks. This can be a sign that many others too will face the same fate."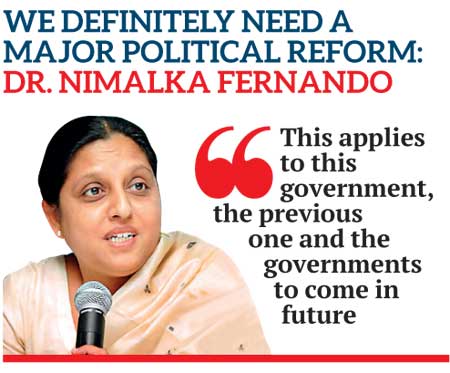 Dr. Nimalka Fernando, a prominent women's rights activist stated that a campaign had been launched many years ago where we urged from all political parties not to give appointments to people who have been alleged of rape, murder and other charges. "This applies to this government, the previous one and the governments to come in future. We need clean and incorrupt politicians to run this country. Unfortunately the political ethos and the pattern of voting is such that people vote for these corrupt politicians of the MR regime. It has been consolidated in the minds of the people that a person has to be a thug, a murderer or a rapist in order to be eligible for the post of a politician. This has been the symbol of politics during the MR regime. It seems that President Sirisena has not liberated himself from the bad energy which is flowing in from the MR regime. Before appointing politicians for top posts, the President and other members should conduct investigations. Every political party should have a disciplinary committee. Also whatever decisions they take should be transparent because the people should know what is happening behind the scenes. Why can't people go to the roads and protest, name and shame these kinds of rogues? Why can't people file a petition and send to the President? We definitely need to go through a major political reform in the country."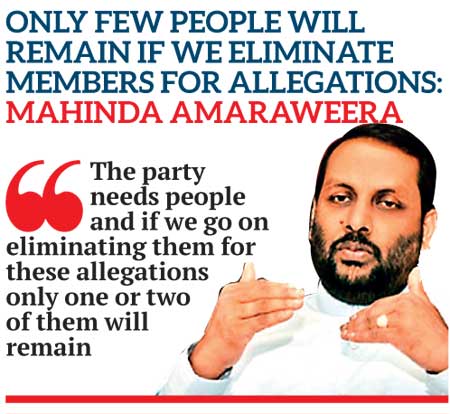 Speaking to the Daily Mirror, Mahinda Amaraweera, newly appointed UPFA General Secretary said that Sajin Vass has not been given any post. "He attended the May Day rally because he was a member of the SLFP. The party needs people and if we go on eliminating them for these allegations only one or two of them will remain. There are no court cases filed against Lansa, Muthuhettigama or any others who are alleged to have been involved in various cases. In that case even some members of the UNP have many allegations against them but these are not even made public."
"Muthuhettigama, Sajin Vass and the other members were the symbols of deterioration during the past regime. They symbolized the ugly signs of the MR regime and now they are again being welcomed to the good governance faction as well . Therefore we see that there is an ethical and a moral issue involved"