---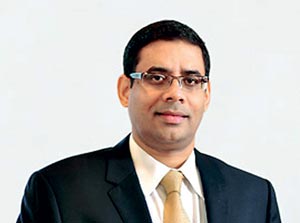 BY Nuwan Ranawake
National Human Resources Development Council of Sri Lanka (NHRDC) and International Chamber of Commerce Sri Lanka Chairman Dinesh Weerakkody points out that a key factor the success of Sri Lanka's economic growth plan hinges on is its availability of skilled and employable workforce to support the growth. Weerakkody says people who understand the talent challenges must address this issue, rather than the people who have limited or no domain knowledge.

Industry says the country needs people who can be employed. Instead, we have people either who are not interested in working or cannot be employed. Is this true?

This argument is somewhat true. We all know that adequate education and skills can improve the employability of workers and the productivity of enterprises. This realisation has led to increased interest in employers of skills to actively participate in the formulation of skills development policies. Many of these policies, increasingly broad in scope and outreach, are underpinned by efforts to bring the world of education and training and the world of work closer together. But in Sri Lanka, though we all know this, very little happens. As a country we need to anticipate and build competencies for our future business needs. To realize this goal, we need to have a sustained dialogue between the employers and trainers, coordination across government institutions, proper labour market information and good employment services.

Does the government understand the seriousness of this?

For sure, they know to gain or maintain our status as a middle-income country. We must produce the higher value-added, higher-quality goods and services that can yield higher wages and profits. To do this, we need a skilled workforce and to get there, we need an education and training system that adequately prepares young people to enter the labour market. This argument runs alongside the current thinking that economic development must not only look for rapid economic development but also inclusive growth. The policy that grows out of this is the increased interest in skills development as an important means of addressing economic, social and developmental concerns. It focuses not only on the young people who have completed their formal schooling but also on adult workers, school dropouts, workers in the informal economy and disadvantage groups.

What are the immediate issues?

Firstly, the skills mismatch. The skills obtained through training and those required by the job often do not match, resulting in skills shortages in some areas and simultaneously a surplus of workers with skills that are not in demand, contributing to unemployment and underemployment. Secondly – the limited involvement of all the key partners. In Sri Lanka, we lack the active participation and coordination between the state, employers and worker organisations – that is very essential to ensure the provision of relevant and appropriate training. Thirdly – the poor quality and relevance of training. Weak quality assurance, too few or poorly paid trainers, poor working conditions for trainers and outdated skills, curricula, training materials and methods, all inhibit the quality of training. Limited labour market information and inability to translate such information into improved training interventions undermine relevance.

How do we, as a country, address the long-term challenges?

We need a national policy that presents a common vision of the skills system that the country is aiming to build and therefore, conducive to a more holistic response to human resources planning that draws together the various government agencies, employer organisations and providers of education and training. A national policy would also enable reforms to be achieved with clear statements of responsibility shared among government, educators, social partners and private sector. The country has made great strides on many fronts, especially in education and skills training. A lot more however needs to happen. If progress is to be made, there is definitely a need for greater coordination between the various relevant ministries and institutions providing technical and vocational education and training (TVET) and higher education. The current disjointed system is only leading to a misallocation of our taxpayers' money. Therefore, we urgently need a mechanism to ensure there is better private sector participation in designing and updating of standards, course contents, training of instructors, funds are allocated based on performance and finally strong political leadership to ensure that all government agencies in the TVET and higher education sectors work together to deliver the skills the employers of human capital need.

What can be done at a national level?

Like for example, the skill India campaign has an aggressive aim of training 400 million people on different skills. We must also have an initiative to identify the skills we need for the next five years and get all the agencies to work together to deliver the skills requirements. Now each agency is doing its own thing.

Are there any specific policy interventions planned for 2017?

To address some of these challenges the government has proposed a new Education and Employment Act under which a new Human Resources Development Agency and Employment Relations Council will play a key role in steering the key initiatives with stakeholder collaboration. The new act will take forward the government's plans to strengthen the education to employment continuum. But this must hit the ground. The NHRDC has proposed many new policy options. Someone needs to implement them. As a policy body, we have a limited mandate to implement.

Should we allow importing skilled labour as industry has suggested recently?

Before we do that there are over 100,000 qualified Sri Lankans who are dual citizens. We need to find a way to tap into that talent pool. The diaspora community can add great value to human and financial capital needed as we embark on a transformation agenda that seeks to develop new value chains. We are currently working on a project with the Ceylon Chamber and immigration chief to facilitate that engagement. Secondly, before we blindly import we need to know where the gaps are and what the competency or proficiency levels we require are. Once we have that data, we can empower the regulator to selectively approve all applications subject to other simple guidelines. However, we cannot just crib something that another country is doing and push it down the throat of the private sector. The current requirement is more to do with blue-collar workers. There is a group working on these regulations. We need to keep these regulations simple and robust. It should not in any way become a deterrent for new investments.

What sectors does the private sector wish to import labour for?

Tourism, apparel. In addition, shipbuilding, construction and plantations have also shown interest in importing labour.

A state minister had said the immigration controller will be given the power to issue work visas for skilled workers to get over the shortage we have. As an HR specialist, what is the way forward?
Firstly, we need to know where the shortage really exists. Are they at blue-collar or white-collar level? An institution or a person with domain knowledge should be the person who must own the process, not the controller of immigration. Surely, when one is sick you go to a doctor, not to an engineer for treatment. Decisions like this need to be based on manpower plans, skills inventories, competency levels and business models. The controller of immigration therefore needs to be guided by the people who have a good understanding of the prevailing talent practices and also by the employers of talent. The job of human resources today is to make people, organisations and nations grow. I believe the government is planning to entrust the approval process to a specialist outfit.