---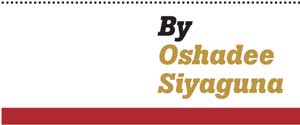 Climate change is now internationally accepted as a scientific fact. At present, the global climate is changing at an unprecedented rate and on an unprecedented scale. The driving force behind these changes is human action, principally through the emission of carbon into our atmosphere. We are witnessing the impact of global warming on our environment, our economy and our society.

The recent floods that devastated Sri Lanka is a prime example of this. The science is clear that if systemic changes are not addressed at local, national and international levels, climate change has the potential to severely impact the world that current and future generations will inhabit. In this sense, global warming constitutes a challenge that is both immediate and inter-generational. It is imperative that we, as a nation, cognizant of the very vital, vibrant and spiritual connection between people and nature, act to nurture and protect the environment. We must also recognise that climate change will bring social and economic challenges that will only mount if we are not proactive in managing them.

Therefore it is in the interest of our environment, our people and of future generations that we act swiftly and unequivocally. But we must do so in a way that is measured, well informed, and equitable to all citizens.
Sri Lanka, as a developing island state, surrounded by the sea and dependent on agriculture, is particularly vulnerable to the impacts of climate change. These impacts will be far reaching and potentially devastating:
The current amplitude of sea level rise is occurring at a rate unmatched in the previous two millennia - to put that into perspective, sea level has not been this high since the arrival of prince Vijaya. Sea level rise not only puts coastal communities and settlements at risk, but increases salinity in coastal areas and can render large swathes of currently arable land as agriculturally useless. This has the potential to make regional livelihoods and national food security both critically vulnerable to this danger.
Climate change increases the frequency and intensity of natural disasters. In coming years, floods, droughts, cyclones and storm surges are predicted to become more frequent and more devastating.
Climate change will fundamentally alter monsoonal patterns. Fluctuations in annual rainfall in Sri Lanka are predicted to increase and cause far greater spatial variation between wet and dry areas. Ultimately, models suggest that wet areas will become wetter and dry areas will become drier. Such a shift is likely to adversely affect agriculture and food security. Historical paddy seasons Maha and Yala will change, which is an unprecedented change in the entire civilization of this country. Sri Lanka's hydro-power, which provides 42% of our electricity is reliant on rain falling in the right places - which fluctuations and spatial variability might affect.
In total, the economic impact of climate change in the agricultural sector alone may rise to as much as 39 billion rupees. Indeed, the impacts on water resources inevitably flow on to impacts on electricity generation and the availability of potable water. Together, these impacts will be multiplied throughout economic and social spheres. The integrated nature of the physical, environmental, social and economic impacts of climate change demonstrates that it represents a systemic problem that poses a systemic risk, which must be dealt with through systemic transition. Its impact will be felt across all government sectors, all parts of industry and all levels of society.
Sadly Sri Lanka has not contributed greatly to the current situation but, as global citizens, we share the responsibility to ensure that Sri Lanka and indeed this world is left in a condition in which future generations can prosper.
In this sense, blame and despair are not options, and neither is idleness. By adopting a forward-thinking and pragmatic approach, Sri Lanka can lead as an example, towards which other developing countries and island states can look for inspiration to tackle and adapt to climate change.

While Sri Lanka is not solely nor significantly responsible for climate change, we are responsible for how we respond to it. All nations currently have the option to mitigate the effects of climate change by reducing greenhouse emissions, and the option to adapt to whatever changes is likely to occur in spite of these mitigation efforts.

As a small, developing island nation we have limited options in making a substantial contribution in mitigating the inevitability of climate change. We do, however, have the ability to adapt to these changes. While the European Union take lead on climate change mitigation, we can take lead in adaptation.
Climate change is inevitable, but disaster and catastrophe are not.

Scientists have identified how a changing climate has the potential to damage our environment, economy and society, which provides a roadmap for how we might respond. Based on this wisdom, and our forward thinking, we have the capacity to innovate, and transition the nature of our economy and society to better cope with these changes.

The earlier we think and act, the more flexible our adaptations will be. We should view our vulnerable position in the face of a warming planet not as hopeless, but as an opportunity to lead the world in adaptation and innovation. As members of a conscious and connected global community, we can stand at the vanguard of vulnerable developing nations committed to exercising their adaptive agency in the face of climate change.

We have demonstrated our leadership, resilience and adaptive capacity before. The country has rebuilt from natural disasters with admirable resilience. Within development spheres we have also risen to the challenge: We have achieved near universal literacy and health care, helping the country achieve a middle income status coupled with a high human development index rank. Action on climate change will be a crucial part of our journey as we move on from the Millennium Development Goals to achieving the Sustainable Development Goals.

In many cases, climate change adaptation interventions can be considered "no regrets" initiatives – being of benefit regardless of the effects of global warming. By implementing them sooner than later, it places us in a win-win scenario. For example, by harvesting and storing rainwater during higher rainfall seasons, we can increase our climate resistance whilst also addressing our current developmental objectives. Similarly, promoting better irrigation techniques, wastewater recycling and groundwater utilisation are all of social and economic benefit regardless of whether a changing climate will lead to a regional decrease in precipitation.

It is projected that by 2040, Sri Lanka will experience water stress almost three times baseline levels. This is true even under an 'optimistic' climate scenario. It is only by recognising and accepting our vulnerability to situations such as these that we can implement effective adaptive measures in order to reduce the negative effects we will feel as a nation.

Much work has been done to improve climate resilience and climate awareness in the global finance sector. Although these relate largely to mitigation of climate change, they have a significant impact on the global economy, which Sri Lanka, particularly our industrial sector, is a part of. Transition to a low carbon global economy would mean that we would have to change and adapt to regulatory changes in the outside world. We are well aware of the impacts on our economy from the isolationist practices, for example the loss of the GSP+ concession. Our economy cannot afford such ignorance, we should be at the forefront in terms of governance, and more importantly research led governance which ensures that we are informed and prepared to face regulatory changes. If we are at the forefront, we are not only prepared to adapt but we will be prepared to reap the benefits from the global transition to a low carbon economy. The world has now woken up to the magnitude of the challenge that climate change poses to humankind. This is signified by the global agreement of COP 21 in Paris, at which 190 countries, including Sri Lanka, signed on to commit to tackle climate change and its impacts.Acting with cognizance and prudence will not only reap benefits to us and the country, but to future generations too.
Any queries on this article should be directed to Dr. Thomas Bach: thomas.m.bach@gmail.com.

The writer is BEng (Civil), MSc (Fin), MA (Sustainability), PG Dip (Int. Development), Dip (Mech) Dr. Thomas M. M. Bach PhD Geography and Environmental Science, BSc Environmental Science with assistance from M. Shallue