---
Following is a speech delivered by Admiral Dr. Jayanath Colombage, Director of the Center for Indo-Lanka relations of the Pathfinder foundation at the joint symposium conducted by the Institute of South Asian Studies of the National University of Singapore on the Belt and Road Initiative, held in collaboration with the Pathfinder Foundation held on January 29 in Singapore.
The strategic environment and the contest for power and influence by major powers in the Indo-Pacific Oceans can best be explained in six words; this region is one of strategic competition; strategic convergence and strategic dilemma.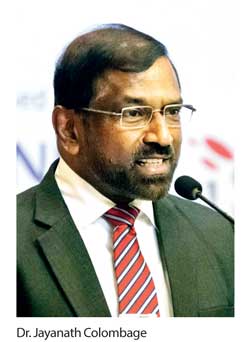 The unprecedented economic rise of China and India has made these two great powers increasingly come into contact with each other's sphere of influence in recent times.

Furthermore, the US National Security Strategy clearly indicates that China is an adversary which was made clear by the US Secretary of State Tillerson's speech late last year calling for stronger ties with India whilst expounding that China poses a threat to the stability in the region and greater world order.

China has become the common adversary of USA and India. Hence, the US argues that the two great democracies should possess two great militaries and that the India-US strategic partnership is necessary to stabilize the Indo-Pacific region. In this context, it is also interesting to see Japanese concerns in the Indian Ocean with Prime Minister Abe declaring the 'Free and Open Indo-Pacific policy' wile Australia's interest in the region has been made clear in its new foreign policy white paper as 'the need to maintain a rule based maritime order'.

There is an unofficial 'Maritime Cold War' brewing up in the Indian Ocean with many nations building up their naval capabilities and it can be witnessed that security concerns of some nations actually lead to insecurity of other nations.

In light of the above, the Role of 'Quad' (Australia, India, Japan and USA) in the region needs to be debated as to whether it will it lead to officialize the maritime cold war. Quad is essentially interested in a rule-based maritime order and respect for international law, freedom of navigation, enhancing connectivity, maritime security, non-proliferation and terrorism and the North Korean threat. However, it needs to be understood whether Quad is to merely counter China and in this regard, whether India should be cautious not to antagonize the former in multi-national forums. It is also interesting to investigate what role Singapore and Sri Lanka can play in a 'Quad plus'.

Due to the mistrust and strategic competition, the Indian Ocean has now become heavily militarized and nuclearized. From 2009 to 2017, 399 warships belonging to 27 nations have visited ports in Sri Lanka. This is a clear indication that the island is considered as an open port of call due to its neutrality in world affairs and ease of access as a result of its strategic and convenient location. This also indicates the heavy presence of world navies in this region which includes offensive platforms such as aircraft carriers, nuclear and conventional submarines, and intercontinental ballistic missiles with nuclear warheads.

It is interesting to note that the US seems to be fatigued playing the role of global policeman and maintaining international order which opens the political space for other countries like China and India to pursue their interests in the international system. In an era where globalization and technology have connected the world, 'security-wise' our regions are still not interconnected. Sustenance of the world depends on global manufacturing, supply and value chains.

In this context, we need to ask ourselves whether the Indo-Pacific maritime domain remains secure for the continuance of the above. There is also the threat of Non-State Actors (NSA) and asymmetric warfare which is challenging states. Technology is available in both positive and negative sense with the internet increasingly being used by NSAs to spread their propaganda. Regulating the use of these new technologies has become more complicated and difficult.

NSAs also use the Indian Ocean with impunity, flout the International system and carry out their activities which is a serious concern as they can be terrorists, pirates, gun runners, human smugglers or IUU fishers. Maritime blindness is the main security threat in this ocean. The International Maritime Organization stated that 57 percent of maritime vessels do not report their position accurately, probably for commercial reasons and 40 percent of fishing being illegal, unreported and unregulated (IUU). Therefore, Maritime Domain Awareness (MDA) is a solution to this uncertainty where sharing of information on white shipping can be effective to secure knowledge of occurrences in the Indian Ocean.

Currency of Indo-Pacific terminology and maritime domain
Terminology in the maritime discourse is now changing from Asia-Pacific to Indo-Asia-Pacific and currently to 'Indo-Pacific'. However, it needs to be understood whether 'Indo' means all littoral states in the Indian Ocean or only India and whether this is an indirect strategy to highlight India whilst keeping USA in and China out. Conversely, the Western Pacific is a contested area with South and East China Seas' maritime territorial disputes whereas the Indian Ocean is an open maritime region. The primary question is, can a single power dominate the Indian Ocean? In this regard, it is interesting to note that even the British during their rule could not control all the choke points in the Indian Ocean simultaneously.

The maritime domain is the common denominator for most countries and maritime security is indivisible across the oceans in Asia. Security is also increasingly linked across a much broader region of Asia. The Western Indian Ocean is considered a volatile region whilst the Bay of Bengal is relatively peaceful with no maritime disputes and flash points and BIMSTEC is now discussing maritime security after 20 years in existence.

We need to create avenues to connect the Western Indian Ocean and Bay of Bengal, aside from their dependence on oil and Islamic faith. The Belt and Road Initiative may be the opportunity to connect these regions through ASEAN and the revival of the ancient silk route by trying to recreate what existed centuries ago. At the same time, it is believed that China would take center stage and play a greater role in this region and beyond. However, China will have to work together with other states and first address the prevailing sense of insecurity.

Regional maritime architecture, network, Code of Conduct (COC) or new Indian Ocean order
The primary question is whether the Indian and Pacific Oceans could create one larger security architecture. Building a multi-polar, open and inclusive security order in Asia will be difficult due to many factors such as objectives of great powers; mutual suspicion; and inequality and vastness of the ocean.

But this should be the desired goal to proceed from a zero sum to positive sum resulting in a win-win situation. In order to achieve this condition, there is a need to eliminate trust deficiency with confidence building measures. As such, collaborative solutions across national boundaries, regions and sectors are needed as there also exists other issues such as environmental, energy, terrorism/radicalization, and cyber security issues and concerns. Therefore, it is necessary to combine the security sector in establishing a regional solution. In this I believe ASEAN and IORA have a key role to play.

Sri Lanka and a new 'Indian Ocean Order'
Sri Lanka is geographically located in the center of the Indian Ocean in the midst of one of the busiest international shipping routes. Its proximity to India also brings it under the maritime and air security umbrella of India. As a result, the island nation is presently experiencing the 'pretty girl syndrome' with the attention of major players in the region. The Chinese presence in Sri Lanka at present is phenomenal. The Indian Ocean Zone of Peace proposed by former Prime Minister of Sri Lanka, Sirimavo Bandaranaike in 1971 was adopted by the United Nations General Assembly with 61 members in favour and none against with 55 absentees. The proposal called great powers to halt further escalation and expansion of their military presence and move all military bases out of the Indian Ocean.

It also called for unimpeded freedom to all ships and aircraft, whether military or commercial based on International law. Unfortunately, by the close of the 20th century all efforts in this regard came to a close which could be considered a missed opportunity.

Prime Minister of Sri Lanka in February 2017 proposed that it is the "ideal solution for all parties is to agree on a Code of Conduct for military vessels in the Indian Ocean with an effective and realistic mechanism for dispute resolution. At the Indian Ocean Conference (IOC) held in Colombo last September, the Prime Minister reiterated the call for a 'New Indian Ocean Order."

India's External Affairs Minister Sushma Swaraj also made a statement at the Indian Ocean Conference in Colombo declaring that "it is important to develop a security architecture that strengthens the culture of cooperation and collective action." The foremost objective of a Ccode of conduct has seensupport from USA, Japan and China, and India has not positively commented on this subject. Meanwhile the Indian Ocean Rim Association (IORA) is also discussing security based on the 'Jakarta Accord' of March 2017 which is accompanied with an action plan.

It is important to note that at a Council of Ministers' meeting in Durban, South Africa Sri Lanka was chosen as the lead coordinator for IORA's working group on maritime safety and security. This I believe is based on Sri Lanka's growing self-awareness of its strategic location in the Indian Ocean as well as its vulnerability in the context of great power competition. With a view to sustain the discussion of a new regional security architecture or a Code of Conduct (COC), the recently established Centre for the Law of the Sea at Pathfinder Foundation has launched a draft of a COC for IORA to address 'Illicit criminal activity by non-state actors in the Indian Ocean. However, this is not a legally binding document and prescribes rules to be observed in organizing cooperation in the pursuit of a common set of objectives.

Seri Lanka which can also be a centre for Maritime Domain Awareness is one such initiative that can be launched.

Other such ventures would be a centre for Humanitarian Assistance and Disaster Relief and a Maritime Research Centre. It is logically and feasible for Sri Lanka to be the hub for such operations considering its strategic location with easy accessibility. Considering the peaceful post-conflict environment that is free of war. The island is seen as one of the most conducive as a hub for maritime and aviation connectivity.