---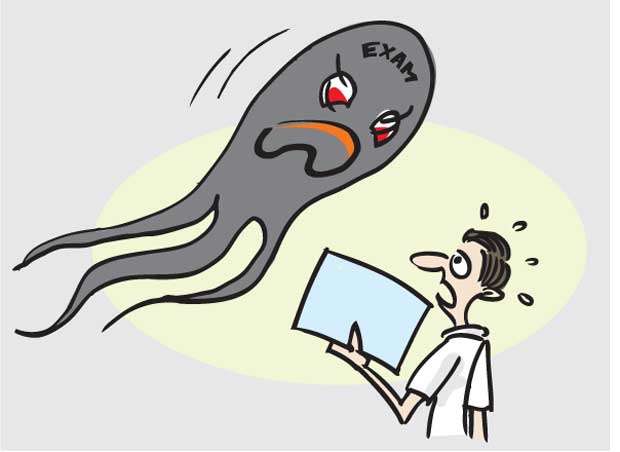 he news of three impersonators being arrested for helping candidates to cheat at the ongoing General Certificate of Education Ordinary Level Exam must be taken seriously not only by the education authorities, but also by the candidates' parents.
Now that the impersonators and two candidates who were represented by two of them have been arrested the law will take its course.
But these cheating incidents at a national exam must be focused upon from the perspective of the student. If a student who cheats is smart he might get away with it, but what would be the future of such an individual?

To begin with, students must take it into their heads that the O' Level Exam is the most important exam of their lives. This is because it is the first real challenge a student faces in terms of an examination which is compulsory. Talking about exams we all know that the Year Five Scholarship Exam is not compulsory. Students really slog for the O'Level Exam and if a candidate fails after genuinely trying, the individual can really assess where he or
she stands.

Failing the O'Level Exam isn't a life and death matter, even though there have been past incidents where students have taken their lives after being unsuccessful at passing this examination.
The problem with parents is that they fail to provide options to their offspring who study for this exam. Parents often remind their children about the monies spent on schooling and tuition and this puts the students under pressure. Most parents never consider giving some leverage to a weak student which they can by opting to settle for less with the understanding that the child will be given time to bloom at future exams. As much as a week student struggles due to certain developments in life, there are others in places like prisons and institutes-which cater to those with special needs-who are finding it a challenge to complete this first stage of education where sitting for an exam is mandatory. For the record, the 2018 GCE O'Level Exam saw 13 inmates from prisons in Welikada, Watareka and Magazine Prison and as many as 560 candidates who fall into the category of those with special needs apply as candidates. No one who has an iota of knowledge of what these students are experiencing mentally would demand the best results from them at this exam. As with such candidates, merely passing this exam would be equivalent to winning the world.

To begin solving this menace of cheating at this Government exam, we must identify the week students and have special study sessions for them. What would come in the way of such programmes are the teachers preferring to focus their attention only on the bright ones.
It is alright to talk about a second option while working with these students who are a little slow in learning. One of the best news that we have heard this year in the form of a Government initiative is the authorities arranging several vocational training courses in collaboration with the Ministry of Skills Development and Vocational Training. As many as 2057 courses are on offer under 28 professional sectors and participants can work their way up from NVQ Certificate Level to that of a Technology Degree. The Government authorities have specified that the candidates who complete the 2018 GCE O Level Exam are eligible to enroll at these courses.

There was also some positive news during the Yahapalana regime when the then Minister of Education Akila Viraj Kariyawasam said that arrangements would be made in future to release the results of both the GCE O'Level and A' Level exams earlier than expected. This he said would help students reduce the 'waiting time' after sitting for exams. The former minister said that if results are announced early it would help students obtain their degrees and post graduate degrees before they reach age 25.

School students must be encouraged to face an exam, not cheat and most importantly hang in their when uncertainty clouds the mind. In a worse case scenario they must be told that it's ok to fail the exam, but it's unpardonable to borrow from someone else's mind at the exam hall!