---

Driving along the Malecon, Havana's landmark seafront esplanade, an unusual monument comes into view just beyond the US embassy building. It is a wall of extratall flagpoles. A short distance away is the statue of Cuba's national hero, Jose Marti. There is no multitude of flags fluttering any longer on the 138 twenty-metre posts which once bore black flags with white stars in the centre or, at other times, Cuban flags. Their purpose was to block from view the human rights-related propaganda messages posted on a giant electronic ticker that ran across the 5th floor windows of the US embassy (then an Interests Section) in five-foot high letters. This act of provocation by the US took place as recently as 2006 – just nine years before the resumption of diplomatic relations between the two countries last August. Cuban defiance is further emblazoned on a wall nearby, with the Spanish words 'Patria o muerte' (Fatherland or death!) and 'Venceremos' (We shall overcome).
The offending electronic billboard was removed under the Obama administration. To realize how the US's double standards continue to be typical of its relations with Cuba, one has to only imagine how the superpower might have reacted if the Cuban Interests Section in Washington had started transmitting anti-US messages about, say, the US naval base in Guantanamo Bay, Cuba, where prisoners are said to be tortured. When US Secretary of State John Kerry reopened the US embassy in Havana last year, marking the beginning of a historic rapprochement in Cuba-US relations, his speech included the usual refrain about human rights and 'issues of conscience.' Speaking to reporters with Kerry after the ceremony, Cuba's Foreign Minister Bruno Rodriguez responded by saying (in an obvious reference to the Guantanamo base) that "The territory where torture occurs and people are held in legal limbo isn't under Cuban jurisdiction."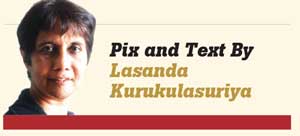 Today Cuba hardly comes across as the 'brutal dictatorship' that Florida lawmakers would have us believe. Its sights, sounds and especially its people, convey impressions that fly in the face of the propaganda. There is no personality cult built up around Fidel Castro, Commander in Chief of the Revolution, or President Raul Castro, his brother. Their images are nowhere to be seen in public places. The streets are clean, the people welldressed and there is a laid-back atmosphere that bespeaks a low-stress lifestyle.
Noticeably, there are no billboards and advertisements at every street corner screaming at you to rush somewhere and buy something. Buildings are reminiscent of the 1960s but are well maintained. In Old Havana especially, it is possible to observe the importance attached to cultural property and the priority given to the restoration of old buildings whilst preserving their architectural features. People live in these houses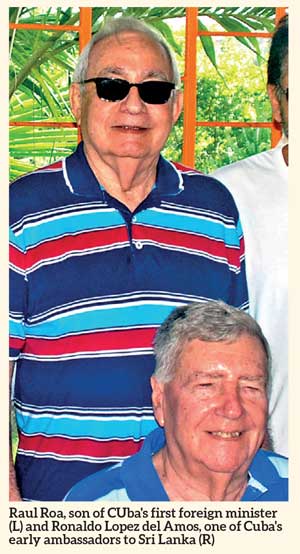 restored at state expense. Cubans are allowed to run private restaurants in their homes known as palladars, which serve exquisite gourmet cuisine. Clubs like La Zorra y el Cuerva feature the best Cuban jazz bands nightly and nowadays the hotels are abuzz with tourists. Cubanos are not only warm and good humoured but also well educated and this makes day-to-day interaction easier, even if you don't speak Spanish. The crime rate is low and there is a feeling of safety while getting about. Despite the resumption of diplomatic relations, the US blockade on Cuba remains, hindering trade relations and economic activity.
Each year since 1992, the UN General Assembly has adopted a resolution condemning the blockade with an overwhelming majority, violating the UN Charter and international law. Last year was an exceptional victory for Cuba, with 191 out of 193 states in the world body supporting it and only the US and Israel voting against it. On Friday, Foreign Minister Rodriguez, in a report to the UN General Assembly ahead of this year's resolution said the blockade had cost Cuba US$4.7 billion in the last year and 753.7 billion in the past six decades, according to Telesur. Regarding Cuba-US relations he reportedly said it was always good to look ahead, "but you cannot forget history and Cuba's independence will never be negotiated." A sense of history seems to be the defining element in Cuba's unique character; its ability to survive with dignity while resisting hegemonic pressures from its powerful neighbor. Cuba owes its formidable achievements in health, literacy, education, culture and the arts to the revolution of 1959, when Castro's forces ousted the US-backed dictator Fulgencio Batista. Before that, it was a playground for the US Mafiosi who treated the Caribbean island like their brothel and casino.
According to Eduardo Regalado Florido, a researcher heading the Asia Section of the International Policy Research Centre in Havana, it was necessary to appreciate the difference made by the revolution in order to understand how it had been possible to sustain Cuban resistance. History is a compulsory subject in schools, he says. Education is the first priority; health services are free (where there was nothing before). Earlier, "electricity was available only for six hours a day and after that you had to fight the mosquitoes." Regalado flags three points to be taken into account when discussing Cuba: the context that cannot be changed, the mistakes of the Left and the pressure from the US. The US now seeks to make an impression in Cuba because of its importance in changing the US image in Latin America, he observes. Socialism's egalitarianism has created certain anomalies too and Cubans see the humorous side of this.
Ares, an artist and cartoonist of international repute, related a joke about a porter at the Hotel Habana Libre who would get drunk each night and walk up and down the street crying "I am the porter at the Habana Libre!" One night the police locked him up and the next morning his wife turned up at the police station. "He is not a porter, officer, he is a doctor" she explained. "When he gets drunk he has these delusions of grandeur and thinks he is a porter!" A lunch at the beach house of one of Cuba's early ambassadors to Sri Lanka, Ronaldo Lopez del Amos, was attended by Jose Luis Cuza Tellez de Giron, a veteran of the revolution who related how he joined the revolution aged 14, fought in three battles with Castro at 18 and was in charge of the marines at 44. Also present was Raul Roa, the son of Cuba's first foreign minister. Among the many anecdotes related was Roa's tale of a lawyer who gave up his practice to become a full-time waiter because he could earn more this way.
A concern was evident in some conversations that lack of income leads to corruption. In the new chapter that opens with the resumption of diplomatic relations with the US, will the anticipated easing of trade restrictions by the US, along with the loosening of control by the Cuban government bring about changes that would give a muchneeded boost to Cuba's economy? Only time will tell.