---
As the COVID-19 pandemic continues with an upsurge mainly in the United States and largely because of President Donald Trump's callus or dangerous mishandling, some experts have now told the truth in the sea of lies that made millions for some mafias while the "Big Pharma" mafia here also is involved in a price battle with the National Medicines Regulatory Authority (NMRA).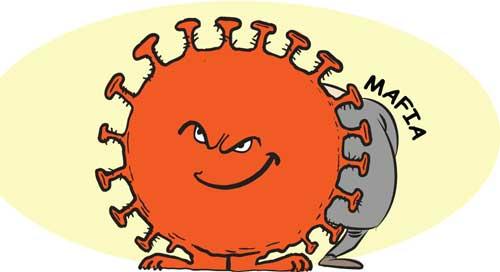 Organic farming crusader and human rights activist Ranjith Seneviratne quotes the US microbiology expert Dr. Zac Bush as saying a virus is not a living entity. It becomes "alive" and infectious only when it gets inside a human or animal cell and uses the cell to replicate itself - in other words, to become "alive" and infectious.

According to him, most of the anti-Covid measures - masks, physical distancing, and lockdowns - are based on out-of-date science of the 1920's using "Micro-scale Microscope technology" - that microbes are disease-causing and need vaccines.

Vaccines generate antibodies against a particular virus, but the harmful "adjuvants" like Aluminium, Formaldehyde, makes the body over-react - often shortening effectiveness and even allowing other infections to slip in, scientists say.

But today's science is based on NANO SCALE technology and we now know - unless we intentionally do NOT want to know - that we are only about 40% human DNA and that 60% is microbial - Bacteria, Viruses, Fungi - and that they replicate about every 30 or 40 minutes so that they can evolve into new forms rapidly to protect us from pathogenic bacteria and viruses, nasty industrial chemicals and man-made "weaponised" viruses. It is just in their nature to do so and may be the reason all pandemics die down after about eight weeks.

So then why are people still dying from the Covid-19 pandemic? Sri Lankan expert says he now realises that the "Deep State" with its "Depopulation Agenda" is behind the Covid-19 pandemic. This same mafia was also behind the so-called green revolution which turned out to be a transnational, transcontinental hoax. Their plan is depopulation of the weak. To them the poor are weak. So they introduced agro-chemicals and then Glyphosate now known to kill microbes and therefore the immunity of the poor. So Dr. Seneviratne believes the highest number of deaths will be among the US poor - inner city Afro-Americans. Brazil, Mexico and other South American countries are among the largest users of Glyphosate. China is the largest producer of Glyphosate. Another reason for the US upsurge is the forced vaccination programme – and now there is proof that those vaccinated are more prone to Covid and even cancer in late life.

In addition, they supplied the world with cheap, Glyphosate laden wheat flour - the reason we have so many new bakeries and door-to-door bread deliveries. Fortunately some knowledgeable people ensured the Free-meals for children programme did not include bread.

But in the Americas, there are so many deaths in prisons because prison food is based on bread.

In Sri Lanka Covid-19 pandemic rate is relatively low largely because of the food we eat. When our ancient people started eating grains or rice, they noticed we got sick. Then they found herbs that healed and they insisted that when we eat rice, we must eat these herbs - the precursor of our "curry Powder", the organic farming expert says. It may have also been the reason they insisted we eat raw leaves chopped up. Why? - to feed bacteria - now called "fibre".

If the Sri Lanka government's advisers were Ayurvedic doctors they would have stopped us from eating bread and told us to drink "Thambung hodhi" and "Rasam" daily as we do when we get the flu. There would have been no masks, physical distancing, lockdowns and the poor would have been saved from suffering. But best of all - we would have created a world-wide sensation and maybe huge export opportunities post-Covid for wellness products.