---
Where can Citizen Perera go for relief when fined for a traffic 'offence' police cannot explain?

Theoretically, policemen are custodians of the law and we have plenty of them around to do that job.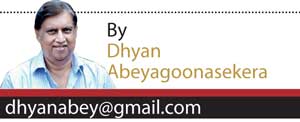 However whether the 'upholding' is done according to the letter or not is another matter. It is a question that has been bothering the people of this country for some time. Worse, the majority of people fearing strong-arm repercussions abandoned their rights in law.

Not so long ago, the strong political hand in police business was subjected to silent public contempt. It was common knowledge that a number of policemen were under the control of politicians and their henchmen of one type or another. Indeed some their devilish acts involving politicians and their associates are surfacing almost daily these days.

When the law did not work as it should have in our so-called democracy it resulted in another situation. Policemen who got used to being inefficient by design or bypassed their duties by design at the behest of figures in power, caught the same power-itch and unhindered began to interpret the law according to their whims and fancies that grew out of control. Unsurprisingly, this 'police' disease has slithered into the Yahapalana time of administration that frowns on interference in police work and in the implementation of the country's laws. Some people may not agree with this contention; but many others admit there has been some improvement in comparison with the Wild- West lawlessness of the dark years in the past

Traffic police
Traffic Police part and parcel of the Police Department is in charge of 'road administration' that involves attendance in accidents, patrolling and monitoring roads and streets, directing and controlling traffic , apprehending jay walkers and whistling down traffic offenders. It is well-known that the police work mentioned last has led to a considerable level of corruption–locally referred to as 'jarawa' when offenders bribe traffic cops as a way out of trouble. And as many motorists know traffic cops are also amenable in having their palms oiled lightly or heavily depending on the circumstances.

Apart from the 'jarawa' scene there are other aspects of traffic police performance due to ignorance of road laws. Traffic policemen also bear a tendency of bullying of drivers, indifference to drivers' explanations and plain rudeness that are detrimental to police-public relations. In all such occasions drivers have no defence; any objections or arguments may even be interpreted as an 'obstruction of the law'.

Uncle Vernon's adventure on a 'Pradhana Para'
Uncle Vernon was clearly annoyed when he entered the house. Waving a piece of paper in his hand, he announced in an angry growl: "I have been copped," and without invitation went on to explain the circumstances of his misfortune. "This morning, I parked my car behind a three wheeler and another two cars on the Rotunda Garden Road. My watch repairer is located down that lane. When I returned after getting my watch battery replaced, I found this damn parking ticket wedged between my wind screen and a wiper blade. It said that under some Act or other, I had 'obstructed traffic on a 'Main Road''. The word used in Sinhala was 'Pradhana Para' and to call over at the police station within two days, failing which I'll be charged in court. That's hell of a thing; I did not block the road; there was enough room for two containers to pass; nor did I know that Rotunda Road had been elevated to the level of a Pradhana Para."

Like it or not, Vernon, another ordinary citizens had to follow Traffic Police instructions without a bleat or face the consequences. And Traffic Police are entitled to decide whether a driver is guilty of breaking a traffic law or not and fine him 'on-the-spot'. So although a busy professional, Uncle Vernon had to take short leave to visit the police station.

Uncle Vernon continued his story."I produced my driving licence, insurance and all that to a cop at the desk and explained my presence. The man didn't even bother to look at the car papers, but after a nonchalant gander at the ticket said, "Ah, parking on a Pradhana Para, no?" and passed it over to a second cop seated behind him who read the tale of the offence in the ticket and began to write what I believed was a fine payment slip. A third cop hung around. It was time I chipped in, so I told the officers that I did not know parking on Rotunda Road was prohibited, and that other vehicles were parked in front of me. I also said there were 'No Parking' signs of any description anywhere."

"Anyway," I asked, "how do you define a 'Pradhana Para you say I obstructed? The policeman at the desk didn't answer but kept staring and staring at the door as if willing it to help him with an answer. The second cop kept making er…er… sounds. It was damn funny to see them pawing at their grey cells," laughed Uncle Vernon. "Then, the third cop blurted out unconvincingly; 'According to a gazette notification a Pradhana Para has two lanes of traffic travelling in opposite directions; and Rotunda Road has been classified as a Pradhana Para.' Clever Dick; even if it were true, who is to know that? Anyway I asked him, 'Does that mean any road that has two lanes of traffic going this way and that way is a Pradhana Para? The cop clammed up before murmuring, 'Yes.' Dumbfounded I asked to meet the Traffic OIC.

OIC Traffic
"I explained to the Traffic OIC what had taken place and that the parking ticket was unfair. I also told him that I had not committed a parking offence and that there were no parking boards, white or yellow lines on the sides of the road and that there were other vehicles parked in front of me. 'And what is a Pradhana Para? Is Rotunda Road one?' I asked the head of traffic who deftly sold a dummy to the question: 'As far as I am concerned all roads in this area are main roads; and no-one can except in parking bays. If they do, they are fined. Besides, this area is a high security zone.'

"I could not resist reminding him that the war was over years ago and that as far as I knew there weren't any security zones around. 'For over five years I have been living down the busy Jakson's Road that has two lanes of traffic–does that means it is a Pradhana Para? And, how come I have never been copped for parking on that road? In fact I haven't heard of any others been fined for parking on it either. Can you explain that?'
"So, so, what did the big man say, Uncle?" we chorused.

"He was a sharper; he said the police responsible for that area should answer my question. A custodian of the law had spoken dismissing an ordinary citizen Perera who had been found guilty of breaking an imaginary traffic law and fined 'on the spot'. End of story–for the police–not for me: I had to pay a fine for the return of my driving licence retained by the police that interestingly retained the fine payment receipt and the parking ticket 'for record purposes' as they claimed. Finally, I had nothing, except a story to tell. But now, where am I to go now to see that justice is served in our blessed Yahapalana democracy?"

Uncle Vernon ended his story with an interesting remark. "The Traffic Police fined me for a mirage of a traffic offence. Damn shame don't you think? It reminded of the behaviour of the policemen who ignored laws of the country to fall in line with the wishes of the wayward former administration. Perhaps they cannot shake of their habit now. What's more when some Sataka rotters people kicked out are sitting in the Yahapalana Cabinet, I won't be surprised if shadows of the Satakayas power are still lurking around in police corridors and elsewhere."
This article is based on a real event. Some names had been changed and some omitted.