---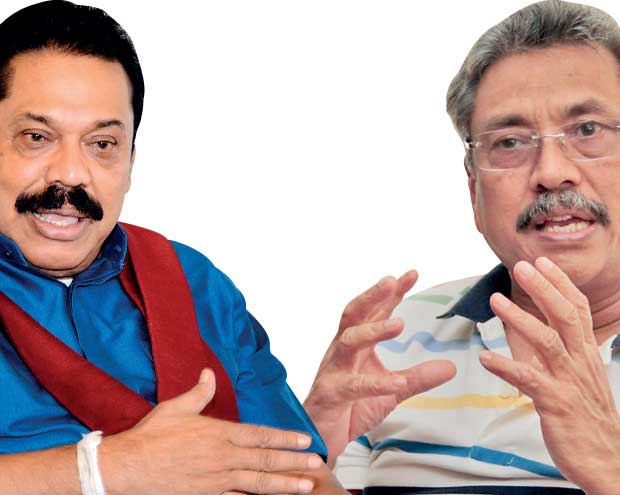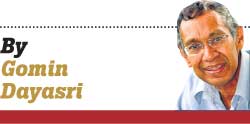 Mahinda Rajapakse [MR] is the front-runner in an opposition soft on the government. Appears overcome, by the enormity of his personal problems. Best way to negative is to be at the helm of politics. Not cut and run …… from it all: as he warms himself for the Local Government polls in a bid more to save those close to him. (Will it ever be held? Will the proposed Constitution be sanctioned? Will the Bond scam miscreants be punished?). Makes MR entrenched in his present role for the want of options; voters don't welcome a change of leadership with an election ahead.
The cry for good governance is obsolete, with time and events. Parties capable of forming governments, hold on to its ageing leadership. Option is years of involuntary confinement for the leadership. Allegations are of corruption – no politician wishes to die holding an unfriendly placard.
Government offers a wicked coalition instead; corrupt to the brim: failed to usher the promised good governance. Sought - good governance, led to worse governance - hopefully not be replaced by ill governance of MR's merry men. Makes voters utter obscenities at the mention of a coalition to usher good governance.
---
17309 [5.7%]votes for UPFA in Jaffna at 2015 general elections
Gota hailed as a 'doer' by the under 45 years old 'now – generation' of voters
---
Voters accustomed to a battle between the UNP vs. SLFP find a weird coalitions that reads - UNP plus SLFP vs. Joint Opposition plus Left. To cast a ballot papers await the next presidential or parliamentary elections - forget the local authorities elections.
Title of Jojo Moyes's best seller 'Me Before You" sounds weird in the local context if no reference is made to MR, as he nudges ahead of brother Gotabhaya [Gota] trailing behind on a chase in popularity. Exceptions are found among the party faithful, loyal to MR - artful back slapper and deceitful kid bouncer, numbers are insufficient to win an election; are dedicated troops that form the cheering squads. Gota has failed to tap the support of youth from different political shades of opinion that waited for him to emerge after winning an unwinnable war over terrorism and having witnessed urban development, in quick time. Gota never arrived at the political centre. Much of Gota's troubles brew in his unthoughtful 'think tank' headed by a bunch of always losers.
Gota hailed as a 'doer' by the under 45 years old 'now – generation' of voters - prepared to switch parties to bring a known name with a new look to leadership. A political force idles on a promised good governance pitch; waiting for a leader to emerge. Gota failed to inject the killer instincts needed by politicians before going public, instead remains anaesthetized in becoming a political orphan in the poorest marketing exercise in living memory.
Left to him, would have made a better show by shooting his mouth off instead his minders have made him politically tongue-tied. A classic case of making a man capable of placing the nation on a stronger footing: craftily made negligible by his handlers. Who engages such master - minds? Is it the man they openly service!
Appointed co-leaders of the new party by its founder, MR. Basil Rajapakse and G.L.Peris [GL] neutralized their prime contender by relying on the services offered by his nannies. If Gota emerges as the frontrunner GL will roll over to seek a place in Gota's outfit. Opposition is in search of a polished bi-lingual English reader; in short supply as GL switches sides. Financially honest GL genuinely pays for his food and drink and of many more.
Never underestimate the ability of outstanding Basil. Support for Basil originates because of his affinity to MR - who trusts him more than his loyal voters. Foolish us?
GL if not for Ranil and Chandrika - would have sat comfortably in Sirisena's cabinet and watched the world spin around, from a first class flight cabin.
The party that MR seeks to contest the next election may obtain negligible votes from Jaffna (17309 votes for UPFA - 5.7% at general elections - 2015). Basil and GL combine can never hitch their star to the southern vote with their doubtful linkage for the political package, 2000 Bill and federal structures in talks with Anton Balasingham; fails to attract much of the disenchanted patriotic UNP votes. Joint Opposition cannot rely on the northern vote. Why does Gota not state, his views are not aligned to his younger brother's talk in Jaffna while elder brother is talking in tongues, none understand - least him? That is his forte, after 13 + was unknowingly promised/denied to India.
Never forget MR who defeated terrorism and made Sri Lanka a safe haven to live especially for the northerners with short memories. Gota can never make inroads into the northern vote but can impact the eastern vote if he gets the economy ticking with saner policies.
If elections are not held on schedule and if Ranil tries to steam roll a new Constitution, new combinations and fresh permutations may take place with the two wings of the SLFP joining hands. Gota for sure will never forsake his brothers Mahinda or Basil - not necessarily in a reversal of roles.
Remember Maithripala Sirisena [MS] once upon a time promised a one-term Presidency. It might turn compulsive for him, as the vocal majority of the SLFP stands firmly behind MR ahead of MS especially as MS forfeited a proud party to the UNP for assisting to elect him as President. JO voters are slow to forgive for acts of political banditry. Chandrika Kumaratunga is running for an electorate on behalf of the SLFP makes it worse for poor MS; her pronouncements sounds harsher in tone than those originating from the UNP.
Having experienced the weakness in a coalition government, which is deemed the recipe for disaster in the absence of promised good governance and unison within a government. Perennial UPFA voters feel the need to throw their SLFP leadership overboard together with its architects. Proposed new constitution will beckon more SLFP MPS to join the Joint Opposition. The intended constitution will never be passed by a 2/3 majority in parliament or by the people at a referendum. Both major parties to remain in contention need to attend to the following: (a) Ranil Wickremasinghe and Mahinda Rajapakse must gracefully bow out of the leadership positions and UNP and SLFP bounce the proposed constitution out of action blaming it on the LSSP (b) nominate a new leadership untainted with corrupt practices.
Gota, if he is to secure a place in politics has to emerge as the lead candidate in the Kurunegala District, at a future Provincial Council election – managed the district for MR at the last general elections. He must win with a much greater majority on a higher voter turn out surpassing his brother's slim majority. Gota in 2 years will have to bring the glory Jayawickrema Perera once brought to the district in 5 years.
Joint Opposition may rather plant Gota in Badulla or Hambantota Districts for him to end up in a no man's land? It is a 'now or never' situation for Gota as the clock is ticking against him furiously as he is more likely to end as a part of a regime known for corrupt practices. That does not mean he can sit out from supporting the joint opposition at the local authorities elections.
He must seek the right to the nomination lists at the local authorities elections for the north-western province before his brothers appoint a nomination board. He should insist the nomination board consist of his agents or nominees.
Gota has to pitch firmly for the bulk majority vote from different shades of political opinion in the South and 'Middle Vote' among the floating voters, as the minority voters will be ganging up against him. MR as JO candidate will do a shade better among the minority voters but would lose the middle floating votes and the bulk votes of the southern youth that are likely to vote in volumes for Gota as a first timer. They see MR past his prime and too close to the homes of corruption. MR is not a doer but a likeable character on the wane.
MR is written off more gently than Ranil Wickremasinghe, since much of his lapses are forgotten after two years in the opposition, while RW's are stalking in the front with economic hardships at the forefront. UNP stands a better chance for a revival since RW is prepared to forgo his title than MR. Gota, if elected once, may secure a second term if he eliminates the corrupt rump from his structures including the Rajapakse babes. Does Gota have the guts to go against his Family?
Can Gota with his think tank manned by doubtful elements, carrying purported tales of improprieties; generate the passion it needs to whip up enthusiasm as he did smartly with his military buddies. Time will tell, maybe it is too late.