---
---
A senior and experienced SC Judge has been appointed Chief Justice
---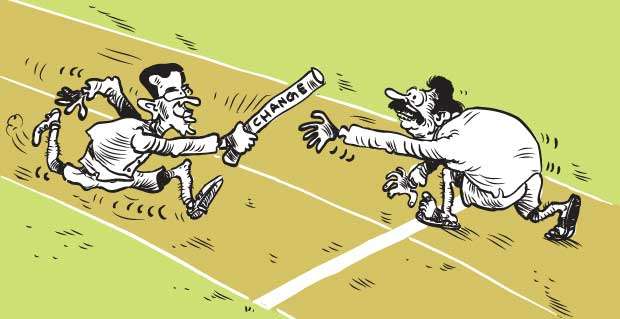 For most of us, change is uncomfortable but more often than not inevitable!!! Change is uncomfortable but that does not mean it is not worth it, we find our President and Prime Minister both urging a change in almost every area of our lives!!!
For a change, a senior and experienced SC Judge has been appointed Chief Justice and we pray the wheels of justice will NOT GRIND EXCEEDINGLY SMALL ANY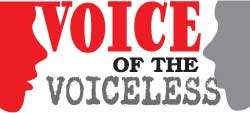 MORE!!! Starting with school children, Ranil urges everyone to shed political differences and work together to face the economic crisis which, according to him and the President is global!!! In the context of the economic crisis, it would be good to see the President, Prime Minister and other Ministers cutting down on their foreign trips and the size of their entourage!!!
It would be a lesson well accepted by the people who are being asked to tighten their belts!!! No matter how bad the economy is, the jet-setting never ceases!!! Why should only the people be asked to tighten their belts, shouldn't an example be set by the hierarchy??? With everyone talking about the two vehicles at 600 Million each for the President and Ranil and the latter using a helicopter to jet himself to Parliament; these accusations should be countered when they are made in Parliament!!! Ministers have a right to bring them up and Ranil has an equal right to defend himself!!! Why doesn't he??? Change is definitely uncomfortable and inevitable but we would like to see those who are advocating change institute the changes themselves first!!!

Who is Mr Clean
Our President had asked a very astute and worthwhile question in Mahara – "How Many Politicians Can Truthfully Say They Are Clean???" We are all waiting with bated breath to hear the reply to that!!! Will it ever come we wonder??? It will be very interesting if it does, but the common man may never hear it, you should have asked it on a different platform, Mr. President!!!

Who are the Angels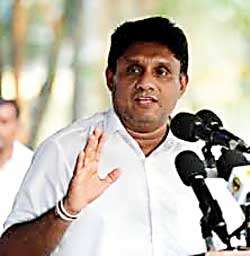 Talking of change, our President has indeed demonstrated radical change, he is all over like a rash these days!!! Inspecting this, touring that, openings here and there, functions everywhere!!! We cannot, however, call for changes only in the hierarchy; we have also got to think in terms of change as a nation!!! There is so much change that can be effected in our lives; our outlook on life, the way we act and react, our concern for others, especially the poor and underprivileged; all this could contribute towards making us a great nation!!! In the Health Sector have we ever heard of any one of our surgeons performing a life-saving surgery or an operation to help a crippled FREE of Charge???
It happens in other countries and these surgeons are looked on as angels and miracle workers for the concern they demonstrate to humankind!!! In our country you not only have to pay to see them but you have to pay to show them the reports of the tests they ordered!!! In the housing sector, we have seen only Sajith Premadasa involved in low-cost housing for the desperately poor and homeless. How many of us volunteered when 57,000 were left homeless with the recent floods??? Did we spare a thought, a meal, make a contribution??? They are our people after all!!! When houses in Castlereagh collapsed like a pack of cards, did anyone show concern???

Rewarded
Now we have one of the greatest cricketers of our land joining the criminal brigade, but then again he is innocent till proven guilty!!! Namal Kumara alleges that there is a lot more to be exposed and we can certainly hope he does!!! No matter what, wrongdoers must be brought to book. Not allowed to escape; as is happening so often in this country!!! The wanted DIG failed to appear but is finally behind bars and we wonder how many more will go into the already boiling pot of intrigue and deceit??? At least one man was rewarded for his courage in standing up to his superiors when the lorry driver he arrested was released due to pressure from above!!! The President awarded Sergeant Sanath Gunawardena and his family Rs. 1 million in recognition of his services though he went berserk in Thebuwana when his superiors released the lorry driver!!! He showed his contempt and anger at the injustice of what they had done

Decadent, Decadent
What is our Educational System coming to when parents and a student from a well-recognized college were assaulted in the Principal's Office??? Is there no law-and-order in the system to prevent this kind of decadent behaviour??? Who can they complain to??? Will the culprits be dealt with and how???

Congratulations CJ
Our new CJ certainly seems to be heading in the right direction, affirming that no personal favours will be encouraged in his office – Congratulations, and more power to you Sir for taking serious note of the plight of the poor whose cases have dragged on and on!!! What an infinitely praiseworthy Judiciary it would be if more Judges actually took note of the sorrows and hardships of the poor man!!! We can only hope that the shining example you set will be followed by one and all, adding lustre, not heaping condemnation on the most sacred office – the Judiciary!!! May your shadow never grow less!!!