---
Last Saturday we highlighted the cultural diversity and its vital importance for the sustainable socio-economic growth of nations. On May 22, the United Nations marked an equally important event involving not only people, but all of nature. The world body in a statement says Biological diversity is often understood in terms of the wide variety of plants, animals and microorganisms, but it also includes genetic differences within each species. For example between varieties of crops and breeds of livestock and the variety of ecosystems-- lakes, forest, deserts, agricultural landscapes that host multiple kind of interactions among all --humans, plants, animals.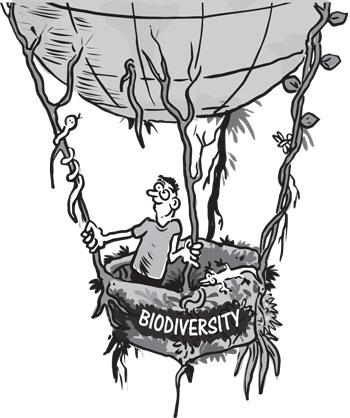 At a time when many people are not fully aware and some do not even know about the vital role of biodiversity, biological diversity resources are the pillars upon which we build civilizations. If we were not aware we need to realise now that Fish provide 20 per cent of animal protein to about 3 billion people. Despite that for most upper and middle class people, fisher folk are considered to be of a lower class and are marginalised in society. We also need to be aware that one of the world's greatest religious leaders chose 12 uneducated fishermen to be in the mainstream of a spirituality that has about two billion followers in the world today.

According to the UN, more than 80 per cent of the human diet is provided by plants. In rural areas of developing countries as many as 80 per cent of people rely on traditional plant based medicines for basic healthcare. But loss of biodiversity threatens all, including our health. It has been proven that biodiversity loss could expand diseases transmitted from animals to humans, while, on the other hand, if we keep biodiversity intact, it offers excellent tools to fight against pandemics like those caused by the ongoing corona virus

While there is a growing recognition that biological diversity is a global asset of tremendous value to future generations, the number of species is being significantly reduced by certain human activities. Given the importance of public education and awareness about this issue, the UN decided to celebrate the International Day for Biological Diversity annually.

The 2020 theme is 'our solutions are in nature'. While the UN has called upon the global community to re-examine our relationship to the natural world, one thing is certain. Despite all our technological advances we are completely dependent on healthy and vibrant ecosystems for our water, food, medicines, clothes, fuel, shelter and energy. The theme "Our solutions are in nature" emphasises hope, solidarity and the importance of working together at all levels to build a future of life in harmony with nature.

According to the UN, 2020 is a year of reflection, opportunity and solutions. It is expected, from each of us, that we will "Build Back Better" by using this time to increase the resilience of nations and communities as we recover from the Corona-19 pandemic which has affected more than 5.9 million people while the death toll is more than 360,000. The worst affected is the United States, the richest and the most powerful country in the world. In the US the number of patients is about 1.9 million and the death toll is more than 102,000. Many independent analysts blame the strong willed, but dangerously un-dependable President Donald Trump for making the US, the epicentre of the corona pandemic. For several weeks in February and March, he undermined the pandemic and claimed that by Easter Sunday April 12 the situation would be back to normal. But by the end of May the US has become the worst affected both by the Corona pandemic and economic consequences with the unemployment figure reaching a staggering 40 million and recession being compared to the crisis of the 1930's. During the November 2015 presidential election Mr.Trump came to office boasting he would make America great again. Most independent analysts say his actions and words have made America not great, but isolated while abdicating its self-style role as the leader of the free world. Mr.Trump also describes climate change as a Chine-manufactured hoax and a possible state conflict if not war between the US and China is likely to aggravate not only the Corona pandemic, but the world economic crisis. Though Mr. Trump claims climate change is a hoax many independent experts say it has a close connection with this unprecedented pandemic.

Indeed our solutions are in nature. We hope Sri Lanka and the worldwide community will realise that if we disturb the delicate balance of biodiversity, creation itself will be at stake.