---
Whatever the party political changes in the aftermath of the February 10 local council elections, Sri Lanka needs to focus attention on three crucial issues – poverty alleviation, the battle against global warming and a commitment to resolve crises through dialogue without resorting to war or violence.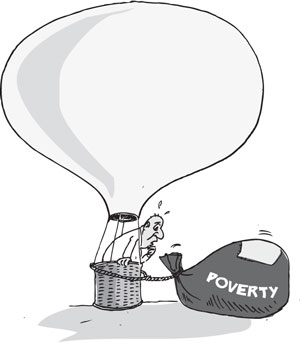 As part of the mission for poverty alleviation, President Maithripala Sirisena in 2016 launched a countrywide programme for Sri Lanka to produce our own nutritious food. We have hundreds of varieties of grains, vegetables and fruits which could be grown here at an affordable cost, instead of spending hundreds of millions of rupees on the import of junk food or fake milk. Unfortunately one of the worst ever droughts and regular floods at different times hampered this programme and Sri Lanka was even forced to import rice this year. Another problem is that unscrupulous traders are using various preservatives, some of which are toxic to preserve their stocks for a longer period. This problem also needs to be tackled effectively and stern action taken against those using toxic preservatives including Malathion.

In addition to what the government is doing, most families could also cooperate with this mission by starting home gardens or developing what they have already started. This is one way to ensure that the vegetables and fruits we eat are non-toxic. For instance Murunga is known to be one of the most nourishing vegetables and could be grown easily for lots of Murunga to obtained within weeks.
Murunga Kola is also known to be nourishing. In ancient times when our people ate vegetables and fruits from the jungles and found some of them to be toxic, they used Karapincha, which has the effect of detoxifying the food items. Although most people now think Karapincha is only meant to add flavour to curries, it is a poison remover, most of the time we are forced to have meals with toxic vegetables or fruits, it will be helpful if we use more Karapincha. Starting or developing home gardens was proposed in the 1970's but it was thrown into the garbage bin when the globalized capitalized market economic policies were swallowed wholesale in 1977. Now is the time to start home gardens again. It is the duty of responsible citizens who put the country first.

As for the battle against global warming, we have repeatedly proposed that there are simple ways in which we could cooperate. Saving electricity and saving fresh water are two of the simple ways. We could switch off unnecessary light bulbs and reduce the use of other electrical appliances including electric irons which are known to consume a lot of electricity. Some eco-friendly citizens are known to have gone back to the old pol katu irons. It may be more difficult but it is certainly a good way to help in the battle against global warming.

As for fresh water we need to train ourselves to open taps only halfway or less when washing our hands or utensils. This will save a lot of water. We could also cut down on the time we take for our shower baths. The water used to wash rice, vegetables and other food items could be used to water the plants instead of using fresh water for that purpose. Some enterprising citizens have also found ways of diverting shower water to the toilet cisterns or installing rain water harvesting equipment.
Thousands of years ago our great king Parakramabahu proposed that every drop of rain should be used instead of being allowed to go waste. For this purpose we built the Parakrama Samudraya, and more than 10,000 Wewas which are known to be marvels of ancient engineering. About a decade ago, the Janatha Vimukthi Peramuna, when it was in the Chandrika Bandaranaike Kumaratunga government outlined a plan to restore these wewas. But when the JVP quit the government in a dispute over the ethnic issue, the "wewa" restoration plan was also drowned.

Along with these meassures, the government needs to give incentives to our experts to find renewable sources of energy. For instance, one hour of energy directly from the sun, is known to be sufficient to provide all the fuel the world needs for one year. With high technology at our disposal, Sri Lanka also needs to develop the use of solar energy, as part of the battle to prevent the world being destroyed by the catastrophic effects of climate change or global warming.