---
With weather patterns changing furiously during the past few months because of global warming, Sri Lanka has experienced a prolonged drought and the highest temperatures in recorded history. But the weather changed dramatically from midnight on Saturday and heavy rain during the past few days has left several districts heavily flooded. Several rivers, canals and reservoirs are overflowing, sluice gates have been opened and millions of litres of water is going waste.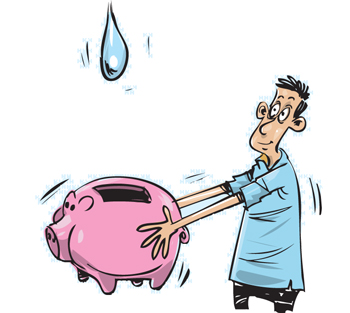 Ages ago King Parakramabahu though not aware of the environmental catastrophe we are facing today, told the people that not a drop of rainwater should go waste into the sea. As an example, he built the Parakrama Samudra, a marvel of ancient engineering, and more than 10,000 wewas most of which also are going waste today. Some years ago, when the Janatha Vimukthi Peramuna (JVP) held key portfolios in the Government, it pledged to restore the wewas. But the JVP quit the Government on the ethnic issue, and the wewa-restoration mission was also drowned.

With the National Government implementing long and short term plans for sustainable ecofriendly and all-inclusive development to bring about a just society, rainwater harvesting needs to be a part of this plan because experts have warned that countries may even go to war in the future to gain control of fresh water resources. According to experts, rainwater harvesting is a technology used for collecting and storing rainwater from rooftops, the land surface or rock catchments using simple techniques such as jars or pots and more complex techniques such as underground check dams. The techniques usually found in Asia and Africa arise from practices employed by ancient civilizations within these regions and still serve as a major source of drinking water in rural areas.

In the most basic form of this technology, rainwater is collected in simple vessels at the edge of the roof. Variations on this basic approach include collection of rainwater in gutters which drain to the collection vessel through down-pipes constructed for this purpose, or the diversion of rainwater from the gutters to containers for settling particulates before being conveyed to the storage container for domestic use. As the rooftop is the main catchment area, the amount and quality of rainwater collected depend on the area and type of roofing material. Reasonably pure rainwater can be collected from roofs constructed with galvanized corrugated iron, aluminum or asbestos cement sheets, tiles and slates. Roof catchments should also be cleaned regularly to remove dust, leaves and bird droppings so as to maintain the quality of the water.

Rainwater harvesting using ground or land surface catchment areas is a less complex way of collecting rainwater. It involves improving the runoff capacity of the land surface through various techniques including collection of runoff with drain pipes and storage of collected water. Compared to rooftop catchment techniques, ground catchment techniques provide more opportunity for collecting water from a larger surface area. By retaining the flows, including flood flows, of small creeks and streams in small storage reservoirs -- on surface or underground -- created by low cost earthen dams, this technology can meet water demands during dry periods, the experts say.

Steeper slopes can allow rapid runoff of rainfall to the collector. However, the rate of runoff has to be controlled to minimize soil erosion from the catchment field. Use of plastic sheets, asphalt or tiles along with slope can further increase efficiency by reducing both evaporative losses and soil erosion. To increase the surface runoff and minimize soil erosion rates, conservation bench terraces are constructed along a slope perpendicular to runoff flow.

Rainwater harvesting appears to be one of the most promising alternatives for supplying freshwater in the face of increasing water scarcity and escalating demand. The pressures on rural water supplies greater environmental impacts associated with new projects, and increased opposition from NGOs to the development of new surface water sources, and deteriorating water quality in surface reservoirs already constructed, constrain the ability of communities to meet the demand for freshwater from traditional sources. Those who wish to use this technology to save water and become ecofriendly citizens, could contact lankarainwater. org