---

he present political crisis that has engulfed this country sees many contrasting views being presented as to whether it is an issue that also connects with the outside world or is purely an internal matter which should be settled within us.
Right now what is continuing to fuel the crisis is the refusal of ousted Premier Ranil Wickremesinghe to accept his removal which puts the newly appointed person to that post Mahinda Rajapaksa in quite a difficult position.

This power struggle makes us look very silly to the outside world because, like Great Britain has affirmed, all nations recognise the state. And that is how it should be. But as we know very well all countries that are players in the international scenario including Great Britain have their preferences on these matters.

Meanwhile representatives of a section of the Maha Sanga early this week staged a rally at Town Hall and passed a resolution urging President Maithripala Sirisena to work in accordance with the Constitution and convene Parliament to settle this political crisis. Outspoken monk Ven. Dambara Amila had in fact warned that the international community would take tough action against Sri Lanka if the present political crisis continued. Another monk Ven. Hedigalle Wimalasara Thera had urged the authorities to safeguard democracy. These are the voices of one set of monks.

However, contrary to these voices the Mahanayake of the Asgiriya Chapter the most Ven. Warakagoda Sri Gnanarathana Mahanayake Thera has said that this is an internal matter and external forces should not interfere in settling the issues of the country. Similar sentiments were aired by the Chief Incumbent of the Kelaniya Raja Maha Vihara the Venerable Professor Kollupitiye Mahinda Sangarakkita thera. Also prominent nationalist monk ven. Elle Gunawansa thera said that the international community is shedding more tears at the change of Government than the people of the country as their agenda in Sri Lanka had been thwarted.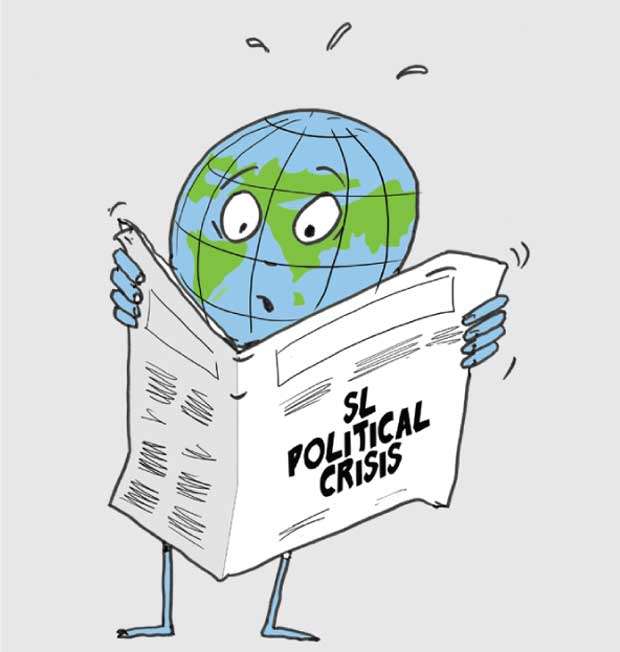 However, Sri Lanka is also part of most international bodies and although such bodies cannot impose themselves on the country there views also matter internationally. For the record Commonwealth Secretary General Patricia Scotland recently made references to the Commonwealth Charter adopted in 2012 and reminded that all member states, Governments, political parties and civil societies have the responsibility to uphold and promote democratic cultures and practices.
It's true that president Sirisena had his differences with ousted Premier Wickremesinghe and eventually decided to remove him. But what has earned him the wrath of a section of the population and mostly the western countries was the manner in which he removed his 'PM'.

US Embassador in Sri Lanka Alaina. B. Teplitz has underscored the importance of reconvening parliament to put an end to this current political crisis. The bottom line is that the outside world has influence over Sri Lanka in how it solves this political crisis; a fact that the island's patriotic citizens must fathom whether they fancy it or not.

There is still confusion whether the UNP parliamentarians will get an opportunity to show their numbers when Parliament convenes on November 14. Ministers of the new Government including the Cabinet spokesmen have said the only agenda on the cards on this day is for President Sirisena to make the policy statement.
President Sirisena's camp is confident that the full cabinet will be sworn in before Parliament is convened. This is amids news that some members of parliament switching off their phones or going overseas in their attempts to avoid being approached to accept portfolios. The UNP too is confidant and says that it can muster support to have a headcount of more than 113.

As the political infighting continues, many people fear it would have international repercussions. Meanwhile the horse trading in politics continues while a helpless nation looks towards the 'skies' for a solution out of it!