---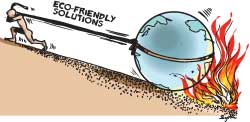 In this modern era, one of our most important missions is the battle against climate change. This is a reality though the United States President Donald Trump claims climate change is a Chinese hoax.
It is in one of the many absurdities which have caused concern among some international analysts that the Trump administration appears to be going crazy with its contradictory claims or twitter messages causing outrage or amusement.
Thankfully, in most countries thousands of other scientists are making use of their creative or imaginative talents to find eco-solutions to a multitude of problems. Last month the United Nations for the first time celebrated World Youth Skills Day, calling on Governments to encourage and give incentives for the youth to innovate eco-friendly solutions in areas ranging from the conservation of fresh water and generating solar energy to the construction of buildings. Pro-active and creative youth involvement is vital because it is their future that will be worst affected if climate change issues are not tackled effectively, though Mr. Trump may continue to play the joker.
According to the Cable News Network (CNN), Paris-based architect Vincent Callebaut wants his buildings to be more than the average tower block. His vision is ambitious: Create an energy-saving, carbon-absorbing civilization to fight global warming. "I want to give hope for a better tomorrow," he says.
One of his eco-friendly ideas is taking root right now in Taipei, Taiwan's capital city. When Tao Zhu Yin Yuan-meaning "The Retreat of Tao Zhu" - is completed in September this year, the residential complex will be covered in 23,000 trees and shrubs. While Mr. Callebaut likens the building to an urban forest, its appearance is actually modelled after a strand of DNA - a double helix twisting 90-degrees from base to top.
If all goes to plan, Mr. Callebaut says the plants will absorb 130 tons of carbon dioxide (CO2) emissions each year- the equivalent of around 27 cars, CNN says.
Taiwan as a whole produced more than 250 million tons of CO2 in 2014, according to the International Energy Agency. Mr. Callebaut admits it is a small step, but insists it is "a big leap (against) global warming".
The 21-storey apartment complex is being built in ways for residents to reduce their energy consumption. The design utilises natural lighting and ventilation.
It also includes rainwater recycling and rooftop solar panels. According to CNN, Mr. Callebaut has been behind several notable eco-concepts over the years, from a floating garden designed to clean European rivers to underwater skyscrapers created from ocean garbage. He has planned a 132-storey urban farm for New York City, and an ambitious project to transform Paris from the City of Light into a green smart city by 2050.
"Outlandish and futuristic as (they) may seem," Mr. Callebaut says. "The core of all my designs is an attempt to address the real threat that cities pose for humankind and our ecological balance."
Mr. Callebaut says the project is a perfect fusion of Western and Oriental technology and culture. The tower is directly inspired by the double-helix structure of DNA, the source of life and the symbol of harmony, and reflects upon the idea of ultimate balance.
According to CNN, there are a number of notable vertical gardens in Asia, such as Seoul's "Green Wall" and "Skygarden." Is this a bigger trend?
Mr. Callebaut says that in 2050, we will be 9 billion human beings on our blue planet, and 80% of the world population will live in mega-cities. It is time to take action against climate change, to invent new eco-responsible lifestyles and to incorporate nature into our cities.
Mr. Callebaut calls himself an "archibiotect." What does that mean? He says Archibiotect is the new trans-disciplinary approach invented by him in 2008.
In Sri Lanka with the signing of the multi-billion rupee Hambantota Port deal last Saturday, the National Unity Government says it is a giant leap in its sustainable eco-friendly and all-inclusive development strategy.
The Government claims more than 300, 000 productive job opportunities would be offered mainly to rural youth, and we hope their skills will be tapped to make, create and innovate eco-friendly solutions.