---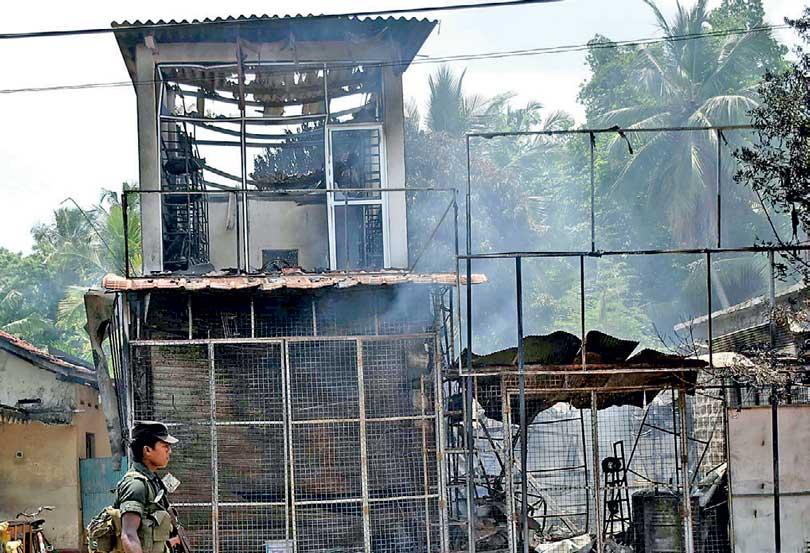 If Zaharan blew up temples, many pundits would have rationalized the massacre. Anti-Muslim riots gave them an opening and diverted the attention from the real problem.

What if the Easter Sunday attacks targeted temples and people queuing at bus stands in the South? Imagine then how many of those usual culprits would have gone to town, rationalizing, and even covertly justifying it.

NGO captains would have had a field day cataloguing the 'victimhood'of Muslims, and blaming the Sinhalese for all the evil and for finally getting murdered by the Islamic suicide bombers.
The Evangelical church would have said 'we told you, you deserve it'. A couple of days before the attack a Bishop from the Methodist mission cried blue murder after villagers in Anuradhapura threw stones at the congregation, whom the locals accused of being too noisy. Very little as unequivocal as of his previous clarion call was heard of him after the Easter Sunday monstrosity.

(Many of those folks also loath Cardinal Malcom Ranjith who has reached beyond religious lines and come to represent Sri Lanka as a whole.)

Then there are foreign media pundits. As the first thing after the attack, BBC interviewed a Europe based Tamil Tiger acolyte, who suggested a Sinhala Buddhist involvement in the attack. Many other experts were lined up. However, the party ended even before the guests turned up, after the identity of the perpetrators gradually came to light.

It may not be politically correct to say, but it is still self-evident, that most of these people have an anti-Sri Lankan bone. That emanates from their reluctance to come to terms with this country's demographic reality, which happens to be majority Sinhalese Buddhist. That demographic reality has also shaped a certain, social and cultural dynamic, which is evolutionary. But still, the vast majority of its people do not want the total displacement of that identity. Which is a genuine existential concern, no different from the sense of displacement experienced by many millions of the White American working class who then voted for Donald Trump.

The Tamil Political elites thought they were too superior to acknowledge and be absorbed into this demographic reality. They fought a war, and self-inflicted doom for two generations of Tamil youth.

Many of these ideological fellow travellers would have cheered, if the Easter Sunday attack signalled the Muslims' taking up of arms against the Sri Lankan State.

However, Mohammed Casim Zaharan and his fellow terrorists did not blow themselves up over domestic grievances. They unleashed their carnage as part of global Salafi Jihad, which with its sinister message of clash of civilizations, religions and values aims to build an Islamic caliphate governed by the literal interpretation of Quran and Hadith.
In general, the terrorists who massacre civilians of a particular community expect a retaliation. The resultant disenchantment of community caused by revenge attacks would drive more members into the ranks of terrorists. That was exactly the strategy put into action by the LTTE, with devastating efficiency ( and JR Jayawardene easily played into their hand).
However, as far as the nature and radicalising drivers behind the Easter attacks are concerned, domestic calculations were subordinate to global aims. Rather than retaliatory attacks, Zaharan and the cohort would have expected the Easter Sunday terrorism to be an inspiration to a fringe group of Muslim youth who were already radicalised, but held reservations about carrying out attacks within Sri Lanka.

Also, some other lesser known Islamic terrorist groups such as Willayath As Seylani (WAS) , (which was banned along with National Thawheed Jama'ath and Jama'athe Millaathe Ibrahim (JMI)) have more domestic calculations. WAS as its name implies aims to form a separate Islamic state or a province in Sri Lanka. It would be these groups that would benefit from revenge attacks on Muslims.

When the jobless village fools, and their local political patrons ran havoc in the North Western province, attacking Muslims and torching their property, they played right into the hands of these groups.

Last week, Sri Lanka witnessed on and off curfews and frenzied attacks on Muslims in Puttalam, Minuwangoda, Kurunegala etc.

That these attacks happened two weeks after the tragedy of Easter Sunday rubbishes the claim that they were a spontaneous outbreak of violence. Rather they were organized attacks blamed on provincial political leaders, primarily of the Sri Lanka Freedom Party. Some former Ministers of the SLFP, including Dayasiri Jayasekara are accused of influencing the police to release the suspects who were arrested over rioting.

Police have reportedly arrested around 100 suspects over the anti-Muslim riots. However, the acid test would be as to how the courts would deal with the suspects.

The historical experience has been that the existing laws are ill-equipped to deal with suspects with due intensity. These laws are meant to address normal law and order circumstances. Whereas riots represent a deviation; they are a special circumstance and need special laws to confront them. That is why there is the Prevention of Terrorism Act, a necessary evil.
A more commonsensical and utilitarian, indeed, approach would be to prosecute the suspects of anti- Muslim riots under the PTA. Keep the current lot in long term detention under the PTA and it would send a strong message to the rest and would serve as a deterrent against future rioting. The government can later introduce a Sedition Act, modelled after Singapore.
Anti-Muslim attacks were not – spontaneous, nor was the government taken by surprise. It had plenty of time and space to plan counter-measures. However, to adequately respond to forthcoming sabotage, the government lacked what was most needed: political capital.

You need political capital to shoot rioters or hang them, if it serves as a deterrent. However, a government under whose watch the Easter Sunday attack happened, was bereft of any political capital. Rather than the political leadership, it fell on the commander of the army to warn 'maximum force' against the rioters. This magnitude of political vacuum and the absence of government would have played out disastrously in most other countries. Look no further than Pakistan. Those who rile at the majoritarian democracy in Sri Lanka should know that it was the same that keep the State intact and state apparatus in its place.

As much as the Easter Sunday attacks, subsequent anti-Muslim riots were partly a result of a weak government. It looked the other way, as Islamic extremism was brewing its poisonous ideology. It hesitated to act partly in order not to antagonize the Muslims. That vote driven callous disregard effectively killed and maimed hundreds of innocent church goers and tourists. Later, the innocent Muslims became victims of rabid mobs again due to the vacillation born out of deficit of political capital.

Equally importantly, the rioting also diverted the attention from the real problem of rising Islamic radicalisation and the urgency for a commonsensical approach to confront it. Rioting was brutal and killed one man. But, make no mistake, if the grass root radicalisation within Muslims are not reversed, the next attack would leave a carnage far exceeding that of the Easter attacks.

And the economic impact of the rioting is equally disastrous. Colombo Stock market lost more in value after anti-Muslim riots, than it suffered immediately after the Easter Sunday attacks.
Other than loss of property, emotional loss and sense of disenchantment of Muslim community is considerable. The absence of political leadership is such there was no one to apologise and sooth their fears. This is the typical behaviour that drives people into the hands of terrorists.

Follow @RangaJayasuriya on Twitter