---
Birth anniversary of Charles Henry De Soysa
'A Nation that forgets its past has no future'—Winston Churchill.

The late Charles Henry de Soysa's birth anniversary is a very special day for his descendants and to the thousands who have benefited in myriad ways, through his life, work and deeds; as a visionary who was far ahead of his time.
Undoubtedly he had the Midas golden touch; he was richly blessed by the Almighty which made everything he began, become a goldmine. But what is most admirable about his success, was his love and feeling for the underprivileged, which made him share what he had with others. His aim and objectives were not to gain a sure-fire passport to popularity, but by showing amazing vision, in the fields he chose; for his largesse to one and all, irrespective of the peripheries which were prevalent in that age and time of race, religion and caste.

Prejudice and bias which were barriers faced, blatantly believed in and practised in that era, did not deter him in his service to mankind. Although he donated generously to the development of his home town Moratuwa, in education, religion and health, all of which still live on as permanent features, honouring him, his generosity to other areas unconnected with him, either by ties of blood or business interests; are a living testament to his thinking, which was far beyond those existing divisions.
Again, this was an era of gracious living, gentility, peace and contentment, in which he could have lived a life of ease, far removed from reality, with the wealth he inherited, as many of his peers did. But he worked hard to increase his wealth, not only for his own family, but shared it with the less fortunate, improved their lifestyles and gave them the opportunity for a better deal in life. Poverty is yet another kind of enclosure, but his objective was to strive hard and long all his life, to release people from poverty,and help them to achieve their dreams.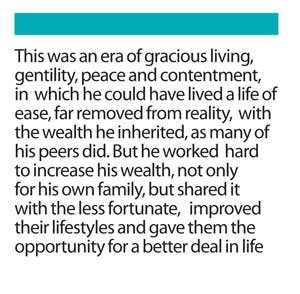 His name did not appear emblazoned on the schools and hospitals he donated, all in his lifetime, except only his surname on the De Soysa Hospital for women. He was among the founders of The Ceylon National Congress, from which emerged The United National Party and he was the first Ceylonese to start a Bank.

Philanthropy today, is inadequate among the rich and there is an obvious lack of social responsibility among the privileged class with greed and corruption reigning supreme. We live in constant fear of violence, danger, plunder and rape. We seem to thrive on conquest and conflict resolution seems to be far beyond us.; peace is only now being pursued sincerely with rulers, who are intent on permanent reconciliation, freedom and democracy ; and the rule of law is thankfully no longer just a distant dawn which is out of sight.

The late Charles Henry is one who is still a legend to his descendants and others who have benefited through his unprecedented generosity, in health, religion and education. It is said that he set incredibly high standards of integrity, punctuality and dedication,was sharply decisive in word and deed, and expected his family and those who worked for him to follow his example in these virtues, which are rare today.
Many legends about him are related time and time again, within the family, among past and present students of Prince and Princess of Wales Colleges, doctors and patients who have been at the various hospitals and institutions donated by him to the nation. Among them are that at the precise time he was born, a cock had crowed which was rare and said to denote that it was a singularly fortunate person who was born at this time.
His donation of The De Soysa Hospital for Women, is said to have been inspired by his seeing a woman in labour, crying out for help on the roadside, while he was out riding his horse. He organized swift medical help for her and the idea of this hospital and the many others he donated later, in various parts of the country stemmed from this episode.

'Alfred House' which was built specially by him for the banquet in honour of the visit to Ceylon by Prince Alfred, the then Prince of Wales is yet another fascinating legend, almost akin to a fairytale.
He was not a man who possessed the modern tendency of assertive opportunism by word or deed, and the pyramid of power he controlled was achieved, by the double pinnacle of success and philanthropy.

Apart from the hospitals, schools,churches, temples and kovils, he donated 10,000 sterling pounds and 87 acres in Kanatte to the state for a model farm. A hundred poverty stricken farmers in Walapane, were gifted paddy fields and houses. His generosity was not confined to our shores but reached far beyond them.
The Great Ormond Street Hospital for Children in London, where a plaque mentions his contribution, The Brompton Hospital, Royal Free Hospital, Victoria Chest Hospital, The Hospital for accidents to Dock Labourers all benefited from his largesse.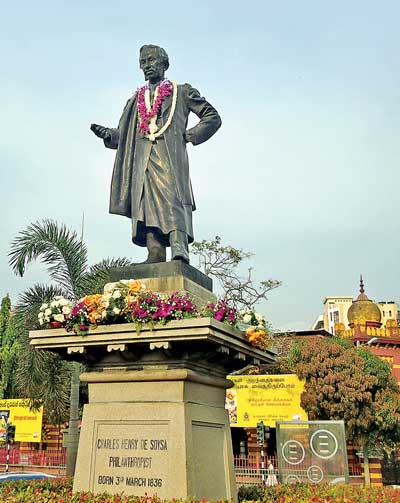 Many of those who are not his descendants but are only connections through his marriage are now claiming to be his descendants and using his photograph in places only patronized by the rich. This to us as his true descendants, is an insult to his memory, as his entire life was devoted to help the poor and underprivileged, through a spirit of ethical and innate moral responsibility, to his country and fellow human beings. Principles always governed his judgement in all he said and did.

As his great granddaughter, I am filled with a great sense of pride, combined with deep humility, that the blood of a man such as this, flows in my veins and that of my children..
The late CH's life is an inspiration and an example, he was both cosmopolitan and civilized, innovative with shrewd commercial sense in his business interests, was big enough to recognize the virtues,in ideas and suggestions of others. His ability to delegate, lead and inspire were all invaluable assets throughout his life. 'A Nation that forgets its past has no future'—Winston Churchill.