---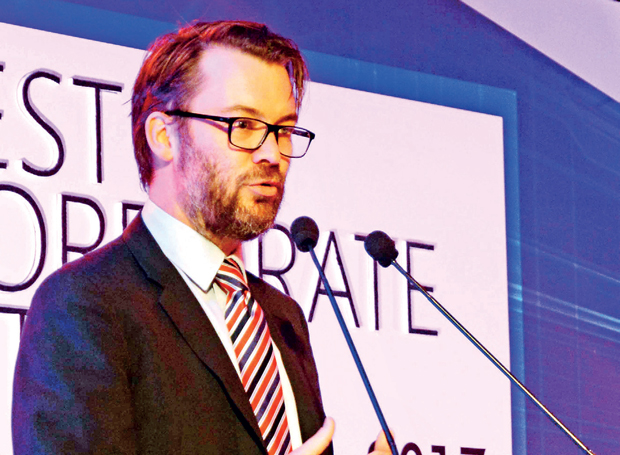 By Harshana Sellahewa
At the recently concluded Best Corporate Citizen Sustainability Awards 2017, David Bent, a global expert on corporate sustainability, spoke to share his insights on how companies can succeed through increasingly sustainability-challenged times.

Bent was Director of Sustainable Business at Forum for the Future, the global sustainability non-profit, leading Forum's global efforts to activate businesses as drivers of a sustainable future. Bent developed sustainability strategies with the Guardian and O2, innovated business models with Sony, embedded change at Unilever and M&S and helped Nike make the business case for collaborating for wider change.

David ran collaborations where companies help each other create step-change. David was also responsible for keeping Forum at the cutting edge of sustainable business and is a member of Forum's senior management team.

Bent stated that according to Bloomberg New Energy Finance, the world's leading independent provider of analysis, tools, data and research to decision makers, leading change in the energy system, new renewable energy from solar and wind is already cheaper than the new fossil fuel power stations for electricity.

"They predicted that by 2025, new solar and wind will be cheaper than the existing coal-fired power stations and the existing gas-fired power stations. According to Bloomberg, by 2025, there will be economic switch-off fossil fuel power stations for electricity and run solar and wind instead."

South Asia has among the highest economic growth rates in the world and represents a little over 7 percent of global carbon dioxide emissions. Six countries in the region: Bangladesh, Bhutan, India, the Maldives, Nepal and Sri Lanka, have enormous untapped opportunities in climate-smart investing in sectors including renewable energy, transport, green buildings, urban wastewater, climate-smart agriculture and municipal solid waste management.

"The land mass for mammals in the world – 30 percent – is made of us – human beings; 67 percent is made of our livestock – cattle, sheep, chicken, pigs and just 3 percent is wild animals. When you're watching a natural history programme that has lions or tigers or anything in it, that's just 3 percent of the mass of mammals on the land.

A full 97 percent of the mass of land mammals is because of us – either our own physical selves or the livestock we rely on. So, to be clear, business as usual would be a disaster. If we have more growth, which puts more pressure on the natural world or more growth that leaves more kill behind, then it would be a disaster for us all.

Fortunately, I'm seeing examples of innovation, which are using the potential efficient technologies to drive us in the green and inclusive direction. One is something called a 'technological solar home system'. So, while in Africa, it's really expensive to electrify without a grid and many of the customers and consumers there don't have the financing to be able to buy their own kit.

Enter M-KOPA Solar. They finance the installation of the solar power to these houses and add smart metres to them and customers only pay micro-payments through a mobile paying system of the amount they use, pay-as-you-go. It's using Internet of things (IoT), a fact that many of the aspects of our lives are going to have smartness added to them.

The second example is precision agriculture – getting the right amount of fertiliser and water, with the right plants at the right time, using satellite positioning to identify and make decisions about every single plant."

Bent says that when it comes to having innovation, innovation shouldn't only revolve around a company but should be across the whole economy.

"Of course there are things you need to get right, called Horizontal Conditions. You need to have the right skill set, infrastructure, whether its transport or electricity. You need to have science and development within technology. You need to have competition to keep everyone on their toes and you need to have deep pools of financial capitals. All of those are important but none of those give you a direction. A latest thinking on how to provide a direction is something called 'Mission-Orientated Innovation Policy'."

Two sectors stand out for future growth due to rapid urbanisation – green buildings represent an investment potential totalling more than US $ 1.5 trillion across South Asia between 2018 and 2030 and green transport infrastructure and electric vehicles create an opportunity of over US $ 950 billion to 2030. Such investments will generate further benefits by providing access to markets, enabling trade and ensuring mobility, which in turn unlock economic growth and private investment.

"Let's imagine a Sri Lanka that is a world leader in agricultural products. Each tea plantation gets an increased yield using less fertiliser, using less water, as well as being able to grow more stuff to sell. Let's imagine you're a leader in water and providing clean water and sanitation for all, where many countries around the world would pay for that expertise.

Now imagine if Sri Lanka was a world leader in community and biodiversity resilience – because we will have, all of us will have more environmental shocks over the next 15 to 20 years and all of our communities and all of our forests in the ecosystem, we need to bounce back better from the shock. That would be a valuable skill in Sri Lanka and across the world. All of these are examples, which will give you more skills to sell as services to investments, make you more resilient to risk and enjoying a tourism that endures. Imagine the rest of the world saying, 'We want to be like Sri Lanka'."

Bent concluded by stating, "This is the test of our generation. We have a fantastic chance so that our children are not burdened by our mistakes but instead they are inspired by our example because we realised the transformation was inevitable and we chose a direction of growth, which chose our future where there are thriving businesses in a successful Sri Lanka, in a sustainable world."