---

"There is a great deal of difference between an eager man who wants to read a book and the tired man who wants a book to read."
- Gilbert K. Chesterton
As I leisurely strolled down the pathways leading to the halls marked A to R at the BMICH last Tuesday, at September's Colombo International Book Fair, without visiting any of the 400 plus BOOK Stalls, I reminisced the Colombo Café, the iconic and popular lunch outlet that was located at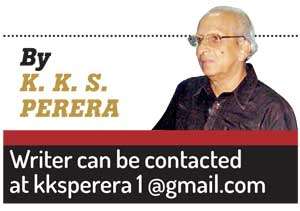 the GOH end of York Street in 1960s, for it's famously highlighted Sign, "This is the Place to Eat & Drink" prominently while the brand name 'Colombo Café' in relatively smaller font. Only once I entered the halls that housed book stalls that I realized the significance of the annual mid-September Book Fair.
It is a major event in the literary calendar of Sri Lanka being the largest annual book lovers' dream, organised by the indomitable spirits of Sri Lanka Book Publishers' Association.

Introduction of Authors
Presence of eminent authors at the stalls run by leading Publishers is intended to present the best trading background for book industry. Professionals as well as the literary enthusiasts appreciated the novel idea. I saw Ajit Kanagasundram, son of former civil servant K. Kanagasundram, first Chairman of the Gal Oya Board and an intimate of D S Senanayake autographing his work 'Tale of two nations' at the Vijitha Yapa's Stall. Prof. J B Dissanayake was at Sarasavi, engaged in autographing his books for the readers. The show runs for nine days, usually in late September. Book Fair is carefully crafted with the experiences for all those that participate in the publishing industry. It's where booksellers, authors, distributors, literary agents, librarians, publishers come together to build relationships.

A wealth of knowledge under one roof
Drifting in and out of exhaust after rushing through the crowded stalls – shoving, pushing, and jostling at some of the popular brands was, they say 'like in Piccadilly Circus'. The spacious areas within sections A and B in Sirimavo Bandaranaike Hall was lively with people who were busy searching for a book; others who accompanied book lovers were enjoying themselves by reading a fairy tale to a kid from a nursery book. Quite an impressive presence of children of all age groups signified the keenness for books in spite of their 'addiction' to internet and social media. There were plenty of nice food courts ranging from Game Kade that served Manioc, Kadala and Helapa to Mt. Lavinia run restaurants and several tea kiosks serving hot or cold. People rush in to stalls pick up a book as fast as they could, and often travelled in groups; parents and children including tiny tots or other relatives and friends - stalls were stuffed with books and in some the book sellers made the passages awfully narrow forcing them to stroll in a straight file like military men going to battle. Sweaty buyers in non-air-conditioned stalls competently weave their way by finding little gaps between people and squeezing all the way through.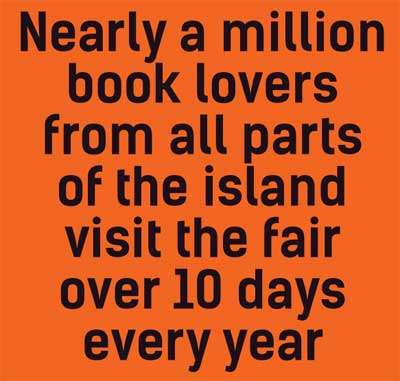 Visiting one of my good school buddies some decades ago in O/L days, whose father who had no book education told me "Son, ensure that your best friend is the book", I cursed him and stopped visiting my class-mate at his home thereafter, but regretted my attitude years later reading Ernest Hemingway who famously said "There is no friend as loyal as a book."
Held for the 20th occasion this year, it was opened under the patronage of the Minister of Education which coincided with a presentation of scholarships to students who displayed their skills in education. Nearly a million book lovers from all parts of the island visit the fair over 10 days every year. More than 400 exhibitors,10% of them from overseas, participated in it, most of the publishers, importers and retailers at Book Fair do offer the books at 20% off their regular selling price, while the bargain section offers more attractive discounts.
'Daru Diriya' scholarship fund is benefited by the entrance fee of Rs. 20 paid by visitors. Another highlight of the book fair will be the 'Mirror Wall' or 'Ketapath Pawura' which offers visitors an opportunity to write a creative piece of poetry which will be compiled into a volume and published by the Book Publishers. Kids' Corner with a few activities, book launches and literary discussions, cultural events like dramas and musical performances sponsored by the Ministry of Higher Education and Cultural Affairs, have added extra glamour to the Fair.

Writers, publishers meeting point
Once you've written your manuscript, naturally, you expect to get it into as many readers as possible, the best way to do that is to negotiate with many potential publishers within a few hours and under the same roof. There are some fundamentals of your book sales approach that can make a big difference regarding how well a new book sells, and this can be discussed at the book stall itself. Search for an old book which is out of print - it can be picked up in one of several second-hand stalls, or a newly published high-quality literature, non-fiction, young adult, and coffee table types, sourced from numerous publishers around the world at discounted prices. I saw Sinhala fiction titles flying off the shelves at a rate along with an unbelievable selection of children's books including activity books, bedtime stories, educational tools and stationery at reduced rates that are up for grabs. The main aim of the book sale should be to encourage readers of all ages to discover the pleasure of reasonably priced reading.

Cultural events
Visitors can patronize in assorted cultural activities sponsored by Ministry of Cultural Affairs, apart from buying books - I was enthralled by the performers of Kolam, the traditional folk art, when they staged the 'Police Kolama' [the presenter took precautions, by praising the present police high ups, but that the play was about colonial cops. I, personally, did not see any difference watching the hilarious drama]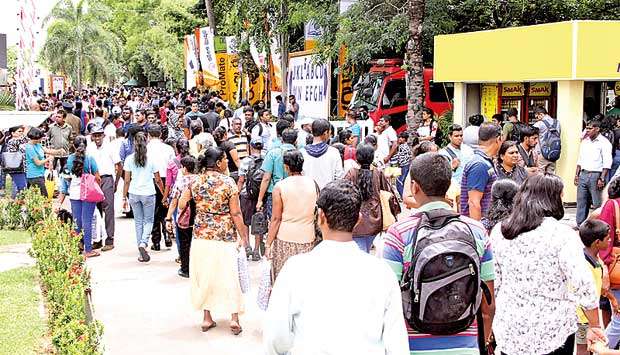 The missing bookman: Martin Wickremasinghe at Caves
Five decades plus years ago the traditional Book-Man carrying 'hundred books' on his shoulder visited once a week or so every home in the urban areas where English readers lived. You select a few novels [his stock usually consists of 90% fiction] for a nominal weekly rental, say one-fourth of the value or buy it outright. In the city instead of the mobile book shop, you find the street corner old-book vendor who provides the same service from his pavement's make-shift hut. Martin Wickremesinghe, the acclaimed father of modern Sinhala literature says in his biography how he trained his five children to become 'bookworms' by renting each one a book from the bookman who frequented his house at Mt Lavinia in the 1930s-40s.
Young Martin with no credentials to boast of book education being a school drop-out was a self-learner who visited the Caves book shop in Fort and spent hours reading sections of texts displayed there for sale. Once the owner, a European, walked up to the young man and said, "I do not mind you using this place as a reference point, but please do not use your wet finger tip to turn pages."

The e-book revolution and the truth
In times of digital content the art of reading is changing, but, does it give less pleasure or is it just the opposite? Is there a difference between a printed book or an audio-book or any other variety of multimedia-appliance generated 'books'? I doubt, there isn't a difference between a quality paper and e-screen. One can argue, the biggest pleasure comes from what we read, not from on what we read: may be the real difference lies in our attitude to reading.
After decades of reading printed books, and years after Amazon initiated the e-book, readers finally stuck to it and downloaded the Kindle app to their I-Phones and commenced buying and reading e-books. They quickly become hooked on the ease way. Pull their i-Phones out of the pocket while driving, buy an e-book with the tap of a finger, and start reading. Is it the beginning of a trend or just a one-time occurrence? True they save money and time - the much cheaper cost compared to the printed book, with the surcharge that the seller whack on your credit card as cost of shipping. Though we enjoy the convenience, versions of books just don't bring the same visual and perceptible pleasure one gets from reading printed books.
According to Wall Street statistics, sales of print books had gained 6% in America in 2017, while those of e-books sank by 14%. What makes printed versions much more unique than e-books? Physical books encourage sharing - on shelves in shop or private libraries invite likely readers to leaf through and borrow, while, E-books remain in the owner's reading apparatus.
Sharing with a friend will never happen, and I wouldn't be able to underline a passage that I wished to refer back. Print book is 'transparent'; anybody can see what the reader is doing, and it sets a good example for the children.
Ralph Waldo Emerson once said, "If we encounter a man of rare intellect, we should ask him what books he reads."