---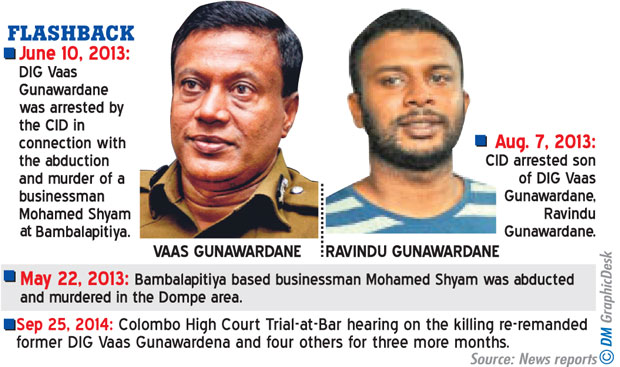 By T. Farook Thajudeen
Colombo High Court Trial-at-Bar Judges Lalith Jayasuriya and Leon Seneviratne laid by the trial against former DIG Vaas Gunawardena, his son Ravindu Vaas Gunawardena and several other Police officers until the Supreme Court decides on the appeals made by the accused. The accused had appealed to the Supreme Court against the High Court trial asking to dismiss the trial as the indictments framed by the Attorney General were erroneous.
The accused alleged that according to the provisions of the Code of Criminal Procedure Act the Attorney General cannot file indictments before the court without holding a proper investigation. If such an occurrence transpired the court should dismiss the case.
They further alleged that they were arrested under the Prevention of Terrorist Act and the investigations had been carried out under that act. The statements and the confessions were recorded under the PTA Act.
However the AG had filed indictments in the High Court under the Penal Code which was erroneous because in July 2013 the CID had obtained the detention orders and recorded the statements and confessions of the accused under the PTA Act.
The accused contended that this was done intentionally by the CID because if they conducted investigations under the Criminal Procedure Act within 48 hours of arrest of the suspect they should be produced before a Magistrate to remand. If they were arrested under the PTA Act the accused could be kept with the CID under detention orders.