---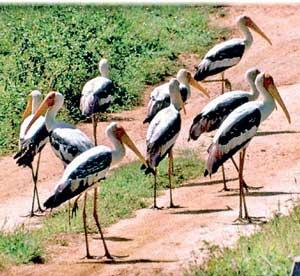 By Sumathipala Diyagahage
The Wildlife Department has commenced a survey of different species of exotic birds annually migrating to Bundala National Park. Asst. Director of Wildlife Channa Suraweera said more than 20,000 migratory birds of different species had been sighted in the park.

He said after identifying the species of birds, a ring would be put on several of them and when they flew away to another country, the ring would be the source of information that it had been to Sri Lanka. The wildlife official said further details of that species of birds could be exchanged between the two countries.

He said more than 50 species of birds, eight of them rare and endangered with extinction, usually migrated from the Himalayan range, Siberia, Pakistan and several other countries during the winter.

Asst. Director Suraweera further said that the survey was a tedious task and is being undertaken by a well experienced team of wildlife conservators.
More than 50 species of birds, eight of them rare and endangered with extinction, usually migrated from the Himalayan range, and Siberia